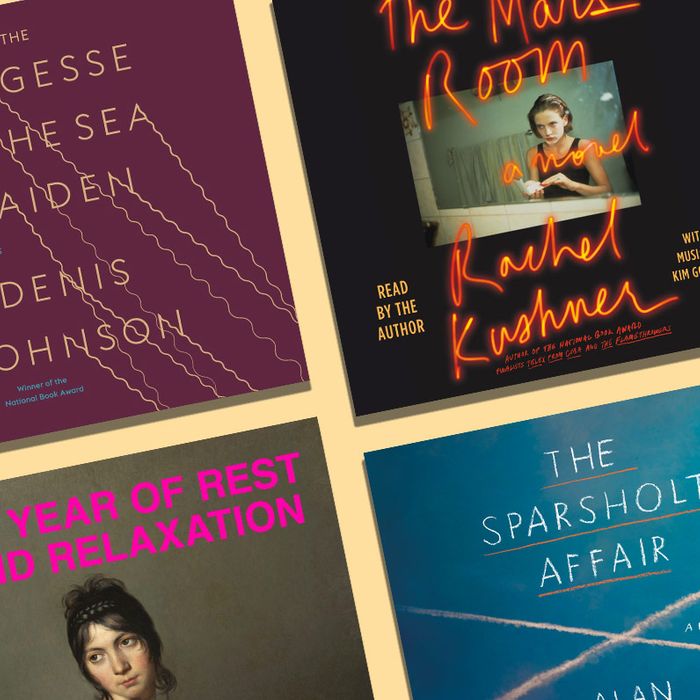 Amazon Prime Day is upon us — and with it, some deep discounts worth checking out. First among them for book lovers: an uncommonly large discount for Audible, Amazon's audiobooks (and podcasts!) service. From now until the end of July, Prime members can get three months of Audible membership for a mere $4.95 a month — down from the usual cost of $14.95 a month. And on top of that, you can jump-start your membership with a credit for a free audiobook every month.
But where should you start? There are a lot of audiobooks out there — almost 200,000 on Audible alone! Fortunately, we've made it easier for you by combing through the year so far in books and highlighting the best. Here are 12 great releases from 2018 worth listening to.
My Year of Rest and Relaxation, by Ottessa Moshfegh
On the cusp of what's sure to be a dark and rancorous summer, Moshfegh, a novelist as dark as they come, rewinds past New York's darkest day, September 11, to the story of a woman greeting Y2K with a sizable inheritance and an infinite reservoir of ennui. Quitting her job and sick of her "friends," the unnamed narrator searches for the right drug cocktail to send her into months of hibernation — until she finds one that's almost too good. Moshfegh's fictional landscape is bleak, disturbing, and strangely comical: in other words, just like ours.
Narrator: Julia Whelan
Length: 7 hours and 14 minutes
Motherhood, by Sheila Heti Autofiction written by women can touch on different concerns than the male variety (Knausgaard, Ben Lerner) — though there's plenty of sex and politics in both. Like Heti's first novel, How Should a Person Be?, this one straddles essay and memoir and philosophy. But where Person was about coming of age, Motherhood signals a turn to the next phase of life. The twist is that the central question is not "How should a person mother" but "should one mother at all?"
Narrator: Sheila Heti
Length: 5 hours and 16 minutes
The Largesse of the Sea Maiden, by Denis Johnson
The late Denis Johnson didn't write enough short stories, even after getting more attention for his casually stunning 1992 collection Jesus' Son than for his many novels. He died last May, at 67, before the publication of this second batch. The two collections complement each other — the first concerned with wasted youth and the (richer, wearier) second with the realization that the end is closer than the beginning. But Johnson himself didn't burn out or fade away; he died in his prime.
Narrators: Nick Offerman, Michael Shannon, Dermot Mulroney, Will Patton
Length: 5 hours and 16 minutes
The Sparsholt Affair, by Alan Hollinghurst
More expansive and arguably even better than Hollinghurst's Booker Prize–winning The Line of Beauty, his sixth novel turns the exquisite writer's chief concerns, queer history and postwar Britain, into an ingeniously told family saga. Jump-cutting between eras in shifting tones and styles, the intricate plot takes us across several interconnected cultures of gay men — first the closeted, coded '50s and '60s; then the louche 1970s in the wake of the alluded-to "affair"; followed by the gradual tug-of-war between mainstream respectability and the zipless app-enabled culture of now.
Narrator: David Dawson
Length: 16 hours and 20 minutes
Florida, by Lauren Groff
Groff is a great phrasemaker, and while her breakout novel Fates and Furies (one of Obama's book shout-outs) was celebrated for its structurally inventive dissection of a too perfect marriage, her language stands out even better in short forms. Groff's first story collection since 2009's Delicate Edible Birds largely features travelers trapped by storms both natural and emotional, often intent on dream vacations (to Groff's home state and beyond) that morph into feverish nightmares.
Narrator: Lauren Groff
Length: 7 hours and 59 minutes
Give Me Your Hand, by Megan Abbott
No one makes better thrillers out of the relationships unique to teenage girls than Abbott. Her ninth novel follows one pair of women, Kit and Diane, far beyond high school, as they both become leading research scientists. They used to be friends, until Diane divulged a life-changing secret. They meet again a decade later in a lab, competing for a coveted slot on a team studying premenstrual dysphoric disorder. Gendered notions of emotional stability are a major theme, but this is no research paper; it's pure suspense hinging on terrifyingly real characters.
Narrator: Chloe Cannon
Length: 11 hours and 2 minutes
The Mars Room, by Rachel Kushner
The Flamethrowers, Kushner's glorious novel, had flashes of dark violence (it was about '70s radicals), but also romance, idealism, and virtuosic writing. Her new novel, set in largely in a women's prison and centered on a San Francisco stripper with a horrific past, mines a segment of American society that's grown up with almost no room to maneuver, no physical or spiritual escape. Kushner's writing is brutal and spare, but she never condescends; even her most pitiable or evil characters make choices, have minds, entertain hopes. She renders them visible, then compels us to look.
Narrator: Rachel Kushner
Length: 9 hours and 41 minutes
Heads of the Colored People, by Nafissa Thompson-Spires
The focus on blackness in this debut collection of stories may be the least interesting thing about it. Or rather, what's interesting is the use Thompson-Spires makes of race — as a plot driver, irony engine, and comic goad in the manner of Paul Beatty. The most memorable stories, including the title piece about a comic-convention melee and a three-story cycle about two black students in a very white private school, feature African-Americans set against each other by a system that makes room for only a few success stories.
Narrator: Adenrele Ojo
Length: 6 hours and 14 minutes
Feel Free, by Zadie Smith
Smith is as famous for what she thinks as what she makes up. In this new collection of essays her subjects range from highbrow to low- (Knausgaard to Bieber), from politics (Brexit) to tech (Facebook), and from the arcane (Schopenhauer) to the personal (her father). Feel Free is a shepherd's pie of nonfiction whose only through line is a writer unafraid of getting lost, because she always knows the way home. Smith has mixed it up with critics since she herself was a wunderkind with a giant advance, but age hasn't hardened her against the world, only made her more porous.
Narrator: Nikki Amuka-Bird
Length: 13 hours and 53 minutes
The Only Story, by Julian Barnes
The key to understanding the intentions of Barnes, whose similarly themed novel The Sense of an Ending won a Man Booker Prize, is realizing the title is ironic. Paul's wry first-person narrative of a doomed long-ago love affair with a much older woman he met at his mother's tennis club leaves out the stories of others — his sad and unstable lover, her neglected children, and her disdained husband. But Paul isn't one of literature's great chauvinist monsters, just an unreliable narrator of the most plausible kind: the narcissist next door.
Narrator: Guy Mott
Length: 7 hours and 21 minutes
A State of Freedom, by Neel Mukherjee
The Indian-born Londoner Mukherjee's first two novels, including his Booker-short-listed The Lives of Others, focus tightly on people crossing boundaries of class and country. This one is more episodic and ambitious: five linked short novellas branching out from a devastating opening vignette — about an Anglo-Indian touring Agra with his 6-year-old son — into lives determined and divided by castes, communities, and generations. Through the eyes of a servant from a dirt-poor village, an ill-fated construction worker, or a man and his much-abused bear, hope wrestles with despair, and death has the last word.
Narrator: Sartaj Garewal
Length: 9 hours and 6 minutes
Reporter: A Memoir, by Seymour Hersch
It's hard to believe that the same reporter who exposed the My Lai massacre in Vietnam informed us, 36 years later, of systematic torture at Abu Ghraib. Even more impressive are all the exposés of nefarious foreign misadventures in between and since, which make Hersh's career an essential and lengthy footnote in the history of American human-rights abuses. From LBJ to Kissinger to the "ass-kissing coterie of moronic editors" at the New York Times, no one comes through unscathed, including the controversial journalist himself.
Narrator: Arthur Morey
Length: 13 hours and 52 minutes
If you buy something through our links, New York may earn an affiliate commission.