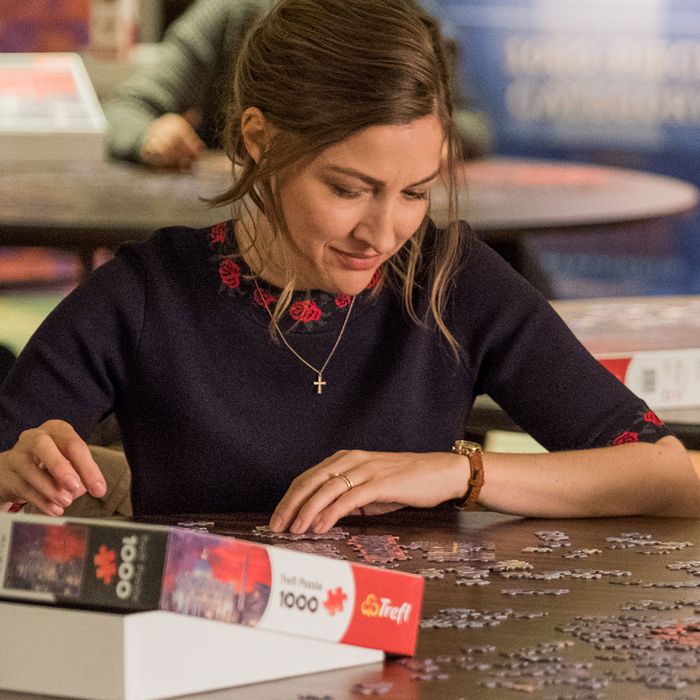 Photo: Linda Kallerus/Sony Pictures Classics
You may spend the first 20 minutes or so trying to figure out if Puzzle is building up to a Village-esque out-of-time twist. To a wistful piano score, Agnes (Kelly Macdonald) prepares for her own birthday party; she lives in a modest two-story in Connecticut whose decorating scheme seems to be lifted from a waterlogged 1960s Montgomery Ward catalogue, and whose only light source is the pale sunshine streaming in shafts through the lacy curtains. The director is Marc Turtletaub, producer of a slew of films (Little Miss Sunshine, Safety Not Guaranteed) that I would characterize as the granola of indie cinema — supposedly substantial and "good for you" but just as packed with bullshit as a 7-11 doughnut. The cinematography, by Chris Norr, is pretty to the point of nonsensical, as is Agnes's dowdy-yet-ethereal shirtwaist dress, which would be more believable on a '40s housewife or the triangle player in an early-2000s twee ensemble, but not a working-class housewife. At her birthday, she's given an iPhone, and as she examines it with vacant disinterest, I half-expected her to comment with an "It doesn't look like anything to me."
Agnes is much more taken with another present: a 1,000-piece jigsaw puzzle, which she unwraps the next day and completes in a couple hours without breaking a sweat. She has a gift, but she doesn't realize it yet — not only has she never used a smartphone before, she apparently doesn't know how long puzzles take to solve, until she ventures into New York City to buy more. (The time weirdness continues there — the last time she took the commuter train, it was $8. At least we eventually discover that her house has electric lamps.) At the puzzle shop, she finds an ad posted by an eccentric inventor in search of a puzzle partner for an upcoming competition, and she begins secretly sneaking away for their biweekly practice sessions at his house, while her family wonders what's gotten into her, like a very nonviolent Walter White.
Her partner is played by Indian actor Irrfan Khan, who shuffles disaffectedly about his opulent, conspicuously empty townhouse (he's recently divorced, we learn), as he carefully selects a puzzle from his wall of them. Given how little of the outside world Agnes has apparently seen, her reaction to him on his doorstep tells us she's probably never spoken to a brown person before in her life. She's visibly uncomfortable around him for their first several meetings, and so offended when he greets her at the door in a bathrobe that she cuts one session short. But there's a magnetism between them, which I'm not sure is so much chemistry as it is Khan's mesmerizing embodiment of the role. As Robert, he exudes a kind of grown-up sexiness we rarely get to see onscreen (though Andy Garcia in this year's Book Club is operating on a similar wavelength). He's clearly going through what we can only understand as a protracted depressive episode and is constantly preoccupied by the tragedies and disasters going on in the world, but then can't help himself, blurting out, "You are so beautiful," to Agnes mid-sentence, like a sneeze, like it's hurting him in the most delicious way. It's a gorgeous performance.
Kelly Macdonald has a needle-sharp sensitivity as an actress, and though it takes a while, all the laborious effort to sell her as a sheltered Luddite eventually gives way to more interesting, interior territory. Macdonald affects a strange semi-Minnesotan accent throughout the, but it loses its prim robotic edge over time. The more the character develops, the more it's clear that Agnes needn't come out of the stone age for her self-discovery to have dramatic weight. She needn't be married to a domineering, patronizing, clueless husband played by Roy from The Office (sorry, David Denman, for how much that role has stuck to you and how much you're still asked to play it). The more interesting relationships are those with her teenage and young-adult sons (Bubba Weiler and Austin Abrams), who are both irked by her backwardness but amused and happy for her newfound talent, and have their own rebellious instincts to boot. They aren't so easily understood as something to get away from.
Like its protagonist, Puzzle finds itself as it goes along, and Agnes becomes a truly interesting person to root for. But I couldn't help but wonder how much more effective the film could be if it started from some recognizably current-day lower-middle-class churchgoing milieu. To suggest that Agnes needs to be almost literally stuck in the past in order for us to feel the need for her liberation minimizes the fact that you needn't go far to find a woman who has ignored or opted not to foster her own talent out of duty to her spouse and children. But the more pieces it uses, the more it's able to escape that binary.