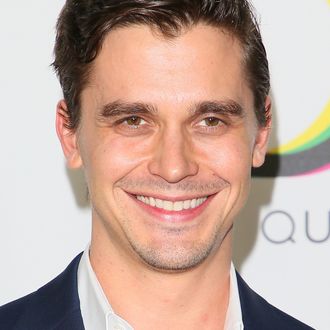 Antoni Porowski on February 7, 2018.
Photo: Jean Baptiste Lacroix/WireImage
Are you ready to experience the Queer Eye dining experience for yourself? During a cast panel at the 92nd Street Y, Antoni Porowski announced that he's starting a fast-casual restaurant in New York City. "I'm all about, like, cheese and pork belly and decadence, and as a result of the increased vanity of being on camera all the time and working out and eating healthy, I'm developing a fast-casual food concept restaurant that I'm gonna be opening here in New York," he said. Porowski said he wasn't "supposed to talk about it," but, duh, he couldn't help himself! We'll have a table for two, and another plate of grapefruit and avocado salad, please!
Update: Eater reports that Antoni's fast-casual concept will rise like a phoenix from the ashes of the shuttered West Village diner Village Den. He's working with Eric Marx and Lisle Richards of the hospitality group Metric to relaunch the decades-old restaurant with "an entirely new concept focused on 'a wholesome yet fulfilling lifestyle.'" A lifestyle based on rolling up the sleeves on your many graphic tees!