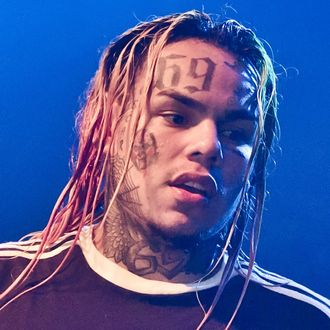 Tekashi 6ix9ine.
Photo: Frank Hoensch/Redferns
On Sunday, 6ix9ine, also known as Tekashi 6ix9ine, dropped "FEFE," his new musical collaboration with Nicki Minaj. A matter of hours later, the rapper, whose given name is Daniel Hernandez, was reportedly kidnapped, pistol-whipped, and robbed. According to the Associated Press, the New York Police Department confirmed the Brooklyn-born rapper visited a police station in the early hours of Sunday morning. According to the account he allegedly gave police, 6ix9ine was a passenger in a car around 4:30 a.m. when three men reportedly emerged from a second car, forced the rapper into their car, and robbed him of "an undisclosed amount of jewelry." The rapper subsequently "became uncooperative" after filing his police report, and was later admitted to a hospital.
In TMZ's report of the incident, 6ix9ine allegedly said the three men pistol-whipped him until he lost consciousness before taking him into their car, driving the rapper to his home and eventually making off with approximately $750,000 in jewelry and $20,000 in cash. TMZ also posted a photo of the rapper in a hospital bed with visible bruising to his face.
"As crazy as it sounds.. yesterday morning I had a feeling that it was my day to die. May GOD strike me dead if I'm lying," the "Gummo" rapper posted on Instagram along with a photo of fellow rapper XXXtentacion. "Nothing materialistic is more important then LIFE. I live to see another DAY 🙏🏻 I get to see my daughter another day. No Hate Charge it to the streets." XXXtentacion was murdered in June; four men have been charged in connection with his shooting death.
Update, November 14: TMZ reports that a man has been arrested for allegedly robbing and kidnapping Tekashi 6ix9ine back in July. Anthony Jamel Ellison, a former member of Tekashi's management team, was detained last week, November 6, on a federal warrant. He has been indicted on one count of carrying a firearm to commit a crime, one count of conspiracy to obstruct commerce by robbery, and one count of obstructing commerce by robbery. Ellison pled not guilty on all charges and awaits trial in Manhattan federal prison.