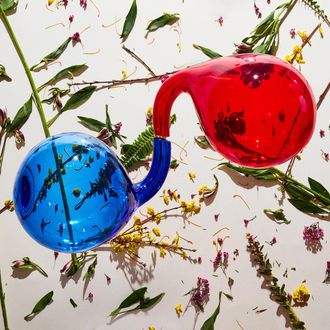 Photo: Jason Frank Rothenberg/© Jason Frank Rothenberg
The last time we heard from the Dirty Projectors, the Brooklyn indie-rock band had shrunk from a robust five members to just one when group architect Dave Longstreth broke up with his partner and bandmate, Amber Coffman, moved out to California, recorded an album about the split, and titled it Dirty Projectors. It was an act of harrowing honesty and withering cruelty. In a certain sense, the self-titled album was a default to the project's beginnings; the first few Dirty Projectors albums are essentially solo tapes on which Longstreth plays everything. But the hot, pure vindictiveness coursing through songs like "Death Spiral" and "Keep Your Name" suggested that deep down, giving that album that title at that point in the band's history was something of a provocation. Sometimes, the truth in a breakup is that you hate the other person.
This week's Lamp Lit Prose is the sun to Dirty Projectors' moon, all upbeat ruminations on affection and excitement, where the last album fixated almost exhaustingly on rot. From the cover art — which positions the band's trademark blue and red bubble iconography over a bed of flowers, twigs, and leaves — on down, Lamp Lit Prose is a work about rebirth and growth, about breaking old patterns and trying out new ones. The lyrics are full of giddy, occasionally goofy proclamations of love: "Under the sun, there's nothing new / But she keeps it one hundred through the shade," "You fly up to me like a bluebird," "When we met there were alien hosannas / Thrown from the heavens like Prince and Nirvana." Arriving just 18 months after the last record, Prose marks the quickest turnaround on a new Dirty Projectors full-length since the early aughts. It's time well spent, too. The new songs are bursting with delightful new sounds.
Operationally, Lamp Lit Prose feels like a return to the ramshackle song construction of early Dirty Projectors records like 2005's The Getty Address, whose melodies unfurl like tiny Rube Goldberg machines, pleasing arrangements of notes assembled from impossibly small, interlocking parts. "Right Now" adorns a warm vocal and noodly 12-string acoustic guitar lines with tiny explosions of piano, organ, horns, and backing vocals from Syd of the Internet. The pop smarts and hip-hop pulse of Dirty Projectors linger in the margins, but Prose's collision of showy vocals, blaring brass, busy percussion, and guitars indebted both to classic rock and to African funk and highlife suggest the fearless intercontinental melange of world-conscious '80s albums like Peter Gabriel's So.
Radiant, soulful songwriting isn't a new wave for Dave Longstreth, a performer whose 2009 album Bitte Orca featured vocal arrangements that drew comparisons to Mariah Carey, and whose avowed Justin Timberlake fandom occasionally bleeds through songs like "Death Spiral," which is, in retrospect, a sort of Dirty Projectors answer to "Cry Me a River." But Prose doubles down on the band's love of a jaunting rhythm, and that puts more pressure on Longstreth as a singer. He can nail all the notes he attempts because his instrument is formidable, and his vision is stunningly sharp. But too much precision can strangle funk, which is loose, spontaneous body music. Like Bitte Orca, the new album is a war between broiling emotion and the taut, exacting musicianship the bandleader employs to get it across. Prose volleys between freewheeling, passionate vocal runs (see: "That's a Lifestyle," "I Feel Energy," and "What Is the Time") and performances that feel mannered and overwrought ("Break-Thru," "I Found It in U").
What's true of Dave Longstreth is true of his collaborators. This is an album full of guest stars you might not notice unless you comb the credits. Singers like Syd, Amber Mark, and Empress Of override the natural earthiness of their own music on "Right Now" and "Zombie Conqueror," following Longstreth's lead on heady, disembodied high notes instead of luxuriating in the lower registers that earn their own music an enticing sultriness. (It's rewarding hearing them sing what Longstreth writes for them, but it might be more rewarding to hear what they might write for him.) Balancing male and female voices has been a key component of the Dirty Projectors sound since 2007's Rise Above, but it's not until the Haim sisters show up on "That's a Lifestyle" and Rostam and Robin Pecknold appear on "You're the One" that Lamp Lit Prose gets guest vocals that sound specifically tailored to the people that have been tapped to sing them. (Longstreth apparently hates Frank Zappa, but the uniqueness of his approach to melody, and the sense that it is not greatly changed by shifts in personnel, since the same guy writes everything, bring the late guitar legend's works to mind.)
There's nothing wrong with songwriters having pet sounds. Try to imagine a Drake album without gauzy synths and plaintive vocals or a Pharrell one with no falsetto and standing four-counts. You can't. Lamp Lit Prose is a joyous record full of tricky instrumental and vocal lines that only a technician like Dave Longstreth (and his drummer and percussionist pals Mike Johnson and Mauro Refresco, who comprise this album's version of a backing band) would dare. It's the fresh new start the last album hinted at, the overdue sunny West Coast album where our protagonist starts palling around with members of Haim and Fleet Foxes and sometime Red Hot Chili Peppers and makes intricate guitar music you're meant to party to. Lamp Lit Prose is a feel-good mutant soul album, a good soundtrack for humid nights spent waiting on texts from a summer fling, if that's your thing.