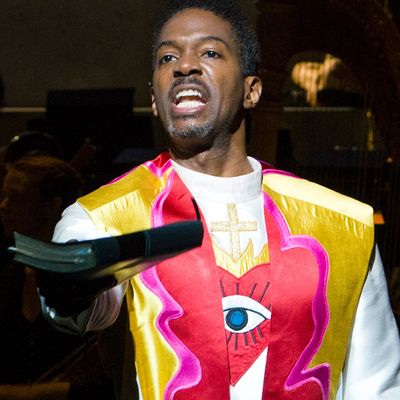 From Bernstein's
Mass,
at Lincoln Center's Mostly Mozart last night.
Photo: Richard Termine
The measure of an artwork's greatness is not how perfect it is, but how persuasively it demands that we struggle with its faults. Since the day that Leonard Bernstein opened the Kennedy Center with his Mass: A Theatre Piece for Singers, Players and Dancers in 1971, critics have gleefully enumerated its misfires and excesses, its arch libretto and Wonder Bread blues, its syncopations tossed like confetti and I-can-be-cool-too echoes of Godspell and Hair. Those lapses aren't going away. But when that immense, flamboyantly all-over-the-place setting of the Catholic Mass received a rare staged performance at the Mostly Mozart Festival this week, it delivered on the mottled splendor that Bernstein had in mind. Operagoers are accustomed to sitting through leaden hours in exchange for three ravishing minutes of melody; in Mass, the ratio is considerably better. How many grand philosophical works of the 20th century can claim a more exquisite finale? The boy soprano's synagogue chant, the dawn chirping of the flute, the blissful recitations of Lauda, building slowly as if every bell tower in the city were joining in the hymn, and then that final, quietly pungent chorale — I'll tolerate a lot of irritating wordplay to hear that again.
Over the course of its history, Mass has sounded by turn trendy, dated, and prescient — all qualities that matter less with each passing decade. Now it sounds like a work of its time and place, with qualities that still resonate and meanings that change. Bernstein used vulgarity as a compositional tool. When a marching band bursts down the aisles and a "street chorus" barks out Kyries, or when liturgy swerves into rock opera ("I believe in God, but does God believe in me?"), the contrasts in style and mood are intended to jar. But the whole concept of vulgarity has practically become obsolete, and the shock waves are muffled now.
It helps that Louis Langrée, Mostly Mozart's music director, seems to feel genuine sympathy for the score, which he raised aloft and kissed during a curtain call. He marshaled an army of players, choristers, soloists, and dancers into a performance that was often vivid, sometimes scrappy, and constantly plagued by amplification problems. (Someday, I'd love to hear Bernstein's old band, the New York Philharmonic, dig into this piece.) It used to be a challenge to cast singers who could handle the vocal demands and musical complexity, and also navigate the range of pop inflections without sounding hopelessly affected. These days, American singers are reared on Bernstein songs, and here the ensemble sounded utterly at home. Baritone Nmon Ford sang the Celebrant as if he'd been humming the role since kindergarten, his clear, supple voice streaked with that Bernstein specialty, existential doubt.
Mass has a way of making even a big hall seem cramped, and Elkhanah Pulitzer's staging didn't resolve some basic problems of traffic control and vocal balance. Dancers shimmied in place on a raised altar, and a large cross glowed against what looked like a section of climbing wall, handholds and all. Sure enough, Ford started hauling himself up it in a moment of extreme despair. Occasionally, an overwrought passage made me want to join him, but then a luminous chorus or episode of finely crafted mayhem coaxed me back down to joy.