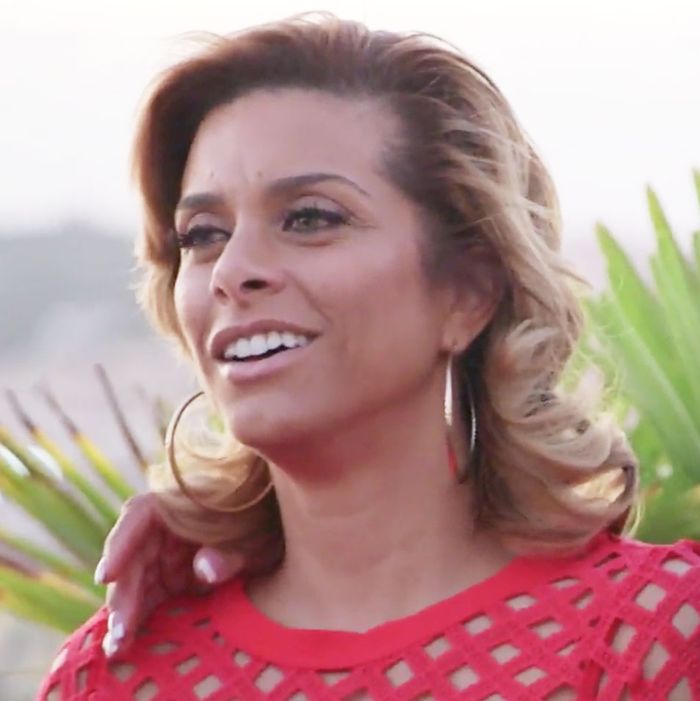 Bonjour, tout le monde! Cette semaine, les femmes au foyer voyagent au Cannes! La ville du cinéma, de la Riviera, des touristes américaines! Cet épisode léger n'a pas beaucoup d'intrigue mais la variation du paysage me manque l'année j'ai passé en France. C'est vrai, mes lecteurs! Je me suis specialisée en francais a l'université! Je n'ai pas parler francais depuis 2010. Je n'utilise pas mon diplôme mais mon français est mieux que le français du toutes les femmes au foyer! Regarde, maman et papa! J'utilise mon français pour comprendre Real Housewives of Potomac! Je ne gaspille pas mon éducation! Let's get to it!
(Oh! A quick note in English: For some reason, my Bravo station didn't air last week's episode of RHOP and I didn't even know there was an episode until the next day. That's why there wasn't a recap last week. I'm not abandoning my duties. Far from it. I love this bullshit.)
The episode opens with the typical glimpses into the lives of the Housewives. Karen's opening image is her drinking Champagne alone in her mansion. That becomes particularly poignant when the issue of Karen's residency comes into question. Does she take an Uber in the morning to this rented house, take two Champagne glasses out of an empty cabinet, pour herself a drink, and then take an Uber back to her townhouse? Every detail about Karen's life, real or rumored, just makes her more fascinating. I would watch a play of her life performed by Oprah or Phylicia Rashad. I think the two of them are capable of the gravitas and delusion required to capture a character like Karen Huger.
Gizelle heads to lunch with her mom and her daughters. When she sends her daughters to the bathroom, she finally spills to her mother that she's split from Sherman. How long have they been broken up? It feels like we've been talking about this breakup all season. How long has Gizelle been hiding the breakup? Her mother tells her if you don't mesh, you just don't mesh. That sounds like typical mom non-advice. Gizelle's kids come back from the bathroom before Gizelle can change the conversation and she has to tell her kids that she's going in a separate direction from Sherman. Her daughter asks "Oh, so you broke up?" From the mouths of babes, y'all. She says she doesn't want her kids to feel any more disappointment and maybe there might be a void that she can't fill.
Monique is at home getting ready for her trip and teaching her brother how to dress and anoint her children with oils. Monique anoints her children with no less than three types of oils multiple times a day. She is covering a 2-year-old's head with geranium oil and a mental-clarity blend. Then she tells a story where she claims to have cured her son's sinus infection with essential oils. So, Bravo is really letting this lady get up on TV and advertise her website where she completely distrusts medicine and claims you can replace antibiotics with peppermint. We need some disclaimers on this woman's idiocy.
Ashley calls Robyn while she's packing and they talk about her performance at open mic night. Michael was frozen in terror. The pictures from that night capture a panic-stricken expression. That's not exactly the reaction you want from your husband, especially if he never follows it up with some kind words. I guess Michael just got in their car and drove them home in silence.
The ladies all arrive at the airport and Robyn is the last to arrive. Everything about Robyn's timing is suspicious. She's late to the airport, she's like an hour late to the trip after they arrive. Does time and space operate differently around Robyn?
Besides Robyn's late arrival, every relationship is about to be tested on this trip. Karen doesn't trust Gizelle or the French language. Monique and Charisse decide to upgrade themselves and that causes Gizelle to get upset. It's only a matter of time before Candaice chooses the wrong $18 snack box and sends Ashley into a fury.
While in first class, Monique and Charisse talk about the challenges of being a coach's wife. It's such a specific category that I'm glad they have each other. I'm also not sure there's a set of stereotypes and external expectations on "Coach's Wives." Monique explains for the first time in the episode that she got into a huge fight with Chris because she's "stepping out more" and "doing things for herself" and he has a problem with it. He's upset for the same reasons Drake is in "Hotline Bling." That's not a good sign.
That's like the reddest of flags. It comes up again later when she says that Chris always starts a fight on her birthday because her birthday is all about her and he can't handle that.
Run. Run quickly.
That story is so textbook controlling behavior that it sounds like it's a plotline from a Tyler Perry film called Tyler Perry's I Can Be the Coach's Wife All by Myself: Confessions of Sadness.
Once they all reach Cannes, Monique has arranged a helicopter to take them from the Nice airport and everyone gets their own room! Monique decides to upgrade either Robyn or Gizelle into a suite as a peace offering. Instead of doing it quietly, she tells both of them that they have to decide which one she's going to upgrade. She breaks a pool cue in half and tosses it between them. Gizelle comes out with blood on her hands and the suite.
They all head to their rooms to FaceTime their spouses and primp for their room-service dinner in Monique's room. Everyone arrives in their finest outfits and Charisse is wearing a bathrobe over her clothes. They take some boomerangs on the balcony and teach Karen to twerk. Monique tells them that they're going to an essential oils distillery and a perfumerie in Grasse. The essential oils trip sounds like nonsense but a perfumerie in Grasse does sound like some luxurious fun. Gizelle asks Karen if she's excited because she's got a fragrance on the way. Karen tries to deflect by asking about Every Hue Beauty. Every Hue Beauty is a real business where Karen's fragrance is a fiction with top notes of delusion.
Ashley reveals that Matt has been getting drunk in gay bars in the greater D.C. area and spilling that Karen isn't living in her mansion. Karen reacts Karen-ly. Charisse keeps whispering that Karen has a townhouse. Karen says in her interview "I know where I live. Keep hypothesizing, wench."
Monique opens up about her fight with Chris, and Gizelle offers her a dose of reality: Chris isn't going to change and Monique better get used to it or get out. Monique is warming up to Gizelle and her mama-hen ways when Candaice opens her dumb mouth and tries to relate to Monique by telling everyone that since she is a pageant title holder and a star Chris gets jealous. He called her a princess and that's SIMPLY NOT TRUE! Ma'am. You can't tell a story about your getting getting into a fight with your fiancé while he's holding your purse and you called off the engagement in a huff and expect everyone's sympathy. Especially if part of the story is reminding everyone of your influence and the titles you hold.
The next day, it's time for the trip to the distillery and Grasse when Robyn is late again. Does Robyn think she holds the Time-Turner and can take as much time as she needs? Everyone is wearing stripes or gingham to be more French! Karen is wearing some mall-walker sneakers. Gizelle says she's going to wait for Robyn to come down and meet them in Grasse. Everyone else is offended at the thought. Everyone thinks she doesn't want to go on the trip but she just wants to wait for Robyn. She also wants to insinuate that Karen is trying to avoid going on the trip. Gizelle also drops the bomb that Ray wants to fuck her business partner at Every Hue Beauty. The episode ends with Gizelle screaming "RAY WANTS TO LICK ERIKA LILES UP AND DOWN" in the middle of a Cannes hotel lobby.
La suite au prochain épisode, mes amis!