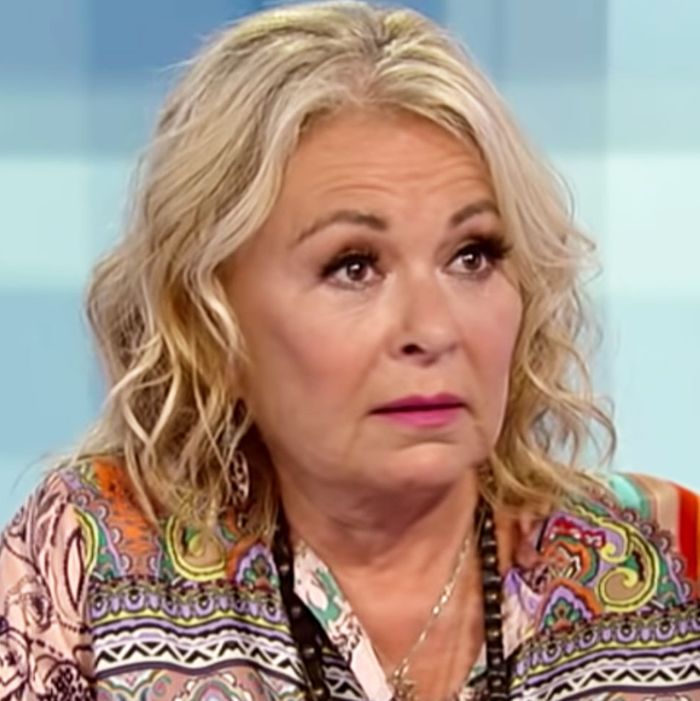 Roseanne Barr on
Hannity.
Photo: FOX News
Roseanne Barr, perhaps realizing that a YouTube video in which she screams "I thought the bitch was white!" was an insufficient public response to the racist Valerie Jarrett tweet that got her fired from ABC, appeared on Sean Hannity's Fox News show last night to talk about it some more. Barr called her tweet comparing Jarrett to an ape a "political tweet" and not a racist one, telling Hannity she was "sad that people thought it was racist" and that it "was a tweet about asking for accountability from the previous administration about the Iran deal, which Valerie Jarrett is the author of, and that was what was in my head … And then everybody started saying I was a racist, which is like the worst thing that you can call a Jewish person, especially one who, like me, grew up with Holocaust survivors."
When Hannity asked Barr about her public apology for the tweet, she said, "Well, I've apologized a lot. It's been two months and I feel that I have apologized and explained and asked for forgiveness and made recompense." She later added that the racism accusations particularly made her worry about some of her friends and relatives: "The thing that broke my heart the most — I have to say this — is that I have African-American children in my family and in my loved circle, and Asians too, and Hispanic people and … Jews get around, let's put it like that. But I felt so bad for those kids, because I love them and I didn't want them to think of me like that, you know?" Barr also admitted that she has mental-health issues, including multiple-personality disorder ("I don't suffer from it anymore. I enjoy it.") and that she was emotionally abused as a child ("Everybody in my whole family's messed up."). When asked if she's ever been hospitalized for mental-health issues, she told Hannity, "Honey, that's like going to the beach for me."
Later in the interview, Hannity asked Barr to address Jarrett directly. "Here's what I have to say: Let's talk about it. Let's really turn this into a teachable moment," Barr said, telling Hannity she assumed Jarrett was Iranian because she was born in Iran. "Her skin tone is like mine, and I'm brown — I didn't know she was African-American." When Hannity pointed out that Barr did not originally explain that the tweet was meant to criticize the Obama administration's Iran policy, Barr said the tweet was taken out of context from a "continuing conversation" she's had online about Iran.
"Valerie, let's discuss this," Barr said later, looking at the camera. "Don't assume that you know what I meant, because I think you don't know what I meant, and I would like to make it clearer to you what I did mean." Hannity asked Barr if she's willing to apologize to Jarrett directly, and she responded with this:
If she's watching, I'm so sorry that you thought I was racist and that you thought that my tweet was racist because it wasn't, it was political. And I'm sorry for the misunderstanding that caused my ill-worded tweet, and I'm sorry that you feel harmed and hurt. I never meant that, and for that I apologize. I never meant to hurt anybody or say anything negative about an entire race of people, which I think thirty years of my work can attest to. Plus I'd tell her she's gotta get a new haircut. I mean seriously, she needs a new haircut.