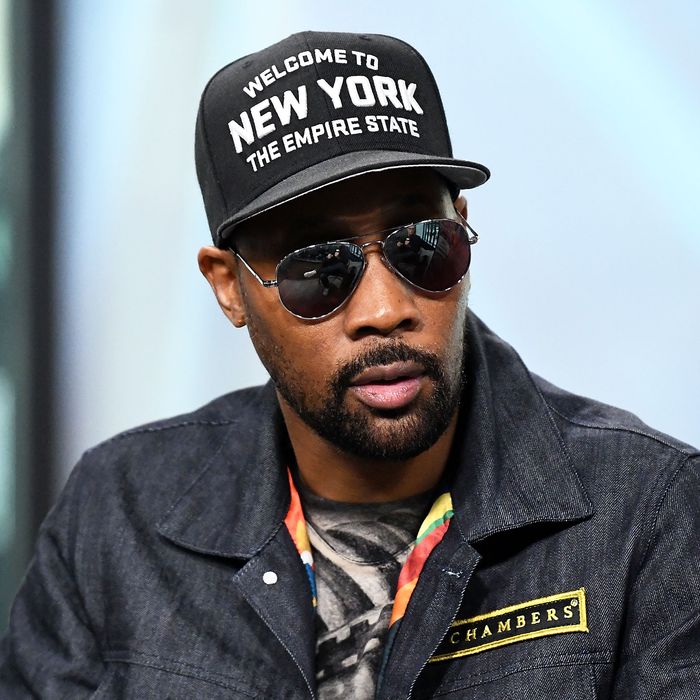 The RZA
Photo: Slaven Vlasic/Getty Images
Saturday's San Diego Comic-Con panel "RZA: Movies, Music & Martial Arts" promised a celebration of the life and creative works of one Robert Diggs, aka the RZA, aka Bobby Digital, aka the Rzarector: founder and sonic architect of the Wu-Tang Clan. While best known for mashing up the spiritual enlightenment and self-determination found in '70s kung fu movies with incendiary teachings from the Five-Percent Nation of Islam and snippets of Mafia don movie dialogue, he transformed hip-hop before becoming an actor in such films as American Gangster and Ghost Dog, then turned into a filmmaker in his own right with the Chinese-set fantasy-martial arts flick The Man With the Iron Fists (2012).
While kung fu and Shaolin remain the RZA's strongest cultural associations, the majority of Friday's presentation took a sharp turn away from martial arts and was given over to a grand unveiling of his new movie, the gritty heist caper Cut Throat City. Joined by cast mates Wesley Snipes, Shameik Moore, Demetrius Shipp Jr., Kat Graham, Denzel Whitaker, Keean Johnson and Tyron Woodley, the director premiered a clip from the film (as of now it only has a 2019 release date) that gives a clear indication of his new direction.
Starring Moore (who also turned up at Sony's Comic-Con panel Friday, providing the voice for newly minted Spidey Miles Morales in the animated Spider-Man: Into the Spider Verse) as Blink, a graphic novelist and struggling family man who returns to New Orleans' Lower Ninth Ward with his neighborhood buddies after the city has been decimated by Hurricane Katrina. Influenced by a cold-blooded local hustler (the rapper-actor Clifford "T.I." Harris, featured with something looking like vitiligo on his face), and absent solid job prospects or governmental aid, the friends hatch a scheme to knock off a casino and a FEMA recovery center — never mind that "We ain't no gangstas" as one of them points out. Needless to say, nothing goes according to plan.
"I'm trying to tell the story of America through my music and films," RZA said from the stage. "You have talent, ambition and aspiration but those things get washed away. When they get washed away you turn to desperation."
Watch the trailer below: