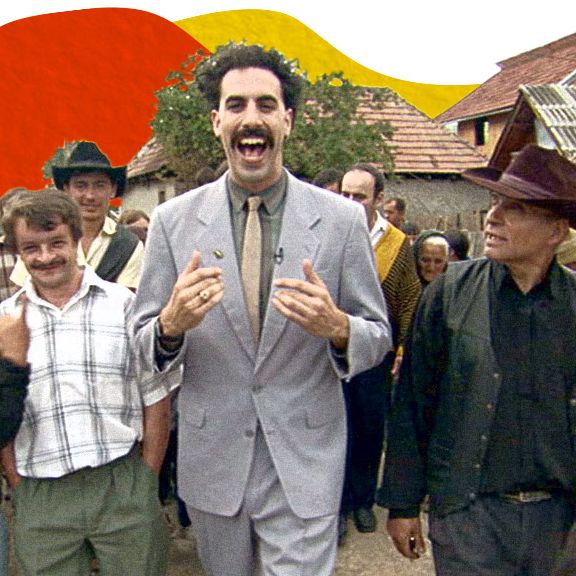 Photo-Illustration: Maya Robinson/Vulture and Photo by Everett Collections
Get on your knees and beg for mercy, America: Sacha Baron Cohen will return to TV this weekend in Who Is America?, a new Showtime series that's shrouded in mystery. Both Baron Cohen and Showtime have remained mum on the show's purpose — it's going to be political, that's for sure — which was filmed in secret for a year and will feature prominent unwitting guests in interview settings. (Former vice-president Dick Cheney signs a waterboarding kit in the promo.)
As with all of Baron Cohen's previous characters, whoever he chooses to embody in Who Is America? will undoubtedly cause an array of shock, awe, admiration, and multiple warnings from the Parents Television Council, not to mention all the people he's duped. It's been awhile since his last character came out to play, so let's revisit Sacha Baron Cohen's many comedic guises from two-plus decades of pranks and mayhem. It's a lot of characters, but even more controversies.
Ali G
Appeared in: The 11 O'Clock Show (1998–1999), Da Ali G Show (2000–2004), Ali G Indahouse (2002)
Booyakasha! Alistair Leslie Graham — please, call him Ali G — likens himself to being the "voice of da yoof" with his chavvy street smarts and vernacular, and he can never be found without his beanie, yellow-lens glasses, and ideally an eclectic windbreaker. He is an idiot who nevertheless managed to corral a remarkable amount of famous people to be interviewed on Da Ali G Show — which aired for a season on Channel 4 in the U.K. before coming to HBO for two more seasons — to discuss everything from politics to crime to soccer. "Part of Ali G was an attempt, subtly, to slightly undermine the establishment," Baron Cohen later said on Marc Maron's WTF podcast, believing the character "couldn't really exist" in real life because of his sheer stupidity.
Perhaps most presciently, Ali G once interviewed Donald Trump at his office in Trump Tower. "How long has there been businesses?" he inquired in his signature rudie twang, before pitching Trump a glove that prevents ice-cream from dripping on your hands. "He kept me waiting, I think about an hour and a half, which is fine," Baron Cohen told Maron. "But during that time, he was screaming so loudly. He was like, 'Get me the mayor of New York on the phone!' He was like this kind of bad villain in a bad Batman movie, screaming at Giuliani on the phone. I just thought he was an incredible character. I couldn't believe he existed."
Despite the fact that Da Ali G Show aired about two minutes of footage, Trump later claimed he "immediately walked out" of their interview.
Ali G also interviewed his "main man" Noam Chomsky about the study of linguistics. "When animals chat to each other, does them talk in language?" he asked. "How many words does you know?" Fist bumping occurred. Chomsky was amused!
Or who could forget when he grilled Buzz Aldrin about the moon being a massive conspiracy theory.
When Da Ali G Show was airing, Baron Cohen also released the comedy film Ali G Indahouse, which finds the character inadvertently ascending to become a successful member of Parliament. Here's a standout moment of him palling around with his fellow gang member Martin Freeman:
Years after the show ended and swearing retirement of the character, Baron Cohen reprised Ali G at the 2016 Academy Awards, where he presented alongside a confused Olivia Wilde. (Take a look at his glove.) He later revealed that he and his wife, Isla Fisher, had to sneak the costume in, as the Academy forbade him dressing up in a character. "The Oscars sat me down beforehand and said they didn't want me to do anything out of order. They wanted me to actually just present it as myself," he explained. "But luckily, my wife put on the Ali G beard in the disabled toilets and I managed to get away with it. What would I do without her?"
Borat Sagdiyev
Appeared in: Da Ali G Show (2000–2004), Ali G Indahouse (2002), Borat! Cultural Learnings of America for Make Benefit Glorious Nation of Kazakhstan (2006)
Jagshemash! Borat Sagdiyev, one of the finest journalists to ever emerge from Kazakhstan — or rock a neon green mankini — first appeared in a few Da Ali G Show interview vignettes, where he palled around with people to learn "U S and A" customs. He meant well, but he always ended up pissing off his interviewees.
Of course, his widespread recognition came thanks to 2006's Borat mockumentary film, where he traveled from Kazakhstan to America with his producer friend to learn more about our customs — the good, the bad, and the ugly. That, and also to abduct and marry Pamela Anderson, and maybe engage in a naked brawl with his producer.
The controversy came almost immediately for the hit, Academy-award nominated film. (Not to mention, Baron Cohen continued his ongoing feud with Trump by writing a scene in which Borat poops in front of Trump Tower.) Among the most prominent blowback included almost every Arabic country banning the film due to its "vile, gross, and extremely ridiculous" nature, and many of the film's participants suing the production upon its release. (Later, Kazakhstan's foreign minister became a bit more relaxed about the whole situation, inviting Baron Cohen to explore the country and discover its charms.) The lawsuits included two University of South Carolina fraternity members who claimed they were made the "object of ridicule, humiliation, mental anguish and emotional and physical distress" after appearing in the film, and a driving instructor who claimed he only agreed to appear in the film because he was told it was a "documentary about the integration of foreign people into the American way of life." Residents of a small Romanian commune also sued the film, alleging they were lied to about its narrative and were paid unfair wages. All three lawsuits were eventually dismissed in court.
The scene where Borat sings the Kazakhstan national anthem at a Virginia rodeo generated actual news stories at the time of filming, well before the movie's release. "I've been in a bizarre situation, where a country has declared me as its number-one enemy," Baron Cohen later told Rolling Stone. "It's inherently a comic situation. I mean, it's always risky when you don't go down the normal route. I wish I would have been there at the briefing that Bush got about who I am, who Borat is. It would have had to be great." Not to be outdone, Baron Cohen later revealed the FBI kept a dossier on Borat while they were filming in America: "On Borat, the FBI started following us. They got so many complaints that there was a terrorist traveling in an ice-cream van … that they started compiling a file on us."
The last appearance of Borat comes from a December 2015 appearance on Jimmy Kimmel Live!, where Baron Cohen appeared in character to promote his newest film, The Brothers Grimsby.
Brüno Gehard
Appeared in: Da Ali G Show (2000-2004), Brüno (2009)
This overly enthusiastic, flamboyantly gay Austrian fashion reporter first appeared on Da Ali G Show in a variety of correspondent-type roles, where he would report on the trends or attempt to sneak into Fashion Week activities. He also loves to hit the clubs. That's vassup!
Years after Da Ali G show ended — and owing to the success of Borat — a Brüno film was released in 2009, where the character leaves behind his European television show to achieve bigger success in America. It doesn't exactly go as planned. (Everyone from Bono to Paul McCartney got in on the fun with cameos.) The film grossed $128 million, but received considerable backlash from the LGBTQ community, with the senior director of media programs for the Gay and Lesbian Alliance Against Defamation saying Baron Cohen's "well-meaning attempt at satire is problematic in many places and outright offensive in others."
In his WTF podcast interview, Baron Cohen admitted he incited a riot with Brüno's closing scene — all we'll say is that it involves a parade — and also postponed shooting the film for a brief period of time after one too many visits from the Kansas police. "We always have an escape plan — we start running down the staircase, I'm in a G-string, [the security guy] goes, 'Cops downstairs! Out the window!' So we start down this rickety fire escape dressed in this S&M stuff, and we got down to 10 feet or 12 feet up, and [the security guy] goes, 'Jump!' I go, 'What?' He goes, 'Jump!' So I jump, I break my heel, and we jump into the car and we get out of the state," he recalled. "And we had to shut down the movie for three months."
But it was an interaction with Eminem during the 2009 MTV Movie Awards that brought even more attention to the character. In what appeared to be a stunt gone wrong, Brüno — dressed as an angel — was lowered from the ceiling onto Eminem's lap, with his crotch directly in the rapper's face. Eminem and his D12 crew angrily left the ceremony and didn't return, only for Eminem to later reveal it was a perfectly executed prank. "I'm a big fan of his work, so I agreed to get involved with the gag," the musician later explained. "After the ceremony I went back to my hotel and laughed uncontrollably for about three hours. Especially after I saw it on air."
Like Borat, Brüno is now a retired character.
Admiral General Aladeen
Appeared in: The Dictator (2012)
The first Baron Cohen character not to emerge from Da Ali G Show, Admiral General Aladeen was the protagonist in the 2012 comedy The Dictator. In the film, Aladeen is a widely loathed tyrant in the Republic of Wadiya who travels to New York City in the hopes of convincing the United Nations that he's not, well, the next Kim Jong-un. Baron Cohen did most of the publicity rounds in character, swinging by everywhere from The Daily Show to Larry King. "Dictators are ludicrous characters, and in my career and in my life, I've always enjoyed sort of inhabiting these ludicrous, larger-than-life characters that somehow exist in the real world," Baron Cohen explained in a rare earnest interview with Fresh Air host Terry Gross. "And just looking around, you know, over the last ten years in particular, I kind of became obsessed [with] Colonel Gaddafi, amongst others, but Gaddafi in particular because he was so over the top. His dress style was so flamboyant, so ridiculous."
Most prominently, Baron Cohen attended the 2012 Academy Awards as Aladeen, spilling the "ashes" of Kim Jong-il on Ryan Seacrest during a red-carpet interview. (It was actually flour.) He and his female bodyguards were escorted off the carpet immediately.