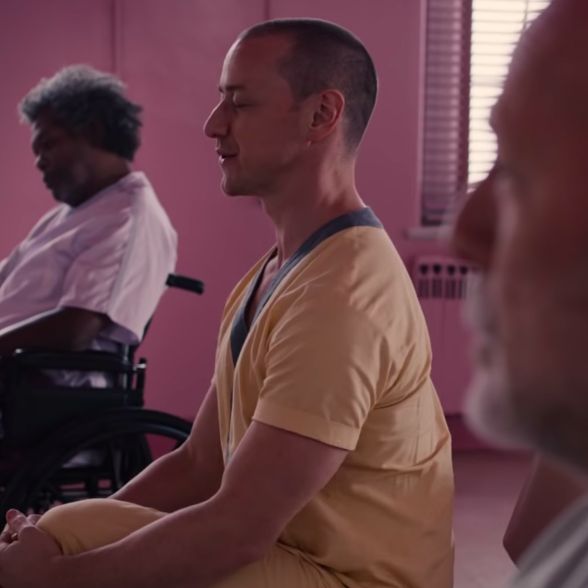 Every year, Comic-Con provides a days-long extravaganza of anticipation for all the film and television you'll be champing at the bit to see for the next several months. Below are all the major trailers that debuted at this year's SDCC, including a very spooky Glass, a very silly Shazam!, and just about everything in-between. Grab some popcorn and enjoy, keeping in mind all of those scattered premiere dates.
Glass
Like Philly's own Arkham Asylum, M. Night Shyamalan's latest brings together the supermen of Split and Unbreakable in one psychiatric hospital. Sarah Paulson's Dr. Staple has her work cut out for her, especially since she seems to think her three charges are delusional about their powers. Woe unto her come January 2019.
Aquaman
Much to our appreciation, the DC Universe has finally found its funny-bone. Jason Momoa's fish-man, backed by a Riverdale-red Amber Heard, a Malfoy-blonde Patrick Wilson, a normal-haired Dolph Lundgren, and Nicole Kidman (!!) will lead you on this under-the-sea adventure due out in December.
Shazam!
Shazam! [Checks body for physical transformation.] Ah, damn. Enjoy the misadventures of DC's silly Shazam! anyway, which amusingly follows a bullied tween who's granted the power to transform into a buff, spandex-clad do-gooder (Zachary Levi, in a great costume) just by shouting that s-word. This one's coming in April 2019.
Godzilla: King of the Monsters
Damn, you thought that Demogorgon were bad, Millie Bobby Brown? Enter stage right, sky-scraper lizard monster. Our Stranger Things heroine gets to fight alongside the iconic duo of Vera Farmiga and Sally Hawkins to bring Godzilla down for good, but we have a feeling he's not going down without a huge fight. May 2019, baby! Rawr!
Fantastic Beasts: The Crimes of Grindelwald
Raise up your wands in anticipation, you J.K. Rowling stans. For Eddie Redmayne, Ezra Miller, Jude Law (hey, Jude) and the PR-plagued Johnny Depp are ready to let the magic fly in The Crimes of Grindelwald. "It's a geek-out fiasco," Miller teased at the panel. You have our attention! This sequel will hit theaters in November.
The Walking Dead Season 9
It's time to say good-bye to Rick Grimes — hopefully not a super bloody good-bye. The Walking Dead's upcoming season will be its last featuring that dashing lead character, but we have a feeling Norman Reedus and Danai Gurira have some tricks up their sleeves to keep viewers entertained. "I'm particularly fond of the people who watch this show, you people," Andrew Lincoln said at the show's panel. "This has been the most extraordinary, amazing, and beautiful experience of my career, and largely because of you guys, and the relationship we have here with you in this room, and in rooms across American and the rest of the world." Zombie walk until the October premiere.
Disenchantment
The latest animated comedy to come to Netflix, Disenchantment, is all about a beautiful princess about to have her happily ever after. Except that's not what she wants at all. Instead, she heads off in search of her own destiny and the nearest pub. The new adult cartoon is brought to you by the creator of The Simpsons and Futurama, Matt Groening.
Doctor Who
The 11th series of Doctor Who is set to be a historic one. It's the first time a woman has played the Doctor. Jodie Whittaker takes over from the 12th doctor, Peter Capaldi. In the trailer, she asks "Would you be my new best friends?" and, to be honest, we'd do anything Jodie Whittaker asked us to do.
Star Trek: Discovery
At Comic-Con this year, executive producer Alex Kurtzman confirmed that everyone's favorite Vulcan, Captain Spock will be appearing on the television show, but fans are going to have to be patient. The new trailer introduces Captain Christopher Pike, who'll be taking on the discovery and hopefully leading us to Spock. This will be the first time in 27 years that Spock appears on television so, hello, let's raise a big Vulcan salute to that!
The Orville
Like space but the serious fear of a never-ending, empty abyss keeping you from fully committing to the genre? Well, maybe you can stomach Seth MacFarlane's Star Trek-esque comedy. The Orville is back for a second season this year.
Nightflyers
Long, long ago in a pre-Game of Thrones world, George R. R. Martin wrote a novella about a doomed space voyage. Now, Syfy is bringing the psychological thriller to life.
Deadly Class
Produced by the Russo Brothers, Deadly Class is about hardcore misfits learning to become killers in the late '80s. Cue up Killing Joke!
The Man In The High Castle
This historical drama is going sci-fi. When the Greater Reich discovers the multi-verse, only bad things can come out of it. Already renewed for a fourth season, The Man in the High Castle's third season will premiere on October 5.
Better Call Saul
Incredibles 2 stars Bob Odenkirk and Jonathan Banks return to their day jobs — or, in Jimmy's case the lack thereof — in the season 4 trailer of Better Call Saul.
Fear the Walking Dead
Tensions are rising on the fourth season of the Walking Dead spin-off. After the heroes move from California and Mexico to Texas, the whole show is facing a reinvention, starting with new characters. Old favorites like Morgan (Lennie James) persevere, trying to survive among the dead.
Preacher
If you came across this trailer while googling Dominic Cooper because post-Mamma Mia 2: Here We Go Again!, your 2008 crush on him is back, prepare to be shook.
The Purge
The show opens up all the different ways people will purge or be purged upon for ten episodes only. Dangers include purge cults, thieves, murder and apparently having William Baldwin as a boss. "Be safe tonight," he says to his employees via conference call. Yeah, everybody is definitely dying.
Iron Fist
Just a month after Luke Cage's second season premiered on Netflix another member of Marvel's Defenders is making an appearance. Netflix gave a tease of the season two of Iron Fist at Comic-Con and revealed its September 7 release date.
The Gifted
Introducing Reeva Payge (Grace Byers) a powerful mutant ready to wage war on The Gifted's heroes and anyone else who gets in her way. Fans of the comic should get excited for villains like The Purifiers to play a bigger role in season two, according to Sean Teale, who plays Marcos "Eclipse" Diaz.
Arrow
Oliver Queen did his waiting! Twelve years of it in Azkaban! Well, it's more like five months in some federal prison. Meanwhile, Star City's zero-tolerance for vigilantism goes south when a hooded archer arrives.
Black Lightning
Black Lightning is back, baby. The Comic-Con trailer recaps season 1, begging you to get lit for season 2. Jordan Calloway (Riverdale) has officially been upped to a series regular, coming back as the vengeful Painkiller.
Titans
The new Teen Titans series features the heroes in a much grittier way than their current iteration, Cartoon Network's Teen Titans Go! The show will air later this year on DC Universe, the new DC digital service.
DC's Legends of Tomorrow
On the CW, DC's Legends of Tomorrow are back, doing their best to save the world, making unicorns in the process. Unfortunately, not all their mishaps are as cute as that. Tune in for more dragons on October 22.
The Flash
Another season, another speedster. It just so happens that this one is Barry and Iris's daughter, Nora. It's the interracial Back to the Future we've always needed! Looks like season 5 will bring Barry a new suit (via the Flash ring!) and a new villain.
Supergirl
Supergirl's trailer opens with some anti-space immigration rhetoric from newcomer Agent Liberty. The villain is played by Sam Witwer who was previously Doomsday on Smallville. He'll be the third Smallville alumni to appear on Supergirl, right after Laura Vandervoort and Erica Durance.
This page will be getting frequent updates until the end of Comic-Con.