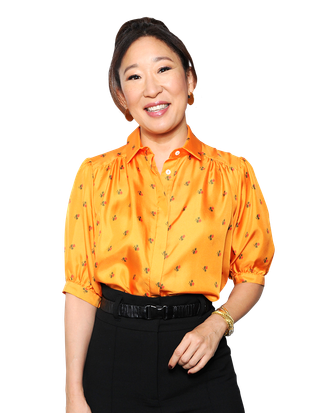 Sandra Oh was working when she got the news that she had received her sixth Emmy nomination and first for the show Killing Eve. She was with her friend and fellow actor Michelle Krusiec, talking through the Hansol Jung play, Wild Goose Dreams, which Oh had previously starred in. "My friend is auditioning for the play," she said on the phone a few hours later. "We were talking about it because I was already familiar with the character that she was going in on." She finally looked at her phone and saw the news. "I really love the fact that when all those calls were going off, my phone was on silent," Oh said, "[because] Michelle and I were talking about this play about a North Korean refugee."
Both of them realized what a historic moment this is: Sandra Oh has become the first woman of Asian descent to be nominated for lead actress in a drama. (Archie Panjabi won an Emmy for Best Supporting Actress in 2010.) Her first five nominations came in a consecutive string from 2005 to 2009, for her work as a supporting actress on Grey's Anatomy as the prickly and ambitious Dr. Cristina Yang. She left the show in 2014 to pursue new creative projects. She did a play; she did the movie Catfight with Anne Heche; but she was still waiting for a part that could inspire both terror and exhilaration in her as an artist. As Eve Polastri, she gets the opportunity to flex her range: She's darkly funny, sexy, heartbroken, curious, and furious. She's so good, that we here at Vulture named her the Best Actress on TV.
Sandra Oh: Aleeexxxx, Aleeex, Aleeeex. Alex. Alex. Alex. Alex. Alex. Alex. Alex.
Sandra.
Alex.
Sandra.
Alex.
Sandra.
[Laughs.]
How are you?
You know I've got to tell you, usually I'm like so superclean, I don't drink when I'm working and all that stuff. But right now it's a beautiful evening in London, I'm at the bottom of my mews. I'm sitting on my little patio plastic chair and I'm drinking wine.
What are you drinking?
What the hell is this? I'm drinking a Chablis. I try and be super-disciplined because it's like I won't have a full bottle in my flat. So I have a little mini — like you only have two glasses in the bottle kind of thing.
Well, congratulations!
Thank you, thank you.
How did you get the news?
I was in my flat talking to a dear friend of mine [Michelle Krusiec]. She actually flew in from L.A. and we were talking about a play I did, Hansol Jung's [Wild Goose Dreams]. So we were just talking about work; she was going to do the play. And we just got new drafts of episode 201–202 [of Killing Eve]. And then I pulled out my phone and it was like, Oh, oh, oh shit. Oh shit. It was so fun.
You've been nominated multiple times for Grey's Anatomy. I know some people say they don't care about awards, but I'm wondering, does it feel different to you this time around?
Yeah! I understand why people say they don't care about awards, and I understand that in some ways, but I feel it's not just me at this moment. My friend is Asian-American, and she was downstairs and she screamed just like, "Sandra! Sandra!" because it came up on her Instagram feed. And to have a sister in that moment when I found out look at me and go, "This is great! Congratulations!" … If I was just here alone in my flat, it would be one thing, but having her here to see what this means for her — as an actress — fills me with, not only joy or joy for myself, like, joy for her.
I've always felt like it's not just me. Let me tell you, I'm not thinking of other people when I'm doing my work. But I know that I'm part of my community. I really hold that, maybe not so much as a forefront of what moves me through my work, but I know it. So I am exceptionally honored that I am able to hold this moment, not only for myself, but what it may mean for our community. And I can't speak for the community, I don't know how that makes you feel, but I saw it in Michelle's face.
I can tell you a lot of people are thrilled even as there's some sadness that this is historic. You are the first woman of Asian descent to be nominated in the lead drama category. How do you handle the weight of history?
I've got to tell you: joyously. I understand that people are going, Oh my God, it's 2018 why is taking the world so long? I understand that. But I am not there. I am just like, yay. Let's be happy that we have this moment. And let us build and have confidence and see ourselves in this moment.
One thing I will say is that I'm disappointed that Killing Eve did not get more nominations. It's the best show of the year!
Well, good. You write that, baby, you write that.
Do you think Asian-American-ness informs your character on the show?
Well it has to because I am it. Because my face isn't anything that it's not. And she is just this singular character. But how can we build culture into all characters? Eventually the writing will be specific and be able to bring in character and culture. If you're just writing, let's say someone who owns a pub (I'm looking at a pub right now). Usually the writing has been from only a specific point of view of a character and culture and it's only been basically one kind of culture. Let's say the pub owner looks white but they're Polish, and the people who work there, one is Italian and one is Czech. So you just bring that into it because you're writing people who work in a pub, because the specificity of how you can bring culture will only widen things and make things more interesting. I don't think we are yet here in our culture and storytelling in a lot of ways.
How do you feel about diving into the second season of Killing Eve?
I feel the right amount of terror and the right amount of excitement and the right amount of hunger. All those are in play.
Where does the terror come from?
I don't know. I don't know where we're going. What it is to create something is you have an idea but you don't really know what it is. It's not like we're making microchips, where you've already set the template and you just have to stamp it out. So there's a beautiful amount of unknown. And I'm not immune from it; the unknown terrifies me. But I do know that a lot of wonderful things — mostly creative things — come out of that unknown. If you can match it with truth and bravery, hopefully good things will come out of that.
Do you feel like your hair deserved a supporting acting nomination?
Oh my God. My hair. Can I just tell you, I love it when people pick up on my hair. You know when Phoebe [Waller-Bridge] started writing to my hair, she just would talk about my hair. So let's hope there's a separate category just for hair.
What would she say?
The hair?
Yeah.
The hair would fucking thank my parents.