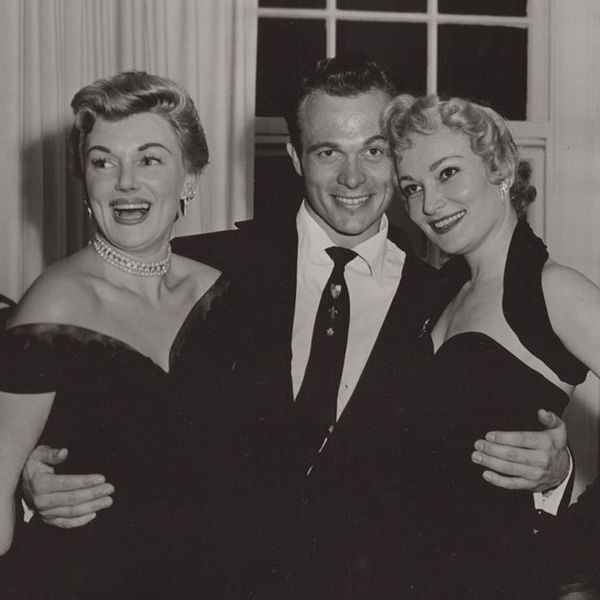 This piece originally ran during the Toronto Film Festival.
When we first meet Scotty Bowers, the protagonist of the sure-to-make-headlines documentary Scotty and the Secret History of Hollywood, he's on the way to his 90th birthday party. Bowers gives his wife a farewell kiss, honks her breasts affectionately, and sets off for a penthouse at Hollywood's Chateau Marmont where, in short order, several hunks in underwear emerge holding a birthday cake shaped like a cock. Scotty's smile is huge, and so is the cock.
Suffice it to say that while Bowers fought in World War II, Scotty and the Secret History of Hollywood is not your typical Greatest Generation hagiography. That's because shortly after the war ended, Bowers landed work at a Hollywood Boulevard gas station that he turned into a brothel to the stars using not much more than his good looks, easy smile, and equal-access sexual availability. Actor Walter Pidgeon was the first to hit him up, and from there, word spread fast among the best-known and best-looking people that Bowers could satisfy you for just 20 bucks, or at least hook you up with someone else who could. Bowers and the documentary are quick to tell you exactly which celebrities partook of his services and just what it was they were into, and those sexual reveals paint a picture of a closeted yet swinging Hollywood at odds with the carefully stage-managed PR narratives of this Golden Age of cinema.
Were there three-ways with Cary Grant and Randolph Scott? Check. Did Bowers have hotel assignations with the Duke and Duchess of Windsor? That was on the menu, too. By the time he recounts late nights steering women to Katharine Hepburn, then bedding Spencer Tracy next door, you'll start to think Bowers has done it all — or, to put a finer point on it, that he's done just about everybody.
To say the least, this documentary is juicy and full of the sort of lines, casually tossed off by a still-spry Bowers, that would make any documentarian's day. In the space of just two minutes, I jotted down four of those Bowers bon mots. Context is wholly unnecessary.
"I wanna suck 15 guys off, one after the other!"
"I fucked Bette Davis in World War II."
"I went to bed with J. Edgar Hoover. He was in drag. Not a great beauty, either."
"Cary Grant just happened to be there. So I fixed him up with Rock Hudson for 20 bucks."
"He's talking about what you don't usually hear older people talking about, which is sex," director Matt Tyrnauer told me. But Bowers is hardly the lascivious granny that's a sitcom staple: He recounts his sexual escapades in the easy way you or I might talk about a Starbucks run. "All these people lived in a society where homosexuality was shunned and they had to live lives in the shadows," said Tyrnauer. "Now they've lived into a period of tremendous openness, by comparison, and it's interesting to see."
Not that Bowers, who is married, would necessarily describe himself as homosexual. "Some of these squares think, 'Oh my God, you're weird, you're different,'" he recalls in the documentary. "Ladies have said to me, 'Just what are you?' I said, 'I'm everything.'"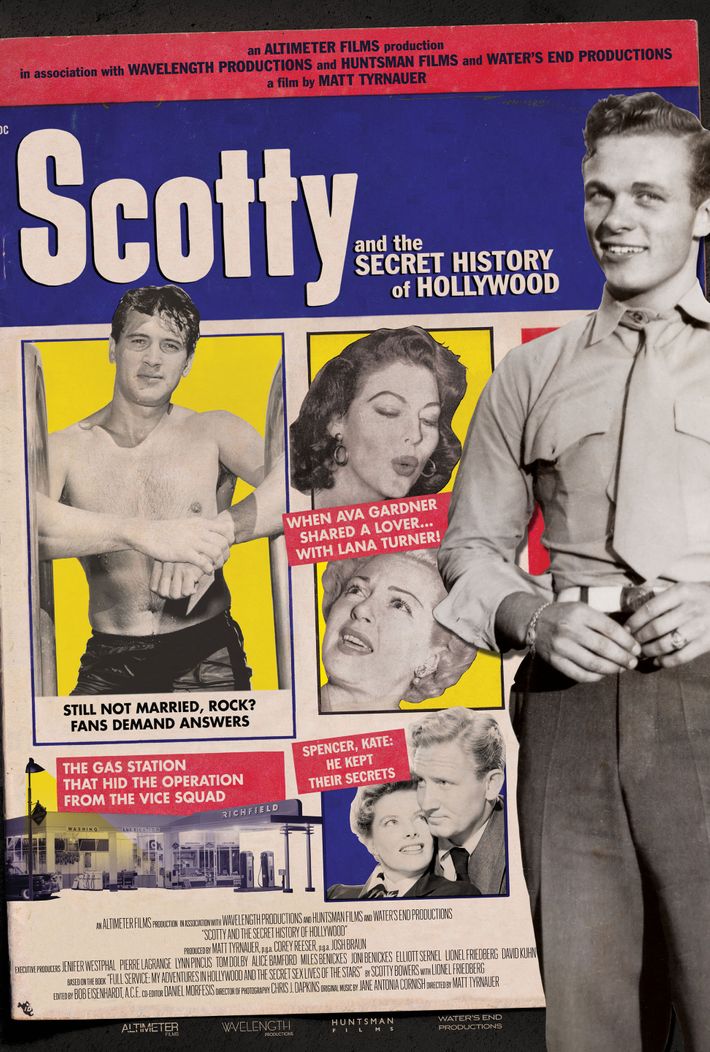 Scotty and the Secret History of Hollywood premiered at the Toronto Film Festival — and Bowers made the trek up north, his first time hopping on a plane in decades — but it hits theaters this week, so you can expect to hear plenty more about it in the year to come, given who the film talks about. Did Tyrnauer have any compunction about the private stories that are told in it, some of which were revealed in a recent book co-authored by Bowers, Full Service?
"I didn't find Scotty's book to be offensive, in that it outed people," said the director. "I think he was making a larger point about Hollywood and the hypocrisy of the period. A lot of people had diverse sexualities but were part of a system that insisted on putting out the 'white picket fence' morality. That's in the past."
And though Tyrnauer's documentary only deals with the sex lives of stars who have passed away — though one carefully worded mention of Clint Eastwood's "buddy-buddy" friendship with a male hustler raised my eyebrows — he thinks the closet is increasingly a thing of the past.
"I think we've kind of moved past the outing debate in our culture," he told me. "It seems like it's so '90s. We're lucky in the U.S. that we've reach a point of openness, certainly since I was a kid. It's just a different world and people mostly don't feel like they have to hide their sexuality."
If anything, at least Scotty and the Secret History of Hollywood will have you looking at Turner Classic Movies in a whole different way … and hopefully, it'll inspire you to reevaluate the elderly, too, once Bowers relates a life lived in full. "In American culture, old people become invisible and I think that's very sad," said Tyrnauer. "The media is so geared toward its obsession with chasing youth, and I don't think people listen to old people. It would serve them very well to."
When Scotty Bowers is talking, who wouldn't listen?