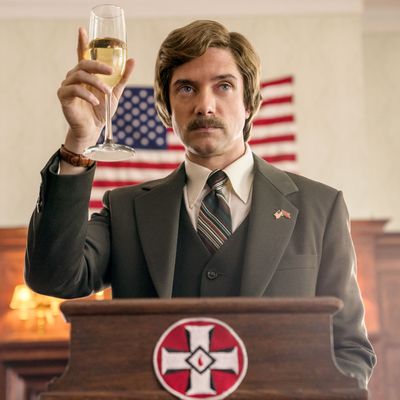 Photo: David Lee/Focus Features LLC.
Topher Grace has his most startling role in years as Ku Klux Klan grand wizard David Duke in Spike Lee's new film BlacKkKlansman, but when he told his team he wanted to pursue the part, "Everybody went, 'Huh?'" Grace recently told Vulture. "It's not like something I've done before." That's putting it mildly: Press play on the exclusive clip below, and you'll watch Grace as Duke deliver a celebration of "White America" that's all the more surprising because unbeknownst to him, the black security guard in the room (John David Washington) is actually a detective who's been catfishing Duke over the phone by pretending to be a white racist.
It's a plot that's all the crazier for being true, and after BlacKkKlansman earned glowing reviews out of the Cannes Film Festival ahead of its August 10 release, at least it justified all the prep Grace had to do to play such an out-and-out racist. "It was just the worst month of my life, doing research on that guy," said Grace.