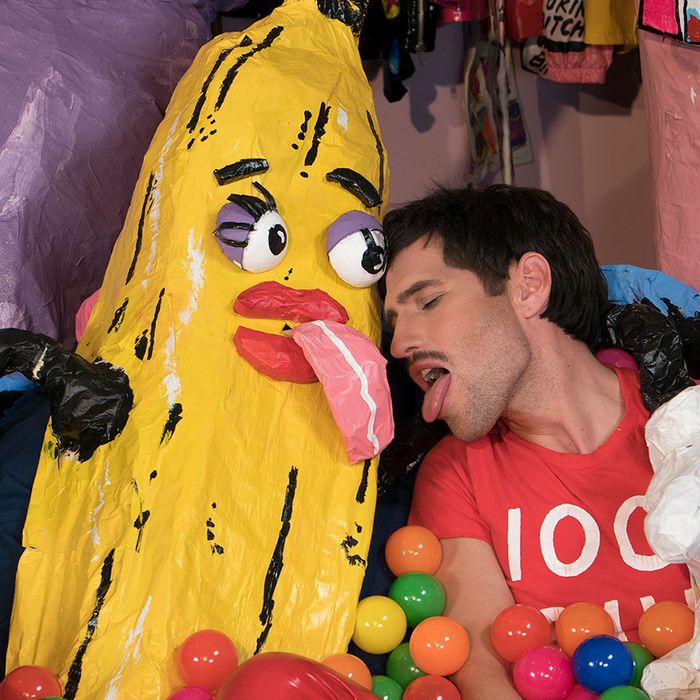 Seth Bogart, the host and creator of
Feelin' Fruity
, a video series variety show produced by World of Wonder.
Photo: Amina Cruz
"This is Wiglet. She's my pet poodle and she likes to eat wigs. She tries to eat the hair of a lot of my guests," says Seth Bogart, gently patting the blonde curly wig of a yellow dog made from papier-mâché. We're at his Highland Park studio in northeast Los Angeles, where a floor-to-ceiling set is installed for his latest project, Feelin' Fruity, a video series variety show produced by World of Wonder (WOW) Presents Plus, of RuPaul's Drag Race acclaim, that is bringing a punk, do-it-yourself aesthetic to streaming television.
What exactly does it mean to be punk in our digital age? Feelin' Fruity stands out in an era of disenchantment — it's weird, self-made, and feels underground. "The overall theme would be to do things yourself and make your own world," says Bogart, a longtime West Coast queer icon, known best for his stint as the front man of queercore punk favorite Hunx and His Punx, where he performed as the salacious Hunx. "My goal is to inspire young people because World of Wonder has a pretty young fan base. And I want to give people a break from the insanity of the world right now."
Inspired by Disneyland's Toontown and Pee-wee's Playhouse, Feelin' Fruity, which migrates over to YouTube today, is billed as a "kids' show for adults" ("It's pervy," says Bogart). With its canned laughter and public-access graphics, its blend of performance art and comedy follows the formula of a classic variety show, a mix between You Can't Do That on Television and Sesame Street on mushrooms. Every episode ends with a dance contest to see how fruity each guest is. Are they Not So Fruity? Oh So Fruity? Or Fruity by Nature?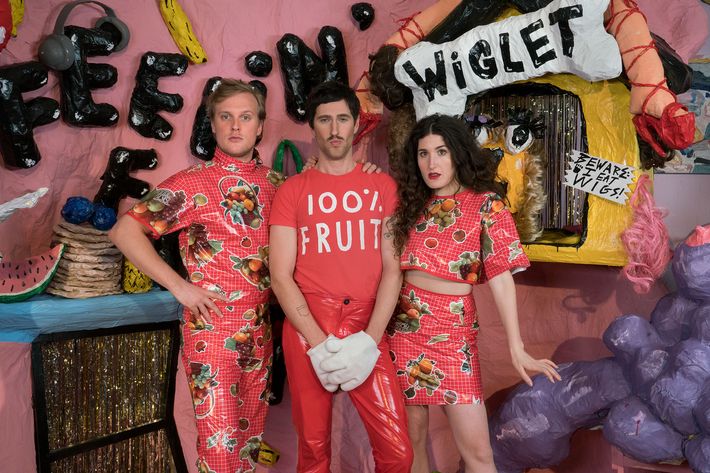 Wearing a t-shirt that reads "100% Fruity" and strapped into red latex pants, Bogart gyrates his way through six 10- to 15-minute episodes, with a rotating cast of famous friends. In one episode, comedic duo Kate Berlant and John Early make BFF dresses from garbage bags and walk the runway. In another, comedian Cole Escola and Bogart make wigs from dollar-store items like mops and neon feather dusters. The set is entirely handmade by Bogart and his collaborator Christine Stormberg (a.k.a. Hardcore Tina), from the bulging fruits that dangle from the rafters to the cardboard puppet sidekicks like Wiglet and Muscle Milf, a pink milk carton with pearly lips, made with recycled materials and a lot of masking tape. Even the costumes, which double as a fashion line sold online, are designed and sewn by Bogart and another friend, drag queen Tammie Brown.
The final episode takes on the singsong tone of an after-school special — whose theme Bogart describes as "Everyone knows queers and women invented punk" — featuring Alice Bag of the Bags and Allison Wolfe of Bratmobile. Bag and Wolfe teach co-host Wiglet how to be punk ("You can still wear a bra and be punk — it's an attitude,") and how to start a band ("Just get together with some friends and make some noise!"). "My aim was to dismantle this false history that men created punk because they didn't," he shrugs. "And they were certainly never the best at it."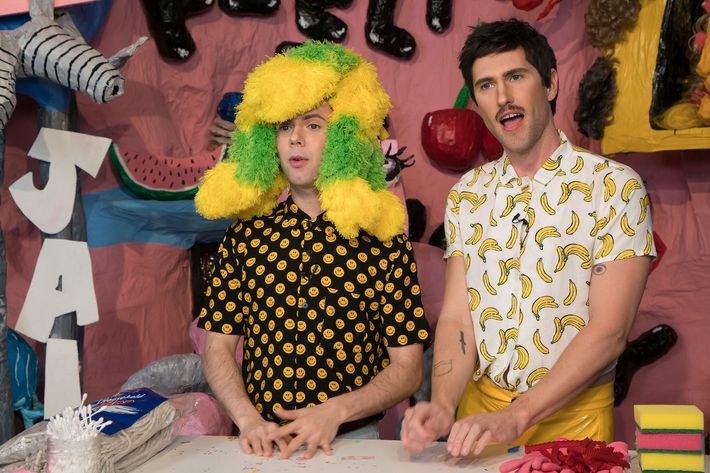 Bogart came of age in Oakland's punk scene, in a time when doing your own thing was de rigueur (way back in the early aughts, before the invasion of the tech bros). He made everything from MTV-style music videos to his own fashion line of T-shirts and curios through his shop, Wacky Wacko. After spending more than a decade as pop-punk personality Hunx, Bogart released a solo album under his own name. Coinciding with its release, he and Wendy Yao of Ooga Booga put together his exhibition "The Seth Bogart Show" in the basement of Los Angeles art space 356 Mission. For Feelin' Fruity, he blended the two personas —– the punk Hunx and his plastic pop alter ego Seth Bogart — but he says he's more playing himself now than anyone else.
These days, he's most popular among a particularly hip strain of Los Angeles' art world, both online and in real life, a status he's cemented with the likes of riot grrrl legend Kathleen Hanna and teen-girl hero Tavi Gevinson (an ardent Bogart fan since her Rookie days, posting Hunx videos regularly while waxing poetic, "You will fall in love with bandleader Seth Bogart"). True to his aesthetic, he's never had a big Hollywood budget, and he's never wanted to. "Everyone tries to be so slick and modern and computerized," says Bogart, frowning. "I've always done everything myself with little money, so I guess it's become 'my look,' but it's not really intentional." Either way, it's a perfect match for WOW Presents Plus, the online subscription service whose DIY ethos gives its digital content creators license to do whatever they want.
Maintaining creative control and working with friends are longstanding priorities for Bogart, who first dabbled in straight-to-YouTube video with a series called Hollywood Nailz, created with creative producer Brande Bytheway in 2012. In late 2017, Bogart was approached by Viceland to do a makeover show. The network asked him to first pitch his ideas, but ultimately offered him a reality-TV show formula. "I foolishly thought they wanted me to do whatever I wanted," he says. "We left the office saying, 'Bye bitch!'" The experience ended up inspiring Bogart to nail down the ideas and characters that would eventually become Feelin' Fruity. By the time WOW came knocking, he had a full plan in place.
Plans for a second season are up in the air. "I basically have a giant list of people I'd like to work with in a giant book of ideas," say Bogart. Among his dream guests are Lana Del Rey, the women from Broad City, and "RuPaul, obviously." In the meantime, he opened a new exhibition of paintings and his signature ceramic retail beauty products at Nino Mier gallery last month. After he takes some time off, Bogart says he wants to work on another solo album and teach himself how to produce it entirely himself. "I'm determined to only work with women or queer people because it's always a straight dude at the soundboard," he says. "I just don't want to do that anymore! It dilutes the fruit-ness!"