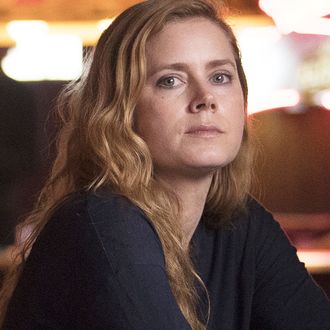 Owing to potentially triggering subject matter faced by the show's protagonist, HBO's Sharp Objects will be concluding its eight episodes with an end card that directs viewers to resources that can assist with self-harm or substance abuse problems. Deadline reports that the miniseries, which revolves around a reporter named Camille (Amy Adams) who returns to her Mississippi hometown to investigate the murders of two young girls, contains enough "sensitive" content to warrant such an end card. Specifically, prior to her reporting trip, Camille was discharged from a psychiatric hospital after years of self-harming and alcohol dependency. The card will read as such:
If you or someone you know struggles with self-harm or substance abuse, please seek help by contacting the Substance Abuse and Mental Health Services Administration (SAMHSA) 1-800-662-HELP (4357).
HBO's approach is similar to what Netflix's 13 Reasons Why decided to implement in its second season. The teen drama, which constantly deals with issues such as suicide, sexual assault, and drug addiction, ended up including both a disclaimer and a PSA at the beginning and end of each episode. The disclaimer even told viewers that "this series may not be right for you, or you may want to watch it with a trusted adult," if you are struggling with the issues depicted in the show.