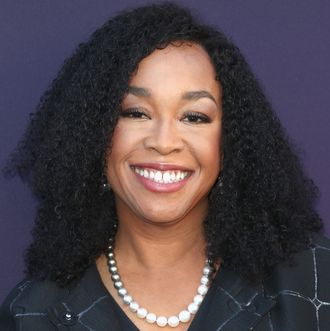 The Shondaland takeover is real.
Photo: Frederick M. Brown/Getty Images
Shonda Rhimes will soon embark on the next phase of her TV world domination, with a multiyear deal at Netflix. But the creative floodgates didn't open just because the doors at a new TV empire did. While wrapping up Scandal, Rhimes says she suffered from writer's block on new projects, first toying with the idea for a sci-fi series, then coming up empty … until she read New York's viral story about Anna Delvey, who infamously scammed New York's elite, and lightning struck. She immediately acquired the rights to Jessica Pressler's story from New York and announced it as her first series for the streaming giant. "I knew exactly what the show was, which is a very clear indicator," Rhimes tells the New York Times. "I felt comfortable. I slept differently."
Creatively invigorated, Rhimes now has eight (8!) series total in the pipeline for Netflix, including adaptations of Isabel Wilkerson's The Warmth of Other Suns; Ellen Pao's Reset; and Julia Quinn's The Bridgerton Series. Here's a detailed description of all her newly announced projects, per Netflix:
Untitled Shonda Rhimes Project
Based on the New York Magazine article "How Anna Delvey Tricked New York's Party People" by Jessica Pressler. Manhattan makes a new friend like no other. But is she the stuff American dreams are made of or is she New York's biggest con woman? Is it a con if you enjoy being taken?
* Shonda Rhimes (EP) will create the series.
Untitled Bridgerton Project
Based on Julia Quinn's best-selling series of novels, this smart feminist take on Regency England romance unveils the glittering, wealthy, sexual, painful, funny and sometimes lonely lives of the women and men in London's high society marriage mart as told through the eyes of the powerful Bridgerton family.
* Scandal veteran Chris Van Dusen (EP) will adapt and showrun the series.
The Warmth of Other Suns
Based on Pulitzer-Prize winning author Isabel Wilkerson's award-winning book of the same name, this powerful groundbreaking series tracks the decades-long migration of African-Americans fleeing the Jim Crow South in search of a better life in the North and the West between 1916 and 1970.
*National Humanities Medal recipient, MacArthur Genius Grant recipient and two-time Drama Desk winning playwright Anna Deavere Smith (EP) is set to adapt.
Pico & Sepulveda
Set in the 1840s against the surreal and sensual backdrop of the then-Mexican state of California, the series tracks the end of an idyllic era there as American forces threaten brutality and war at the border to claim this breathtaking land for its own.
*Emmy-award writer Janet Leahy (EP) will create the series.
Reset: My Fight for Inclusion and Lasting Change
Netflix and Shondaland have acquired the rights to Ellen Pao's groundbreaking memoir detailing her life and career, including the lawsuit she brought against her former employer that sparked intense media scrutiny, shook Silicon Valley to its boys' club core and pre-saged the Time's Up movement.
The Residence
Netflix and Shondaland have acquired the rights to Kate Andersen Brower's brilliant nonfiction book The Residence: Inside the Private World of the White House, which offers a vividly accurate insider's account of White House residence staffers and the upstairs downstairs lives they share with the First Families at one of the most famous homes in history.
Sunshine Scouts
In this darkly comedic half-hour series, an apocalyptic disaster spares a rag-tag group of teenage girls at sleepaway camp who must then summon their moxie and survival skills to weather the fallout and ensure all that remains of humanity abides by the Sunshine Scout Law.
*Writer/actress Jill Alexander (Co-EP) will create the series.
Hot Chocolate Nutcracker
This documentary offers a behind-the-scenes look at the Debbie Allen Dance Academy's award-winning reimagining of the classic ballet, The Nutcracker. This staged contemporization — with its inclusive cast of all ages and its blend of dance traditions — has further cemented Debbie Allen's legacy as one of the greatest forces for good in dance.
*Oliver Bokelberg (DP/Director Scandal) will serve as director, cinematographer and producer.
Sources