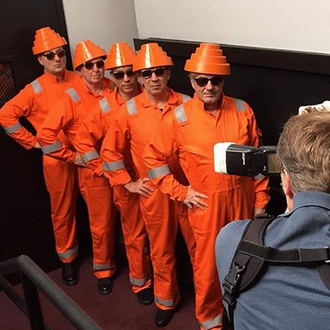 You don't have to take Culver to the 1 and then hang a right at the Jamba Juice to appreciate this musical collaboration. Fred Armisen, who does lots of fun music stuff outside of his comedic projects, joined your favorite eccentric rockers, Devo, on drums for their concert at the annual Burger Boogaloo festival this weekend. Per Spin, Armisen had long admired the band and was ecstatic when they asked him to don a matching orange jumpsuit and perform with them. (And the energy dome hat. Always the energy dome hat.)
If you don't know too much of Armisen's musicianship as opposed to his SNL or Portlandia output, he's been making music as long as he's been writing and performing, and he's actually the current bandleader for Seth Meyers's Late Night. Where he finds the time, we're not sure.
Armisen and his pal, Bill Hader, even released an entire Talking Heads parody album to coincide with the second season of their IFC comedy Documentary Now! Their band is called Test Pattern, and somewhere, we'd like to think David Byrne is smiling on his Citi Bike.
The suit could've been a little bigger.