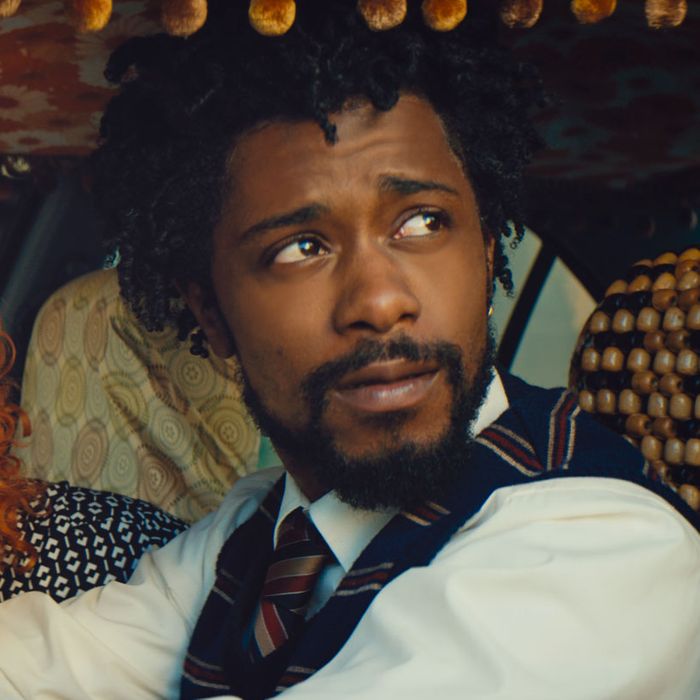 Photo: Annapurna Pictures/Annapurna Releasing, LLC.
Sorry to Bother You, Boots Riley's anti-capitalist pop art picture, stars Lakeith Stanfield as a novice telemarketer caught between a populist uprising and a private prison system. But even an anti-capitalist movie needs merch, and the official Sorry to Bother You merch store has plenty of goodies you can buy to rep Riley's singular, surreal vision — including T-shirts, stickers, the very special "Murder murder murder-Kill kill kill" earrings, and an actual piece of memorabilia from the movie: the character's car.
Yes, an actual car. For $23,999.40, you can own Cassius Greene's (Stanfield) Toyota Tercel. When Vulture asked Annapurna about the logistics of the sale, they offered the following: "The car can be picked up in Oakland proper … it runs! And there's at least 40 cents of gas in the tank. For a buyer outside of Oakland, car shipping can be arranged."
Oh, and there's one more thing: "We're still trying to figure out how we plan to deliver 'Cassius Green' … the custom Sorry to Bother You marijuana strain that we have in development." Could that be the mystery item for sale on Sorry to Bother You's site?