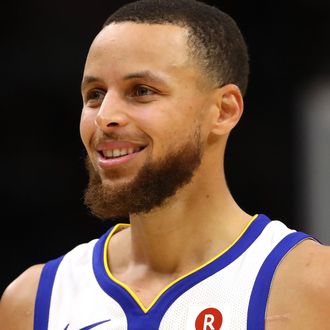 Photo: Gregory Shamus/Getty Images
There comes a time in every insanely talented and charismatic pro athlete's life where he must bring his expertise to Hollywood. (LeBron James is doing it!) Golden State Warrior Steph Curry is doing just that: He announced in April that his company Unanimous Media entered into a multiyear production deal with Sony Pictures. Now, in Variety, he's giving details on some film projects — built around the holy trinity of faith, family, and sports — that his company currently has in development:
It should come as no surprise that Curry's camp is developing film concepts themed to key Christian holidays like Easter and Christmas. Other concepts are more loosely tied to faith-based themes, according to Smith: an animated biblical story now under the watchful eye of Sony Pictures Animation and Church Hoppers, a Wedding Crashers-esque comedy about a jilted groom who takes his pals along with him as he navigates the church scene in search of a new bride.
Are you nostalgic for the days when Vince Vaughn and Owen Wilson could create mischief and debauchery, unencumbered? Are you still waiting for your mom to bring the meatloaf? Do you wish there was a comedy about churchgoers who do kinda the same thing? Steph Curry's "Wedding Crashers-esque comedy" is for you! Variety reports that some of Curry's films will feature lightly spiritual themes, while others will be part of Sony's Affirm Films label, which makes movies for Christian audiences. Curry already has plans to have a cameo in Church Hoppers but … wholesome king Chadwick Boseman, call your agent!