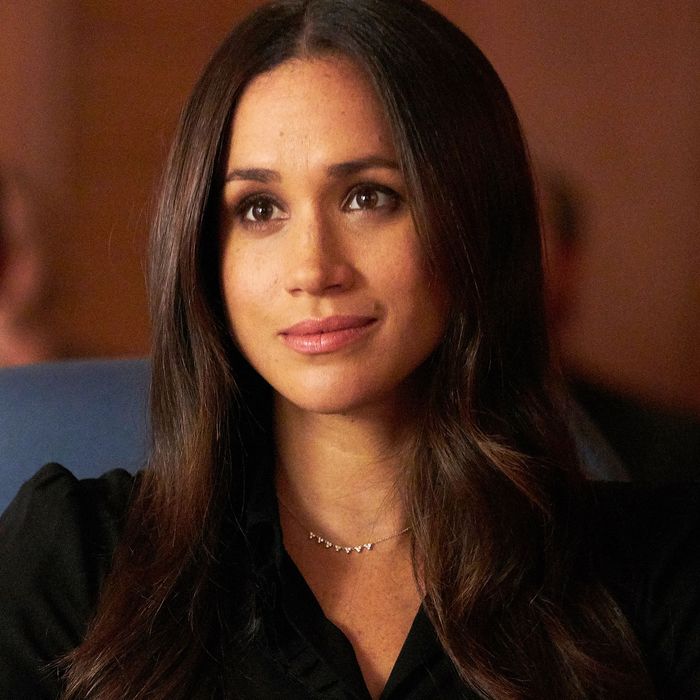 Photo: USA Network/Ian Watson/USA Network
No, Suits didn't pull a savage, eleventh-hour twist on how Rachel (Meghan Markle, duchess extraordinare) and her new husband Mike (Patrick J. Adams) ran off to their new Seattle attorney scene. Both actors wrapped up their roles on the USA series in saccharine fashion last April, delivering fan service with a wedding that predated Markle's actual royal nuptials by a few weeks. (Suits wedding, rustic city chic. Windsor wedding, pure countryside opulence.) The question that instead emerged from Suits' season-eight premiere Wednesday night, though, was whether Markle's character would be mentioned at all, or if the show would give a clever little wink to the real-life events that spurred her departure. And yes, of course her spirit lived on.
While it's hard to argue against the assertion that Mike's departure has a greater impact within the goings-on at the newly rebranded Zane Specter Litt, the emotional weight of the series was held up by Rachel, who shared a close, sisterly friendship with the firm's HBIC, Donna (Sarah Rafferty). In one of the first scenes in the season premiere, Donna is tasked with helping Rachel's father Robert (Wendell Pierce) — who, in a very apropos changing of the familial guard, is now a name partner at the firm; all hail the Zane law dynasty! — settle into his new office. "I'm gonna miss her too," she tells Robert, when he's caught wistfully staring at Rachel's office. "I'm not sure what's worse, finding out Mike is a fraud or him taking my daughter away," Robert responds.
But surprise! Rachel left something behind for her dad to make him feel a little more at home, which Donna is more than happy to pass along: "A little welcome-to-the-firm present from your little girl." We stan for a tasteful framed picture of the happy couple.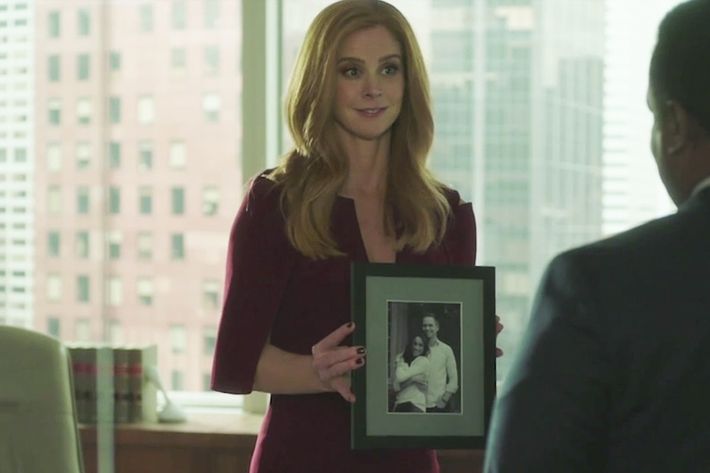 With the rest of the episode generally focusing on new characters recruited to fill the Rachel and Mike void — Katherine Heigl is a real treat, and spews "kiss my ass!" within minutes in a fabulous cape — it's significant, then, that Donna and Robert form a stronger office friendship, perhaps to continue the effortless bond she shared with Rachel. "You think Rachel didn't tell her father about the mighty Donna Paulsen?" he divulges during an advice powwow. "I guess I never thought of her as much of a chatterbox," she retorts. Among sips of pinot grigio beneath the Puget Sound sky, Rachel is smiling.