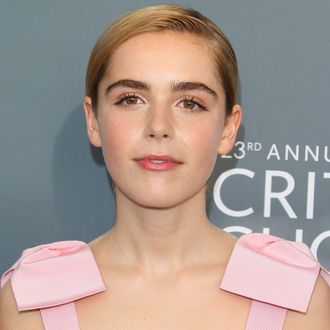 Kiernan Shipka.
Photo: Jean-Baptiste Lacroix/AFP/Getty Images
Today being Friday the 13th, Kiernan Shipka has chosen an appropriately spooky time to share a first glimpse at Chilling Adventures of Sabrina, Netflix's dark, broody, and otherwise Riverdale-esque take on Sabrina the Teenage Witch. Wearing the headband that appears in the show's poster art but otherwise dressed in civvies, Shipka introduces everyone to the show's coven, including Miranda Otto and Lucy Davis as Aunts Zelda and Hilda.
Roberto Aguirre-Sacasa, who created Chilling Adventures as well as Riverdale, also shared a brief teaser for the series on Twitter. There are candles, spooky trees, a big moon, and of course a pair of cat eyes (Salem lives!). The show, which was originally created for the the CW and then moved to Netflix, has been described as "tonally in the vein of Rosemary's Baby and The Exorcist." It "finds Sabrina wrestling to reconcile her dual nature — half-witch, half-mortal — while standing against the evil forces that threaten her, her family and the daylight world humans inhabit." Sabrina, we get it, high school is hard for everyone.