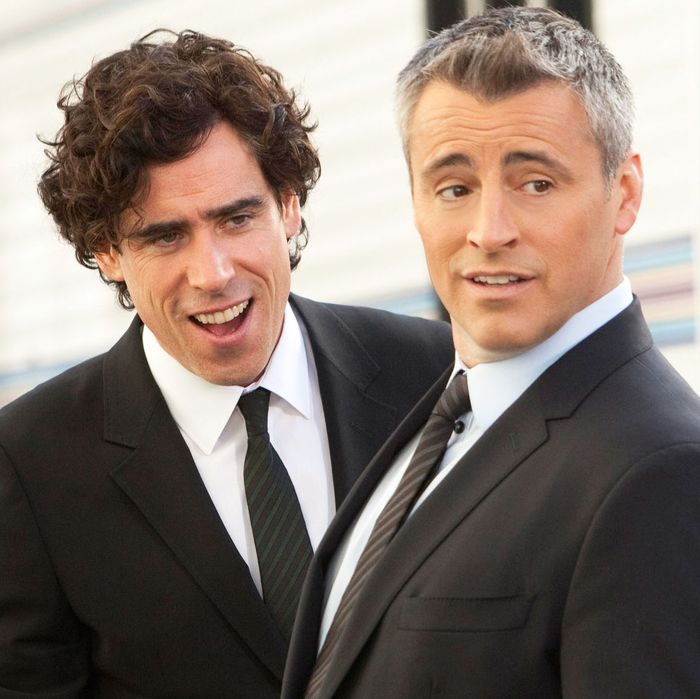 Stephen Mangan, left, and Matt LeBlanc in
Episodes
.
Photo: Showtime/BBC Two
Looking for some quality comedy entertainment to check out? Who better to turn to for under-the-radar comedy recommendations than comedians? In our recurring series Underrated, we chat with writers and performers from the comedy world about an unsung comedy moment of their choosing that they think deserves more praise.
Despite running for five seasons and racking up a slew of Emmy and Golden Globe nominations, the Showtime series Episodes is rarely discussed outside of the Television Academy in-crowd, nor is it mentioned much by comedians as a reference point of inspiration or imitation.
Starring Matt LeBlanc as a satirical version of himself, Episodes is a hypercritical send-up of Hollywood and the personalities who populate it. It follows married British couple Beverly and Sean (Tamsin Greig and Stephen Mangan), who move to Hollywood after their popular comedy series gets the American remake treatment. When they're goaded by the suits to cast a diva-ish Matt LeBlanc for the lead role, their Tinseltown fantasies start to turn into a nightmare. It's a sharp critique of a self-important industry, but one that barely moved the needle for the comedy Zeitgeist.
Lauren Lapkus wants that to change. The actress (The Characters, Crashing), podcast host (With Special Guest Lauren Lapkus, Raised by TV), and prolific, prodigious improviser wishes more of her comedy pals would ride the Episodes wave. From the meta central performance to the impressively precise portrait of the meat grinder that is the TV industry, Lapkus has found an instructive thread in Episodes. And even if its humor isn't as transgressive as the comedy to which she often lends her talents, Episodes still speaks to Lapkus's singular sensibility with its surprising smarts and cynicism.
For someone I readily associate with more absurdist comedies and the alt scene, I was very surprised to hear that you wanted to discuss a Showtime series starring Matt LeBlanc for our Underrated series.
I was thinking about this question, and at first I wanted to talk about The Comeback or maybe even Amy Sedaris, but then I had the realization that at least all my friends know about those things. But nobody I know is talking about Episodes. I didn't even think I was going to get totally hooked on that series. I started watching it two years ago and became so addicted to it. I love it so much but I have no one to talk to about it.
On what comedic level does Episodes work for you?
I really want to talk about it because it's very cool to see Matt LeBlanc in a different role. I grew up loving Friends so much. I really associate him with that role because there is something so comedically specific about Joey, and then seeing him in other things is hard to adjust to, which isn't fair, but that's just how I feel. Seeing him in this show is so cool because he's playing himself, but it's presumably a heightened version of himself, and he's poking fun at his public perception and I really love that. It really made me appreciate him more as an actor. He's obviously so funny and talented on Friends, but Episodes really takes his range to a different territory.
The show itself is underrated because it's one of the most accurate depictions of what it feels like to work in TV, even though it's an absurd version of how the industry and the people in it behave, with parts of it that are so ridiculous and not accurate to real life, but that's for comedy's sake. But there are some moments that feel so real and authentic to my experience that it's really gratifying to watch it play back. I know the show has won tons of awards and critics appreciate it, but I wish more comedy people were talking about the show and Matt's performance.
Do you think it's the inside-baseball nature of it all or its tone that some people have trouble adjusting to?
It does walk a line where it appeals to both British and American sensibilities. I love a lot of British comedy. It blends these worlds and it grows increasingly funnier as you're watching this disconnect between these worldviews and tones. The way that Beverly and Sean come to America with this amazing and successful show they've created in the U.K. and then the second they get to the States, it's instantly watered down to be the most basic, crappy, bullshit show and then everyone lies to their faces about it being good — there's so much about it that's so crazy and funny and accurate. The stuff on TV in the U.K. is generally smarter and better because there's less of it. There are fewer actual British networks that are churning out shows and filling the air. Everything is better because there's more quality control.
Matt LeBlanc's performance goes beyond self-parody and provides a texture to the meta-narrative that is a searing indictment of the industry. And he really takes it on the chin in Episodes.
Yeah, he really does! It's fun to watch too because there are many points throughout the seasons where he does get his way and he wields a lot of power and control, and these yes-men around him listen to him and bow down to him. At the same time, everyone kind of hates him. So watching Beverly and Sean struggle with him and see how badly they want to tell him to go screw himself but they can't since he's their star so they ultimately just have to bend — every season ends with them trying to leave L.A. because they can't play this game anymore. But they just can't bring themselves to leave because they keep getting opportunities that are impossible to say no to. That feels really relatable.
I have no interest in leaving the business. I'm very excited to be a part of it in any way, but the feeling that you can't control things — that you're kind of just waiting for people in power to tell you what to do next — that's very relatable no matter how much you try to change it. I love watching Sean and Beverly's relationship develop with him in the ways that he screws them over. I don't remember what season it was exactly, but when Beverly finally sleeps with him because she thinks that Sean cheated on her with Morning (Mircea Monroe), as a viewer it's awful but it's so great. I love the idea of her actually sleeping with him. He's so dumb on the show and she's so smart. This should never happen! But of course it does, and it blows up in all their faces.
Is there a particular ongoing joke or character arc that you think really stands out?
I love the story line with Carol (Kathleen Rose Perkins) throughout the entire thing. I think she starts off as an intentionally surface-level character and she's kind of a suck-up minion and just agrees with whoever needs their ego stroked at that moment. But then watching her character develop and seeing her depth and also this behind-the-scenes stuff she has going on — like the affair with her boss — I love how it ends up with her having a lesbian relationship with Andrea Savage's character. It again speaks to the nature of those power dynamics that you can't control in this industry, because Carol is ultimately screwed by that too. I think her performance is so wonderful. I honestly feel like nobody knows what this show is. I'm sure a lot of people watch Episodes but in my group of friends, I'm the only one who's seen it and I'm constantly raving about [Perkins's] performance. She goes on so many journeys on this entire series and you really feel for her. Even if you think her character is kind of dumb, you know there's so much more beneath the surface.
Episodes, at its core, is about the performative nature of television even when the cameras aren't rolling, and LeBlanc's caricature of himself — while sensationalized and fictional — is grounded and informed by real things that have happened in his career. Do you rely on that level of self-awareness when improvising or creating new characters?
I definitely do. As absurd and unrealistic as my characters are, they're all based on some level of truth — something that I've actually witnessed and experienced, or something I've overheard or even seen online. Watching what Matt is doing seems more challenging in that people could easily assume that's really his true self, even though he's obviously playing up his unlikable side. I'm sure he's also taking from different actors that he's seen behave in bad ways and are insane to work with. I'm sure someone who's worked in this industry as long as him has experienced that a lot.
It's a brave thing to take on a role like this. I don't even know where the line really ends between the character and the real Matt LeBlanc. Because then I'll go and watch Man With a Plan, which feels like the kind of show and character he's lampooning on Episodes — here he is back on a network multi-cam the same way we knew and loved him on Friends. It feels Black Mirror-ish to turn on CBS and see him on a multi-cam again after watching Episodes because you think you know the truth behind this, but you totally don't.
Not only are you a master improviser, you've also provided a wide range of voice work for animated series like Bob's Burgers and Animals. How much room are you given to add your own improvisational flair to these fleshed-out scripted characters when doing voice-over?
I found that for a lot of these voice-over jobs that I've had, there is an opportunity to play a bit. It's been interesting coming from the podcasting world into voice-over because I really wanted to do voice-over for a long time but it's a really hard thing to break into. I think podcasting kind of provided a bridge that I didn't expect into that world, especially working out characters and voices on Comedy Bang! Bang! For Bob's Burgers, I came in to read for a voice of this character, and they were like, "Can you just do Traci Reardon?" I was like, "Oh, yeah! I didn't know that was what you would want." [Laughs.] It's been really cool to have the podcast fans and now the fans I've made through the voice-over world and get to blend the two.
Speaking of voice-over work, you can currently be heard providing the voice of Lotta on Netflix's original animated children's series Harvey Street Kids. How was that family-friendly experience for you?
I'm really happy to be on something my family can watch without having to know the timestamp of when I'm gonna do something disgusting and look away. It feels really good to be on a show where it's all very safe for the whole family and also something that I think appeals to adults. The writing on this show is so funny. When we're recording it, we're often just having such a great time. I'm also proud of the final product and I'm proud of the messages that it gives. I think that it's wholesome without being saccharine. Every episode has something for kids and adults to take away from it.
What can we expect from this series?
Harvey Street Kids is inspired by these comics from the '50s called the Harvey Girls, these three characters, Audrey, Lotta, and Dot, and all of their adventures. So the Netflix show has been reimagined with these characters and they're living on this busy cul-de-sac with tons of other fun, interesting, unique kids. They get into all sorts of crazy hijinks and have to solve problems together, deal with hurt feelings, a secret that somebody told, all sorts of confusing things that kids deal with all the time. The show figures out how to handle them in a fun way. There's nothing done in a boring way on Harvey Street. We need more things that are promoting kindness and doing it in a cool way. As an adult, I look at the show and it gives me nostalgic feelings for the cartoons I loved growing up. The animation is so fresh and interesting. I think people will get a kick out of it.
This interview has been edited and condensed.