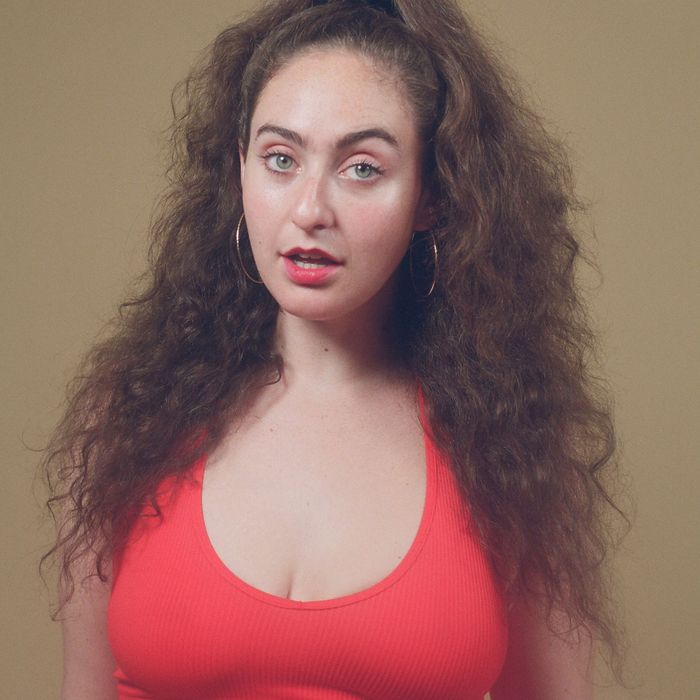 Catherine Cohen.
Photo: Bea Helman/Courtesy of Catherine Cohen
Catherine Cohen (@catccohen) is a comedian and voice-over artist living in Brooklyn. She was named by Time Out New York as one of five comedians to watch in 2018. She hosts a weekly show at Alan Cumming's new East Village cabaret and co-hosts It's a Guy Thing with Mitra Jouhari and Patti Harrison every month. You can catch her on August 30 at the It's a Guy Thing Summer Spectacular as part of the Bell House Summer Series at Industry City.
In addition to tweeting, Cohen uses the platform regularly to share original videos. This week, she talked to me about her comedic songs and characters, which often go viral online:
Even though I've never seen a superhero movie (too boring), I DO have an origin story and "Look at Me" tells that tale. The lyrics "boys never wanted to kiss me / so now I do comedy" explain why I'm an obnoxious wench — I'd like to be a quiet lady who drinks tea, but instead I keep getting up onstage and doing this shit. Sigh!
How long does it take you to write a song?
I write songs with my perfect friend, Henry Koperski, who is a brilliant musician. I just show up to his place with lyrics and a melody in my head and he brings the song to life on the piano. He is a genius and without him I would be nothing! We write songs superfast. If it makes us laugh right away, we know it's a hit. If we aren't feeling it, we just toss it. I have no patience but am an absolute JOY to work with.
"Other People" is a gorgeous pop jam inspired my feelings of intense jealousy and rage. As someone who has never gotten over anyone, I love this world and I love living in it! XOXO
How does the process of writing a comedic song differ from writing a serious one?
I've never written a non-comedic song because I would die laughing … plus, I need the validation of laughter to know if the song is good or not. Is this healthy? You decide!
"McCary Caroline: Summer Intern" is an amalgamation of every rich li'l babe interning in the city for the summer. I know her because … I was her … and lived to tell the tale …
How did you start doing musical comedy?
I grew up doing musical theater (are you shocked?) and have always loved singing, even though musical theater ruins lives and singing is a fickle bitch!!! I started doing comedy when I moved to New York City after college, and incorporating singing into my jokes just seemed like a natural fit.
"Keven Rachel Anniston: Explorer, Mama, Friend" is a human blog and you know what? I'm obsoosed! I j'adore that all-white minimalist look, but I'm too disgusting to not spill food all over my home and wardrobe.
Are any of your characters based on people you know?
All of my characters are based on people I know (including myself). I looove making fun of shit that I love. If you're gonna be a dumbass bitch, it's important to have a sense of humor about it. My boyfriend Steven Markow is an incredible comedy writer, and he often contributes jokes if he's helping me shoot the vid.
Karen Chee is a Brooklyn-based comedian who writes for The New Yorker, McSweeney's, and Shondaland, among other cool websites.