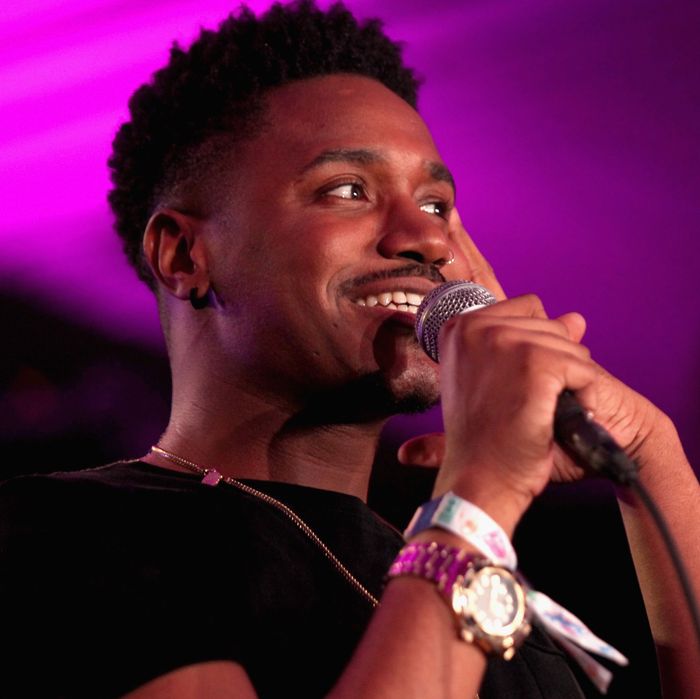 Dewayne Perkins performs onstage at Comedy Central's 2018 Clusterfest.
Photo: FilmMagic/FilmMagic
Dewayne Perkins (@DewaynePerkins) is a Chicago-raised, New York–based stand-up comedian and writer for Netflix's The Break With Michelle Wolf. He had a rude awakening when his manager told him that social media apparently matters, so follow him on Twitter and Instagram. This week, Perkins talked with me about writing in his own voice, deleting jokes, and the joy of tweeting while not completely sober.
I love this tweet mainly because of the backstory. I was at work and was supposed to be writing jokes about the news, which makes me sad sometimes. So I distract myself often with Twitter and this was one particular time where I took a walk, hit my vape, and came back very "inspired" and spent way too much time rewriting the Fresh Prince of Bel-Air theme song to be about me and my New York journey. I was very proud of it but I definitely got in trouble because I literally didn't do my job to focus on this bit lol. I'm a responsible adult.
Is your voice online similar to your voice onstage?
Kind of. I feel like my stage self and online self is like a Sister, Sister type situation. My onstage persona is bubbly, fun, silly, whilst my online presence is smarter, more poignant, and more selective of what they say. But sometimes they like to do a little swappy swappy Freaky Friday moment, and then shit gets crazy.
We are our truest selves when we are not sober. I'm basically Socrates spitting prolific stuff left and right. Also I'm realizing my favorite tweets are all from me either being high or drunk. What a rebel!
How often do you delete tweets, if ever?
All. The. Time. I learned very early on in life that not every thought is a good thought. Comedy does and should have boundaries. And I have a part of my brain that cannot detect typos till 20 minutes after I've typed them.
Here's the thing about Taylor Swift — she got hits, but I think she represents a kind of white supremacy that is liberal and toxic and I DON'T FUCK WITH IT. But let "Bad Blood" come on, and you're getting all of the dance moves. I'm a complex creature.
How have your tweets changed over time?
I've become a more frequent consumer of marijuana, which has greatly changed my tweets (lol). Also being a writer for [The Break With Michelle Wolf] also changed it a bit. I've worked so hard to perfect my straight white woman comedic voice, it definitely slips its way into my own material.
Being black and gay and from Chicago is SUPER-FUN! My father is a very stereotypical black father and it's funny because this is EXACTLY how I came out to him and his response came from such a genuine place of utter love and ignorance. And that is very funny to me. Also I'm way too casual about everything to just be forgetting to come out to family members. I'm just too busy being gay to talk about being gay. First rule of Gay Club is: Don't talk about Gay Club.
Do you prefer topical or evergreen tweets?
Evergreen. I think time as a construct is a needy bitch who wants all the attention. So I don't like topical things because they are too "of the moment," and I want my tweets to be relevant always and forever.
Karen Chee is a Brooklyn-based comedian who writes for The New Yorker, McSweeney's, and Shondaland, among other cool websites.