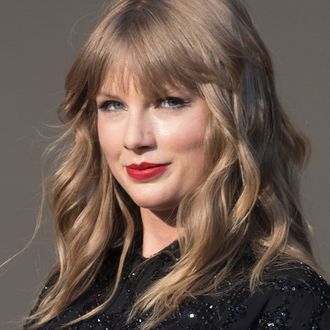 The old Taylor can't come to the beachfront estate right now.
Photo: Jo Hale/Redferns
There comes a time in life when we all must leave the extravagance of our early 20s behind. In most cases, that means fewer parties with beer pong and flip cup; for Taylor Swift, that means just spending the July Fourth holiday with Joe Alwyn in Turks and Caicos and not in her Rhode Island mansion with a carefully-chosen-but-presented-as-random assortment of not-quite-as-famous famous people. Yes, after disappearing from sight last year (though the Taymerica float did go up), it seems that the era of the Taylor Swift Fourth of July party is truly over. According to People, Taylor spent the holiday in the Caribbean with her boyfriend, and cast member in the upcoming films Boy Erased and The Favourite, Joe Alwyn. "They were lovey-dovey," a source told People, a source that is definitely not one of her cats. RIP the Taymerica slide. RIP the group photos. RIP the sweet, frolicsome, ever-expanding joys of youth. If this is the media's fault, well, look what we made her do.