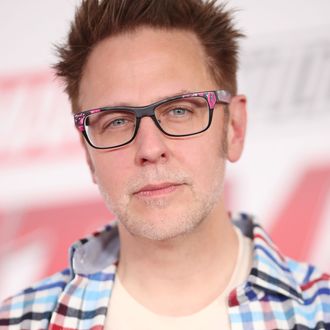 James Gunn.
Photo: Christopher Polk/Getty Images
Unlike some of James Gunn's friends in the Marvel universe, Senator and amateur basketball player Ted Cruz isn't sad to be seeing the future of Guardians of the Galaxy Vol. 3 in dire straits. In a message posted to his Twitter account this morning, Cruz — who attached a few screenshots of Gunn's tweets, which the director previously confirmed he wrote — believes Gunn, in addition to being fired by Disney for his history of crude and offensive tweets, should be prosecuted to the highest extend of the law. "Wow. These James Gunn tweets are just horrible. Child rape is no laughing matter," he wrote. "As Texas SG, I handled far too many child sexual assaults. Truly evil. I'm glad Disney fired him, but if these tweets are true, he needs to be prosecuted."
On Friday, Gunn was fired by the House of Mouse after a slough of alt-right Donald Trump supporters recirculated old tweets by the director, in which he joked about rape and pedophilia. Gunn accepted the decision and apologized for his social media history. "I have regretted them for many years since — not just because they were stupid, not at all funny, wildly insensitive, and certainly not provocative like I had hoped, but also because they don't reflect the person I am today or have been for some time," Gunn said. "Regardless of how much time has passed, I understand and accept the business decisions taken today. Even these many years later, I take full responsibility for the way I conducted myself then." Vol. 3 had been slated for a 2020 release, but Disney hasn't yet commented on how Gunn's firing will affect this installment.