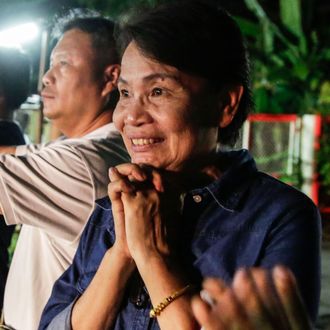 Everyone wants the story.
Photo: Lauren DeCicca/Getty Images
As was inevitable, the story of the rescue of 12 boys on a youth soccer team in Thailand from a cave is becoming a movie. According to The Hollywood Reporter, Michael Scott, the CEO and co-founder of the faith-based production company Pure Flix, has plans to turn the story of the rescue into a film. Scott lives in Thailand part-time, and told THR that he had spoken to some of the divers and family members of the boys involved in the rescue, though not to the boys themselves, as they are still hospitalized. Scott had previously produced the God's Not Dead films, though "[i]t's not necessary to make this a Christian film, just an inspirational one." He plans to release it under his company Pinnacle Peak Pictures, which is also releasing a modern-day, inspirational version of Little Women (not the Greta Gerwig one). Many others in Hollywood have also been racing to find ways into the cave-rescue story, and Discovery has already announced plans for a TV documentary special. Expect the fervor to last until some other disaster arrives in the news and everyone quickly forgets this one.