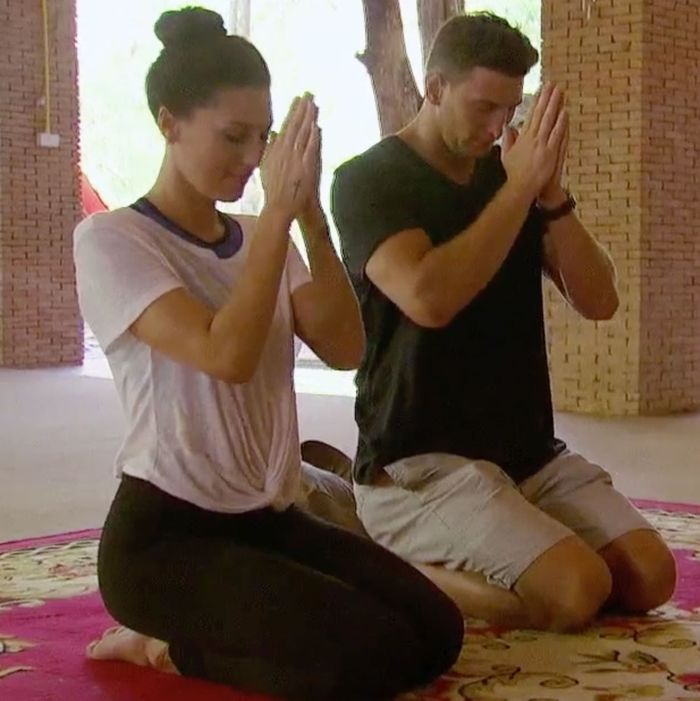 From Park City, Utah, to Richmond, Virginia, it's already been established that The Bachelorette date locations are pretty underwhelming this season. But finally, in Monday night's episode, Becca Kufrin got a trip to Thailand to wrap up the fantasy suites and winnow her bevy of similarly underwhelming men down to the final two. Things have turned around, right?
Not exactly. Even in Thailand, Bachelorette producers couldn't come up with all-new date ideas. Becca and sweet meathead Blake hike up a remote tropical path called The Monk's Trail (Wat Pha Lat) to a temple, where Buddhist monks tell them all about how to have serenity and honesty in their lives. The Bachelorette-appropriate twist is that the rules of the temple are apparently strict: For the entire hike and temple visit, Becca and Blake cannot kiss each other, or even to touch. Sexy! (None of the TripAdvisor reviews of this temple mention those rules at all, but okay!)
Less sexy: In JoJo Fletcher's fantasy suites episode a mere two Bachelorette seasons ago, she went on an extremely similar date. She and Jordan go to Thailand, and then hike through the jungle (much like Becca and Blake) before entering a cavern where a Buddhist temple is located. The premise and setup are identical. Here's JoJo: "Temples are very sacred here … but there is no kissing inside the temple … I can't help myself when I'm around Jordan, and we have this intense chemistry!" Here's Becca: "To not see Blake for so long, and then to come on these sacred grounds, and at this temple, and to not be able to touch him and kiss him and hug him, even, it's a little tough!" We get it. You all have the hots for each other, and it's torture to not kiss one another while hiking in what looks like an incredibly humid tropical forest.
If the intent of repeating dates is to give Bachelorette contestants extra opportunities to exoticize other cultures, then fine. Mission accomplished. Becca's thoughts on their temple date: "There's something so old and cultural about interacting with a monk." Here's JoJo on a similar topic: "I want to respect the temple and I know how sacred these temples are. But it kinda sucks!" Surely, though, there's more than one way to get Bachelorette contestants to say awkward things about non-Christian religions! Or at least go a different country to visit a temple where you're not allowed to kiss.
It's enough to make you wonder if The Bachelorette producers are phoning in this entire season. Poor Becca. The guy she seems likely to pick liked jokes about Parkland students being crisis actors, one of her other suitors was convicted of indecent assault, and this whole season exists because her fiancé broke up with her while a camera crew filmed the whole thing. Getting a recycled date pales in comparison to those problems. But it certainly doesn't create the impression that anyone cares about making Becca's Bachelorette season into good TV, much less into a real opportunity for romance.