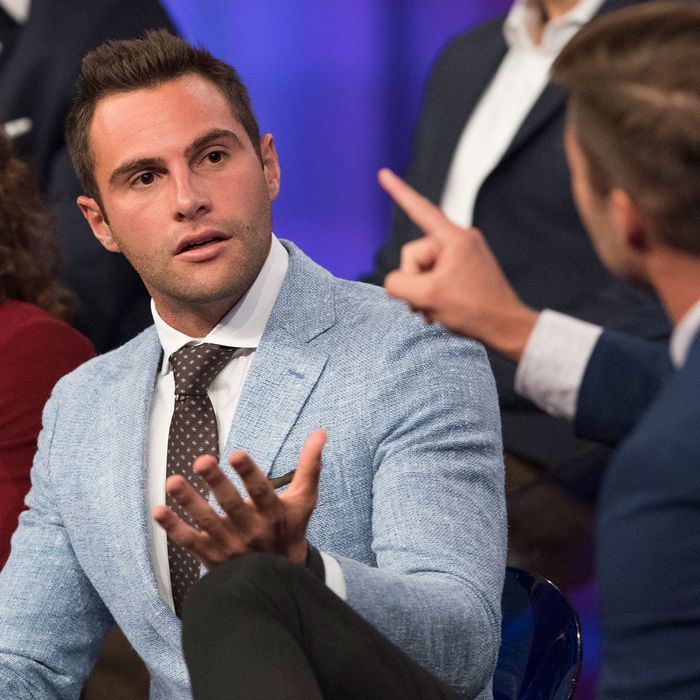 Men! They're messy bitches who live for the drama just as much as the ladies, and the time-honored tradition of The Bachelorette's "Men Tell All" episode gave Becca Kufrin's rejected suitors the perfect platform to embrace their inner pettiness, should they choose to do so. While many of the gents didn't let us down — looking at you, Jordan and Colton — we also got some fun moments from other contestants as the sun set on their reality-TV journeys. Without further adieu, here are the six pettiest battles from the "Men Tell All" special.
Colton vs. Jean Blanc
If there's one theme that emerged from "Men Tell All," it's that Colton squandered his chance at becoming The Bachelor's next midwestern leading man. (Appearing on Paradise might've solidified it, but still.) Despite a reflective one-on-one interview with Chris Harrison later in the episode that focused on his virginity — he reiterated what we've already known about his reasoning, even criticizing the "cheap shots" some of the contestants have taken for the sake of an insult — Colton was perhaps the most combative contestant of the evening, which began when he interrupted Chris Harrison's question to Jean Blanc about that infamous "I love you Becca, just kidding" incident. "No matter what you say right here, you played all of us, you lied to every one of us, so you need to shut the fuck up the entire time, that's it," he said, with Jean Blanc retorting, "I'm not going to talk to little boys right now." Unflinching, Colton threw it right back with "It's okay, he's going to take it back in three seconds," which prompted Jean Blanc to toss out one of those aforementioned cheap shots about his virginity: "Colton, you're acting like a pussy, but you've never been inside one, so …"
Colton vs. Jordan
Because going after Jean Blanc wasn't enough, Colton then sunk his teeth into Jordan, whom he frequently criticized throughout the season for his lack of maturity and "wrong reasons" aura. "I think there was the obvious to start," Colton explained about why he didn't like him, prompting Jordan to question how this love-triangle situation with Tia and Becca managed to get so out of hand. "You wanna talk about obvious? I'll tell you what's not so obvious — your relationship with Tia, and why you wanna talk about my dating history on the show when I can't elaborate on yours," Jordan spewed. "You're gonna call me a hypocrite? Group date, group date! Things are over with Tia, I'm really glad we got that behind us. Let's fast forward. You're leaving practically on Tia's terms. If you told her you were done with her, why would she come back for you?" As for Colton — who has already been shown in Paradise promos making out with Tia — he insisted that the situation was handled with care. "All three of us were on the same page. All three of us moved on. And more importantly, me and Becca moved on," he said. "End of story." But that wasn't good enough for Jordan: "It didn't seem like that, though."
Jordan vs. Christian and Kamil
In a desperate act for these week-one-eliminated men to regain any sliver of relevancy, Christian and Kamil — remember, one of them is a "social media participant" — waged a war of words against Jordan for his legitimate modeling career at Wilhelmina Models. "I have a real job. I'm a premiere banker. Your job is my hobby," Christian said, before the two engaged in some sort of trash-talking walk-off and dissed each other's choice in footwear. "I don't know what your name is, but it's nice to meet you. You're accosting me so you can get some camera time. You're a joke," Jordan retorted, prompting Kamil to get involved. "Some people are basic models," he said. "You come to New York, you'll be swimming in a big river." But it's all good, because Jordan has the last word: "Kamil, fuck you. You, the guy with the mustache, fuck you. Grocery Store Joe, what's up? That's it. Shut the fuck up."
David vs. a bunch of guys
One of the most anticipated crumbs of "Men Tell All" drama went to none other then David and Jordan, as David — who, lest we forget, arrived day one in a chicken suit — spent the vast majority of his Bachelorette screen time antagonizing Jordan for his personality and sartorial choices. (Shocking that the duo ended up on a two-on-one together.) Surprisingly, though, the episode's juiciest moments involving the duo didn't come directly from their mouths. Many men rallied around Jordan for what they believed was an odd grudge David harbored against him, thinking how bizarre it was that David would waste so much time during his moments with Becca to discuss another contestant. "After watching the show, I thought you were there for Jordan and not Becca. Because his name came out of your mouth whenever you were with her. Who do you really love? Who do you really love, really?" Nick teased, with Wills adding, "It seems every conversation you had with Becca, the first name out of your mouth was Jordan." Jason went a step further, equating David's actions to bullying. "The only problem I had is that I felt like Jordan never attacked you. I feel like you were kind of a bully constantly poking at Jordan. You weren't poking anyone else," he said. "You were preying on not exactly weak, but someone who's a target. Bullying is not cool." As for David, he offered an apology to Jordan for his actions. "I'm a very honest person and I wear my feelings on my sleeve and I wasn't scared to share those feelings. Am I regretful? Absolutely. I wish I put my energy towards my relationship, Becca," he concluded. "I shouldn't have necessarily sat there and talked about Jordan."
Jordan vs. Jordan
Jordan talking about Jordan is truly a special thing to behold. Please, just sip your tea and enjoy his most recent musings about himself. It'll take [checks watch] ten seconds:
This house moved around me. I'm the mouse, they're the elephant. They're constantly going to be questioning me for the next ten years. How did this guy even exist? I got billboards up in all of their minds, I'm paving highways. I'll see you guys later. I should've worn a work vest here. A work vest! I don't have to put on a façade, I don't have to come on the stage and wear fancy, shiny black suits or anything and talk about how the "obvious" is what it is. I'm me, I'm unapologetically me, I'm always going to be me. I don't have a fear to be me. If I walked around as a hologram or a skeleton of a man, where is that going to get me?
Venmo John vs. Jordan
Lamé undies aside, one of the biggest points of contention between Jordan and his fellow Bachelorette contestants was his insistence on boasting about some seemingly astronomical dating-app figures: He claimed that he's matched with over 4,000 women on Tinder in his home state of Florida, a fact that fellow contestant John — a Silicon Valley sweetheart who helped create, oh, you might've heard of it, Venmo — was more than happy to debunk to the delight of the audience. (It played during the credits if you missed it.) "With 365 days a year at a 10 percent success rate of a 100 profile swipe-rights per day, that means you have to view over 1,000 profiles per day, so you're viewing 365,000 profiles per year. How can you possibly have the time to be a professional male model and view 365,000 profiles?" he explained to the delight of statistics teachers everywhere, before getting to the real zinger. "That's bigger than the population of Orlando." Jordan's only response? "I'm multifaceted, John."