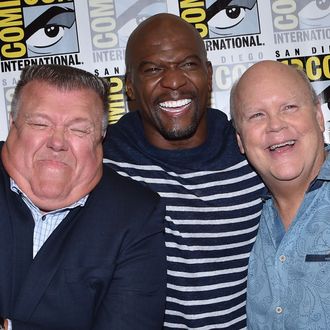 Photo: CHRIS DELMAS/AFP/Getty Images
For a brief foray into the darkest timeline of TV news, on May 10, Brooklyn Nine-Nine was canceled by Fox, and the fandom very publicly melted down. Twitter exploded with please to "Save Nine-Nine!" The cast thanked their fans for their love and devotion — and then just about 30 hours later, NBC swooped in to save the day. Now, the cast and crew are getting set to shoot season six, but on their way to fully realized resurrection they stopped off at San Diego Comic-Con for some fan revelry. It was a joyous event, with attendees screaming "NINE-NINE!" on command and thanking the show's cast and writers for its inclusivity and diversity. In the spirit of celebration, here are the some of the moments that will make you put your hand to your heart and start tenderly crying about the continued life of Brooklyn Nine-Nine.
On the show's near-death experience:
— Andy Samberg on whether or not there was "ever really doubt" about the show being saved: "Quite a bit yes! It was terrifying. We were all sad that weren't going to ever see each other again, and then it turned out that we will. So it was good!"
— Terry Crews on the heartbreak in the WhatsApp thread: "Dan sent an email and we started talking to each other and it was immense sadness. I literally didn't know what was up or down. Everything just started changing. You started looking at your kids like, 'You know, they're not that smart. They don't need college.' It was a lot of sadness, and it was like, 'I love you guys.' It feels like when your family is just split up and you know you may never see each other again."
— Melissa Fumero: "It was immediately all of us texting each other like, 'Do you guys see what's happening on Twitter? Do you guys see that we're trending? Do you see there's so many people that love our show?' It was so validating in that moment with 'Oh, at least there's this amazing and beautiful consolation prize that so many people feel so strongly about our show.'"
On LGBTQ story lines in the show:
— Stephanie Beatriz on Rosa's coming out: "I want to thank our writers for shepherding that. It was really amazing. Dan is not only a brilliant writer but he's also a person who believes in equality and inclusivity, and that shows in his writers room. He was interested in possibly exploring the idea that Rosa might be queer, and he asked me what I thought about it. We do have some writers that are gay, but he wanted a bisexual person's voice to be heard in that story line, and it just so happens that the person playing the character they wanted to turn bi is bi."
Beatriz continued, "It was a gift, and I think that we did it in a really amazing way in this idealized world in which everyone is a feminist. Everyone is into equality. Everyone loves their LGBTQIA family members. Cops are good in this world. So I was very thrilled to be asked to have a voice in that story line, and I felt that it really reflected, at least for me, what is a reality in my own life."
— Another fan started crying and thanking Beatriz and Fumero for playing "beautiful and strong Latinas" on TV, then asked Beatriz if she had her own real-life moment similar to when Rosa saw Gina. Through her own tears, Beatriz said: "Yeah! I knew that something else was going on, because I could feel my body react, my brain react when I would see a shiny ponytail swinging. It wasn't like, 'Oh I want to put that in my hair.' It was like, 'I want to put that in my mouth.' I'm very happy that you are feeling seen in the world, because Melissa and I have talked about how when we were growing up it was hard to find ourselves on television. We felt really invisible. We felt like, 'Oh, I guess this isn't for me, this world, happiness.' So I'm so happy to hear that you're seeing yourself."
Terry Crews being too good for this world:
— Crews on how much he loves his character: "Terry Jeffords is me. I've never had a character that is more about me, about his family, about his friends. Let me tell you, I get choked up thinking about these guys a lot, because I want to see them win as if they were my own family. It's real. I've never had a character that just synced up in my life like that. It's super-special."
— A teary fan thanked Crews for his #MeToo testimonial, and she told him, "I am so sorry from all of us who are also part of MeToo that you have to be part of it," and then he put his hand over his heart and looked at her with so much love in his eyes.
Other really nice things:
— A fan (wearing a shirt advocating for equal pay for Latina actresses) said that Nine-Nine shows the importance of keeping families together, and Joe Lo Truglio talked about the importance of family you find: "Boyle loves people so much and isn't afraid to show unadulterated affection, which I think is amazing for a male character in a show. The thing about Boyle is he doesn't care. He's just like, love is love, and he loves the whole squad. That's what I've learned about playing. The world is Boyle's family, if he had a choice."
— Beatriz talking about how great Dirk Blocker and Joel McKinnon Miller are even though their characters are dirtbag cops: "They're played by the most warm, amazing, feminist, dope actors you could ever meet."