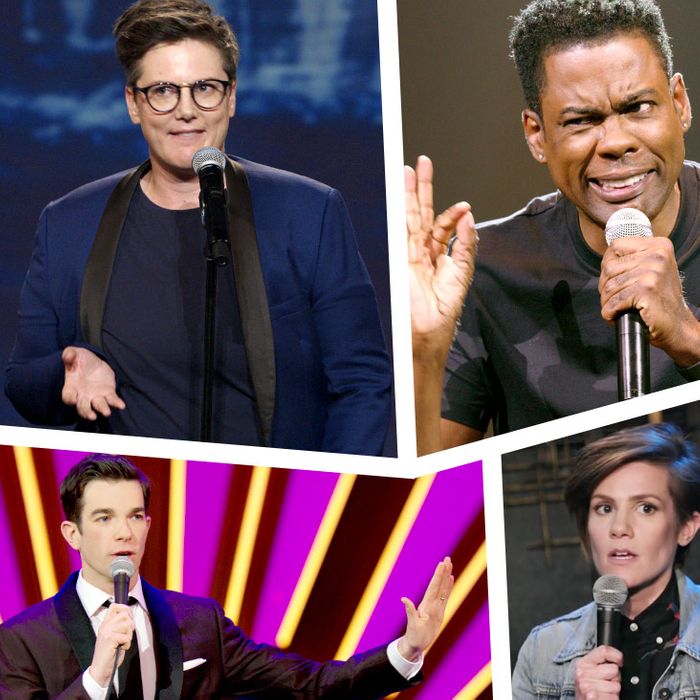 Seven months into 2018 and there's been enough stand-up specials streaming across nonlinear platforms to hold us over until next year. But it's hard to be jaded about the quantity when the quality has been this good. From the structurally traditional to the thematically experimental, down to the half-hour and quarter-hour sets that defy the arbitrarily determined Golden Hour act time, these are the best stand-up specials of the year so far.
Jani Dueñas: Grandes Fracasos De Ayer Y Hoy (Netflix)
This special was my introduction to Chilean comedian Jani Dueñas and what a first impression it was. Dueñas, with her sleeves of ink and matte-black hair, has a playfully caustic conversational style, so her delivery reminds you of listening to one of the cool punk-rock upperclassmen (who secretly makes straight A's) talk shit about the teachers while she's smoking a cigarette under the bleachers. And it's a fitting attitude to package Grandes Fracasos De Ayer Y Hoy's — which literally translates to Great Failures of Yesterday and Today — subject matter in, as Dueñas uses her recent 40th birthday as a jumping-off point to lament how bad her hangovers are now, the ways her sex life as changed, and to point out annoying generational differences. It's a sharp, whip-smart hour (with one of the more creative opening pretaped sketches) that deserves to be seen by way more American eyeballs.
Cameron Esposito: Rape Jokes (Self-Released)
To squirm at the title of Cameron Esposito's new special is both the point and the problem. A survivor of sexual assault herself, Esposito isn't so much reclaiming the toothless, unfunny trope of toothless, unfunny men using rape as fodder for their act as much as she's driving the point home that she shouldn't have to fucking remind you that rape jokes were never funny in the first place. But as the trades and papers of note trip over themselves to forgive comedy's sexual predators after mere months of minimal penalty, it's inspiring to watch a survivor bravely and hilariously shut all that noise down, and heartbreaking that she even had to. Esposito uses Rape Jokes to speak to the UCB Theater crowd in her disarmingly warm and relaxed style, deconstructing the rape joke itself, mocking the self-proclaimed Good Ally™ behavior, and even poking fun at herself in the process. Esposito gives you permission to laugh at these Rape Jokes, as long as you stop missing the point.
Hannah Gadsby: Nanette (Netflix)
Nanette isn't the first special to use comedy as a cudgel to shatter the concept of comedy itself, nor is Hannah Gadsby the first comedian to rake comedy over the coals for its cultural and psychological shortcomings. But Nanette certainly feels the most urgent in its deconstruction, tethering the tension on which joke-telling relies to her real-life trauma and how comedy compounded that trauma when she had convinced herself it helped her heal. "What I had done with my comedy show about coming out was I froze an incredibly formative experience at its trauma point and I sealed it off into jokes. Then that story became a routine, and through repetition that joke version fused with my actual memory of what happened." Quit laughing to keep from crying and allow yourself to just cry, Nanette demands. Gadbsy speaks directly to an indirectly complicit audience, requiring them to reassess — and rigorously interrogate — what it is exactly they're laughing at. Nanette manages to be comedically cathartic despite its heaviness, and it's a brutally vulnerable look at how much of ourselves we lose when we try to heal through ironic detachment.
Sabrina Jalees: The Comedy Lineup (Netflix)
Netflix's The Comedy Lineup features a series of eight comics running a tight 15 minutes each. It's a welcome change of pace from the recent oversaturation of half-hours and hour-longs plagued by filler and a plodding pace, and the comics in The Lineup are noticeably more at ease onstage with that material burden lifted off their shoulders. A quarter-hour allows new comedic voices to provide extra texture and added context to their point of view compared to the five to seven minutes of a late-night set but frees them up to have a leaner set as they slowly build to that half-hour or hour.
This laid-back tenor is wielded with maximum effect by Sabrina Jalees, who has the standout set of the Lineup. Jalees possesses a preternatural confidence and control in her storytelling abilities and casually commands the audience's attention whether she's detailing the experience of coming out to her family, outlining the only way to properly punish sex pests, or comparing the vein she saw up-close on a male stripper's penis to the one that becomes visible in Julia Roberts's forehead during an intense scene of Erin Brockovich. Her mellow demeanor is interactive, too, as Jalees's crowd work physically extends to high-fiving audience members to punctuate a few jokes. A pure 15 minutes of cool, calm, and collected comedy.
Kyle Kinane: The Comedians (Netflix)
Kyle Kinane likes to take his time. His approach to performance is synonymous with patience. I often think of the "Garlic Juice" bit from his 2016 album Loose in Chicago, a 12-minute tale — lovingly rendered in exhaustive detail — about a visit to the doctor where she carries on a casual yet beguiling conversation about the best roasted-pork–and–broccoli rabe sandwich to get in Philadelphia … all while checking his testicles for a hernia. Kinane refuses to arrive at a cheap or easy punch, and he prefers to take the scenic route to get to the hilarious payoff. He's reclined in the driver's seat, never rushed in his detailed delivery, nor rushing the expectation of the audience who's along for the ride.
So it was a welcome surprise that Kinane's knack for deliberately paced jokes was not dampened in the slightest by the half-hour format of Netflix's The Comedians. He doesn't waste a beat, with an opening line for the ages ("We kinda need to just jump into shit, you know. Let's go for it: Mass shootings!") serving as the catalyst to unpack America's gun violence and the white supremacy inextricably linked to it with a specificity that's rare in the age of Trump, where every topical joke has been told 98 times on Twitter before the late-night monologue writers get their hands on it. But Kinane wouldn't dare claim to be a political comedian, he's just here to rip on the KKK's impractical outfits and their hypocritical eating habits.
Aparna Nancherla: The Standups
While Richard Lewis used manic theatrics and a sleek all-black wardrobe to conduct his symphonies of self-loathing, Aparna Nancherla prefers to analyze the minutiae of her social anxiety with laid-back dry humor and some normcore. For her half-hour set on Netflix's The Standups, Nancherla turns the stage of L.A.'s Globe Theater into her own self-contained TED Talk, busting out a PowerPoint presentation that casually charts the dystopic nature of Yelp reviews, the depressive but impressive idiocy of Twitter trolls, and how the creepy comments from dudes on her dating apps have made her content with just never leaving the house. Nancherla has this uncanny way of making us laugh at current culture and how it's slowly killing us all. Except for our parents' primitive texting habits — those are pure and good and we should laugh with them about that.
John Mulaney: Kid Gorgeous at Radio City (Netflix)
"He looked like he should be the conductor on a locomotive powered by confetti. But instead … he made his living in murder." That's John Mulaney, roughly four minutes into his diligent ten-minute description of the real-life former Chicago police detective J.J. Bittenbinder (yes, that's his real name), who used to haunt the student assemblies of his elementary-school years with disturbing tales of violence, all in the name of child safety. And it's that pop of character color that highlights what makes Mulaney one of the greatest stand-ups of this generation: the almost cartoonish command of the English language, the perfectly executed turn of phrase, and the economy with which he can write a punchy joke. Mulaney, at his core, is an observational comic, and there's a polish to his act that makes every breath, pause, and syllable feel as if they've been belabored over on an elemental level. But nothing about Kid Gorgeous feels scientific or stiff, since the theatricality of Mulaney's delivery adds an intoxicating layer of looseness. This guy is just infuriatingly good.
Tig Notaro: Happy to Be Here (Netflix)
There's an unbridled silliness coursing through the confessional veins of Happy to Be Here. Not that Tig Notaro's sensibility was ever self-serious, but her material would often maneuver towards the melancholy, as she often spoke candidly about her experience with breast cancer, a double mastectomy, and the death of her mother, all while managing to excavate the humor out of these very unfunny topics. But Happy finds Tig making lemonade from life's lemons (and not missing the glass this time) and reveling in the things for which she's grateful — things that are ripe for comedic observation like motherhood, marriage, and that she's still being invited to stuffy parties even though she can't help but pull pranks on the attending guests. It's the latter point that inspires a comedy-special coda for the books, which is an 11-minute bit that's 10-minutes of setup: "Are the Indigo Girls coming out to perform or not?" The punch line is worth the wait.
Chris Rock: Tamborine (Netflix)
Swapping out the slick suits and stadium-status crowd size for a plain black T-shirt and the close quarters of the BAM Theater, Chris Rock's first special since 2008's Kill the Messenger finds the veteran comic at his most vulnerable and confessional. Rock airs out his dirty-laundry list of self-facilitated fuck-ups that lead to his recent divorce — his infidelity, porn addiction, and fragile ego — with unflinching yet hilarious detail. Director Bo Burnham shows restraint behind camera, eschewing classical sweeping jib shots and letting us feel the intimacy of the space with tightly framed close-ups the rawer Rock's act gets. And while Rock ultimately (and frustratingly) retreats back to his trademark male chauvinist cop-outs when it comes time to face the music, Tamborine is the closest he's tiptoed toward remorse and accountability for his offstage behavior, behavior that has informed his onstage material for all these years. It's like watching a self-inflicted wound begin to heal in real time.
Katt Williams: Great America (Netflix)
Much has rightfully been said about Katt's rousing opening bit, but Great America's whole is absolutely better than the sum of its parts. Great America feels like a throwback to The Pimp Chronicles, Pt. 1–era Katt, with the compact comedian appearing larger than life as he commands every inch of the Florida Theater stage with his signature physical work (seriously, that guy uses his stool like a paint brush on a canvas) and rapid line-them-up-and-knock-them-down approach to joke-telling. Katt's verve and charisma, which is a healthy balance of braggadocio and self-deprecation, carries him through otherwise well-trodden material, from Trump to relationships, but his takes manage to feel fresh and alive. Great America is just a wonderfully consistent hour.
Ali Wong: Hard Knock Wife (Netflix)
If the tension from giving birth to her first child undergirded Baby Cobra — Ali Wong's star-making 2016 stand-up special, which she performed during her third trimester — then the anxiety of being a successful working mother as she prepares to bring her second child into the world informs the funny within Wong's follow-up, Hard Knock Wife. Wong's inspired raunchiness is still on display in her sophomore effort, with unflinching descriptions of baby bodily fluids and her top-notch physical work reenacting the (lack of) oral sex from her high-school years. But it's Ali's middle finger at the sexist double standards for parenting, America's failure in providing dignified maternity leave, and her delightfully dark spins on domesticity ("I'm on the verge of putting her in the garbage") that are worth the price of admission alone.