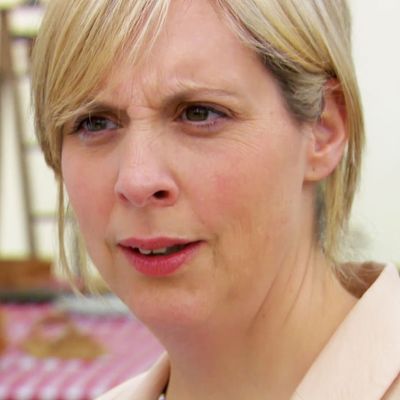 After the non-elimination leg that was the last episode (please consider this my official pitch for a Bake-Off/Amazing Race crossover), two of the remaining seven bakers will be sent home by the end of Sweet Dough Week. My bottom is already soggy, albeit with tears.
The signature challenge tasks the contestants with producing 24 buns baked with yeast. Their base dough must be soft and borderline wet, not tight, says resident dough fetishist Paul, taking some of the sexual innuendo pressure off Mel and Sue's shoulders this week.
Four of the seven bakers are applying their own twists to classic Chelsea buns, which are traditionally drowned in an extremely sweet (and delicious) glaze and filled with currants. Brendan's Eastern European–inspired "Chelsea Bunskis" will have a poppy-seed filling, Danny takes hers in a Bakewell tart direction with sour cherries and almond liqueur, and James's Easter version are a play on hot-cross buns, with raisin filling and apple cider. John, happily, is back in the competition with all ten fingers mostly intact after what Sue calls his "altercation with a food processor" last week. He's still wearing a single Michael Jackson–esque latex glove over the injured hand as he preps his cherry and almond saffron-flavored Chelsea buns.
Cathryn's "Lady Arundel's Manchet" Buns," which showcase both rosewater and her homemade strawberry jam, are a shout-out to her Sussex roots. Paul recognizes the name as a recipe dating back to the 1500s, to Cathryn's great disappointment. "I wanted to tell you that, because I knew that," she says. Ryan, low on time and trying to rush his mini lardy cake buns into existence, begins to mutter to himself: "I should have done Chelsea buns. I knew I should have done Chelsea buns."
Danny's beautiful Bakewell buns, streaked beautifully with icing and each dotted with cherry, are "sheer heaven to eat," says Mary. The judges love Ryan's lardy cakes, which earn him a rare handshake from Paul on the strength of their texture and tastiness (Chelsea buns, shmelsea buns). Brendan's utterly original Bunskis are also the object of praise. At the bottom of the heap are John, whose Chelsea buns are deemed bland, and Sarah-Jane, whose orange nutmeg and saffron buns are both bland and dry.
The technical challenge is ten jam doughnuts, and I want you to know that it physically pains me not to call them jelly doughnuts, but here we are. They should be consistent in size, jam filling, and color, and lest you wish to tempt the wrath of Paul, they better not be raw. I should start hanging out with James, who apparently churns out enormous quantities of doughnuts all the time. He is alone in this. "I'm very experienced with doughnuts," says Ryan. "When I eat them." But first, we take a break from the action for a fun little history segment about "doughnut dollies," American girls sent abroad during WWII for the express purpose of entertaining (wholesomely!) and serving doughnuts to homesick GIs, including in war zones. (Look, I did a Google for you!)
After frying, the doughnuts are immediately coated in caster sugar, left to cool, then filled with jam via hilariously oversized syringes that looks like surplus props ransacked from a Sexy Nurse Halloween costume warehouse. First place goes to James (who immediately expresses guilt that he had the gall to have had the advantage of prior doughnut experience, how dare he?), with Danny coming in second. Ryan and Sarah-Jane are in sixth and seventh.
We move right from the technical into the showstopper — a "celebratory" enriched-dough loaf — because four bakers will be proving their bakes overnight. They include Danny, whose European Christmas wreath will be made with an orange curd filling and brioche dough, and James, whose whisky [sic, because our boy is Scottish] Kugelhopf-brioche baba will ultimately contain a half bottle of whisky, which may I say, holy shit.
John makes the grisly (okay, maybe a strong word) discovery that the sponge starter he allowed to rest overnight for his marzipan stollen has stiffened to the point of being unusable. Into the bin it goes, and he has to scrape together a plain-old enriched dough, improvisationally stuffing the marzipan with both cherries and chocolate. Cathryn looks like she wants to die when Paul asks to inspect the dough for her "Bonfire Night Tear n' Share" brioche, and looks like she wants to die, be revived as a zombie, and die a second time when he suggests that — by its color — she might have added too much cinnamon.
Brendan's black forest Christmas stollen could not be more celebratory if it came to life and started caroling door to door. He dusted it with a snowfall of confectioners' sugar, decorated it with marzipan sweets and miniature pine cones, and stuck a centerpiece-ready red candle right in the middle. Good bake, good texture, good flavor, good job!
Ryan's is the only savory bake, a cha siu bao loaf. Dim sum aficionados know and love these Cantonese barbecue pork buns, which can be steamed or baked, as very snackable treats, but Ryan has created a big giant honking chai siu bao behemoth that, I am sorry to say, is not very attractive. In addition to springing an unfortunate leak, it's raw inside. John's bake is a "little bit on the stodgy side" (ouch), says Mary, but at least he's got tasty marzipan going for him. Sarah-Jane braided two strands of chocolate dough, two strands cherry, and two strands marzipan together for her sour cherry and dark chocolate Christmas plait, but despite all that hard work, it too comes out raw in the middle.
Cathryn serves her loaf smothered in cream-cheese frosting and adorned with a lit sparkler candle, so obviously, I love it, come on. The judges knock it for being a little too cakelike, but what do you know, Paul likes the cinnamon. Eat your tear n' share heart out, pal. Danny's pistachio-sprinkled, frosting-drizzled wreath is deeply appealing, and per Mary, "absolutely delicious." For this, and the rest of her great work this week, she is crowned Star Baker.
Sadly, two of the tent's most charming bakers are going home: Ryan and Sarah-Jane. The remaining competitors drown them in hugs. Parting is such sweet sorr-dough.