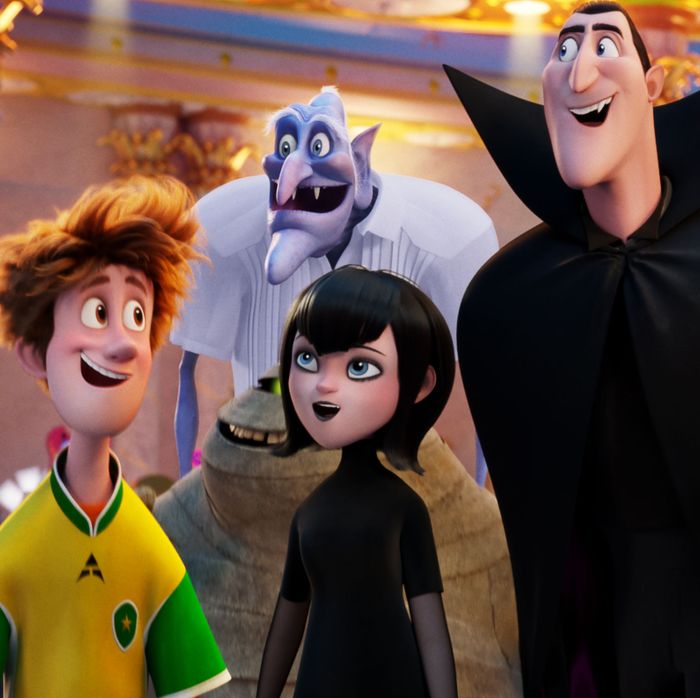 Hotel Transylvania 3: Summer Vacation
.
Photo: Sony Pictures Animation
Honestly, the end credits of Hotel Transylvania 3: Summer Vacation almost make the whole thing worth it. Forgive me if this is a regular thing — this is my welcome to the Hotel Transylvania, you see — but the latest iteration of Genndy Tartakovsky and Adam Sandler's apparently fruitful animation collaboration ends in a kinetic, boldly lined, at least partially hand-drawn sequence that is simultaneously retro Tex Avery homage and contemporary graphic sensibility — in other words, classic Tartakovsky. It's similar to a trick pulled at the end of Boss Baby, a far better film (seriously) that was still vastly improved by a virtuosic turn of conventional-ish animation in its final minutes. Are the animators of the world trying to tell us something, by saving all these fireworks for 2D?
Not for nothing, but I spent much of HT3:SV trying to imagine if I would like it better as a piece of conventional animation. It's a mostly benign piece of rendered silliness, restlessly (at points exhaustingly) slapstick, deriving most of its amusement from over-the-top movements and reactions, mercifully free of knowing cultural references or parents-only jokes. It could play in any language — or for 3-year-olds. But it's also dizzyingly free of anything to hang onto — each scene seems to be divorced from what came before, characters behave, visually and verbally, unrecognizably depending on what eye-popping piece of action they are presented with. I found myself taking frantic notes, not so much because I had any urgent observations, but because I was aware the whole thing would fade from my memory as soon as I left the theater.
Sandler voices Count Dracula, who in this franchise has found lucrative work in the hospitality business, specifically catering to other monsters and creatures of the night and their R&R needs. But three films in, the grind has gotten to him, and he finds himself longing for a love connection — a "zing" as it's called in the monster world — to round out his overall quality of life. His daughter and lone normie in this world, Mavis (Selena Gomez), surprises him with a cruise vacation to help him unwind, and of course all the wolfmen, mummies, and Frankenstein's-monster denizens of the hotel come along for the trip. Almost instantly, he falls for the ship's captain Ericka (Kathryn Hahn,) who, unbeknownst to him, is the great-granddaughter of Abraham Van Helsing, his longtime tormentor, who has tasked his successor with finally obliterating his bloodsucking nemesis. High jinks ensue as the night cruise makes its way to its various ports of call, from a lava-spewing underwater volcano, to a Vegas-like Atlantis.
If that sounds like a plot, it certainly doesn't feel like one in the moment. Hotel Transylvania exists for the outsized way its phantasmagorical figures dance, shuffleboard, and otherwise move across the screen, which is so angular and outsized as to be almost avant-garde, and at times inscrutable. Tartakovsky, the stylistic force behind such modern-day TV animation classics as Dexter's Laboratory and Samurai Jack, is obviously enamored with the comedic possibility of movement in animation, but here it is divorced from any sense of character or human (or monster) truth. The voice cast, which also includes Steven Buscemi, Molly Shannon, and Keegan-Michael Key, is impeccable, but also largely unnecessary for something so decidedly nonverbal.
I don't want to sound like I'm complaining too much — again, I'd much rather see an animator flexing with such abandon than be beholden to a flurry of punch-up gags. (The only possible exception is its bizarre adherence to EDM; Dutch blockbuster DJ Tiësto has a music credit, primarily showcased in a climactic DJ battle scene that seems proof contemporary mainstream dance music is and has always been music for babies.) Ultimately, Hotel Transylvania 3 is for very young children, and God love it for that — sitting through the trailers that ran before a preview screening last night made me all too aware of the degree to which animated film has become the territory of brands and Silicon Valley cultural programming. Far be it from me to begrudge some insubstantial hangout time with Sandler's Dracula, whose only conceivable call to action might be an adolescent affinity for Bela Lugosi or goth role-playing. The kids could do a lot worse.