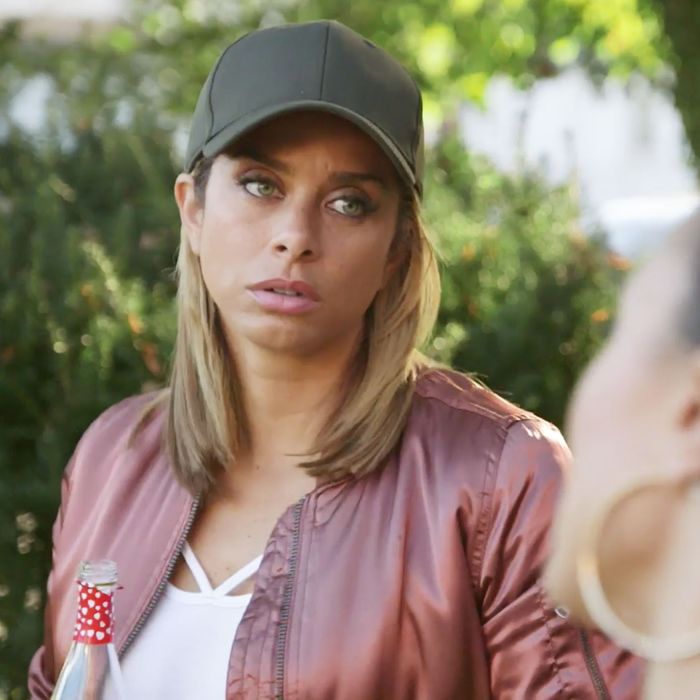 This is a classic "post-trip/pre-finale" episode. Every single scene begins with an emotional recap of the trip before launching into the new emotional issue. And you can tell that no one wants to spend time with each other. All the women are trying to be as far away from each other and they all have scenes with their hairdressers and assistants. Does anyone have a friend that isn't on their payroll? There's also a distinct lack of plot in this episode. Just a few table-setting pieces before the big finale. But mostly, there comes a time in the run of every Real Housewives franchise when you have to confront one painful truth: No one is in a healthy relationship.
Just the image of Monique rubbing her husband's feet while he smokes a cigar so she can "make up" for going on a trip he sent her on is ROUGH. That was not great to see. I understand that Monique is doing that whole "I'm HIS WIFE" thing but yikes.
But before all that, Gizelle sits down with her friend/hairdresser while wearing a shirt with way too many straps and crisscrosses. How did she put it on in the morning? She also says that Kal, her friend/hairdresser, may have given her a bad haircut or two. Then Bravo does a little montage of all her messed-up hairstyles. Bravo did not have to do that. Gizelle's character objective is to find out exactly what's going on with Karen. She can't support Karen unless she knows what she's supporting. Yeah, Gizelle, you want to know the intimate details of Karen's finances and where she's living so you can "support."
Ashley is arriving home after her trip to unpack her baggage … AND HER SUITCASE. Oh? Oh? For me? A standing ovation for that amazing piece of literature? My adoring fans, you're too much. She's upset that Michael isn't there and that she doesn't have the pitter-patter of little feet to welcome her home. She doesn't have a warm home to come back to and yikes this is bleak. She calls her mom and her mom is excited about her new apartment. Ashley knows she's going to have to talk to her mom about what Michael said. Michael is garbage.
Karen is going to eat with Matt and Bravo puts quotation marks around assistant. Bravo, you didn't have to do that. Karen also didn't have to give us that amazing look that she's serving to go meet Matt. Whoever is doing her wigs now is doing a good job, and you know I love a jumpsuit. Karen asks Matt if he's running around town spilling her business. Matt says that he knew her when she lived in Ray's bachelor pad. How old is Matt? Is he ageless? Karen believes that Matt hasn't been talking about her. Karen's delusion extends to all her relationships.
Candiace is at home with her younger half-sister and she's looking at her family's hair business website. Her sister verifies that Candiace tends to sing when no one has asked her to. Robyn had to set a ground rule that Candiace is only allowed to sing into a microphone. She needs to ask her mom for permission to open a storefront.
She calls her mom on the phone and her mom asks for them to tell them their weight. Also their mom refuses to relinquish any control and they have to make up a fake title to appease her. So. Classic mom stuff.
Dang, this episode is light. 
Meanwhile, Robyn is at her investment property and she invites Gizelle and Ashley to meet her real-estate mentor. Gizelle and Ashley show up to demolish some walls and they both show up in thigh-high boots with high heels. Gizelle and Ashley aren't what you would call "handy." If this whole thing is a set-up for Robyn's Flip or Flop-style spin-off, I'm in. While it's fun watching Bethenny try to flip multimillion-dollar apartments in New York, I'm into house-flipping for the $25,000 houses being sold for like a $10,000 profit.
After they knock down part of a wall, the ladies head out into the overgrown yard and start discussing Karen's finances. They all claim they want to just find out if Karen is telling the truth. So they come with a perfect plan. They're going to drop by Karen's house in disguise. Ashley suggests a singing telegram about five times. Has anyone EVER received a singing telegram? They settle on pizza delivery and fake mustaches.
Then there's this scene with Monique. Fucking yikes. They both agree that they both acted badly when Monique's side of the argument was "having a birthday." Chris frames the whole thing as "when he's disrespected, he's going to blow a gasket." Again, the thing that Monique did to "disrespect him" was be a woman with a birthday within the calendar year. They also decide that Monique is going to slow down her personal projects and they're going to focus on having a baby. Chris gives her wedge sneakers … Those are still a thing?
Then there is a shot from Karen's reenactment of Grey Gardens where she sets the table for six people but no one shows up and she drinks Champagne alone. If you told me that was footage from A Quiet Place, I would believe you.
Ashley goes to see her mom and tells her about Michael. Ashley's mother flips the fuck out. We all should be flipping out. Ashley's mom says that her relationship with Michael always felt fake and his condescending language toward Ashley is a problem. Ashley breaks down as she realizes that everyone who said that Michael just wanted a trophy wife might have been right.
Monique, Karen, and Candiace hang out at a farmers' market and Candiace has a preposterous belt.
It's time for Gizelle, Ashley, and Robyn to do their sting at Karen's Great Falls house. Robyn puts on the silliest fake beard and dad jeans. When they all arrive at the very dark Huger Manor, Robyn realizes that Ashley and Gizelle aren't going to get out of the car with her. She starts screaming at them "WE ARE DOING THIS TOGETHER; GODDAMMIT. GET YOUR ASS OUT OF THIS CAR RIGHT NOW." Everyone is cracking up. These women really do have fun together. Robyn goes up and rings the Nest doorbell.
To be continued …