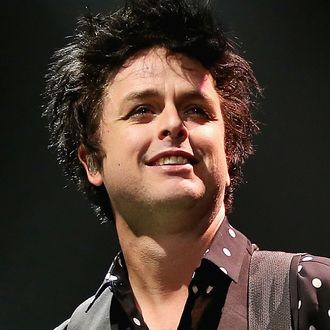 Billie Joe Armstrong.
Photo: Christian Petersen/Getty Images
You may have heard the news that Brits are trolling Donald Trump ahead of his visit with Prime Minister Theresa May later this week by pushing Green Day's "American Idiot" to No. 1 on the U.K. charts, and so far the campaign has yielded promising results. The Washington Post covered the story early this morning, but readers quickly noticed that the paper used a very interesting source – satirical site ClickHole. For several hours, the Washington Post's article cited ClickHole's 2017 article "Enough Time Has Passed to Reveal George W. Bush Was the 'American Idiot' (By Billie Joe Armstrong)" multiple times, and despite this being a pretty glaring oversight for a publication like the Washington Post, for those few hours, the world was a hilarious place.
Eventually, the Post removed all references to the ClickHole article and added a correction, saying, "This story has been updated to remove material attributed to a satirical web publication, ClickHole, which should not have been treated seriously." Notably, layoffs are reportedly coming to ClickHole, the Onion, and the A.V. Club later this month, and if there was ever a good argument that ClickHole's staff deserve to keep their jobs, it's right here. In any case, that Billie Joe Armstrong article from last year is very funny and you should read it immediately.
Update: Responses from the Onion are beginning to trickle in today on Twitter: