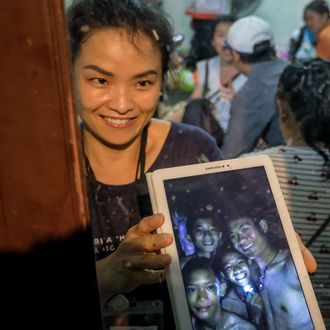 A mother shows photos of the boys when they were first discovered in the cave.
Photo: Linh Pham/Getty Images
Last week, 12 members of the Wild Boars youth soccer team and their coach were rescued from Thailand's Tham Luang Nang Non cave system. Because no good deed goes unpunished, Hollywood is eyeing the story for a theatrical adaptation. Per Variety, there are six movies based on the Thai rescue currently in development: "Five international film production companies have proposed to the commerce and foreign ministries that they make a movie and a documentary about the rescue operation," Culture Minister Vira Rojpojchanarat said Thursday. An additional Thai company is also said to be developing a movie based on the rescue.
Some of the producers behind these adaptations have made themselves known. Jon M. Chu (Now You See Me 2) and Ivanhoe Pictures announced that they were working on an adaptation, and faith-based Pure Flix Entertainment have said they're working on one, too. De Warrenne Productions, lead by Thai-Irish producer-director Tom Waller, also told Variety it had a movie in development. So that's three! The most important question remains: Which of these movies will Elon Musk be involved in?