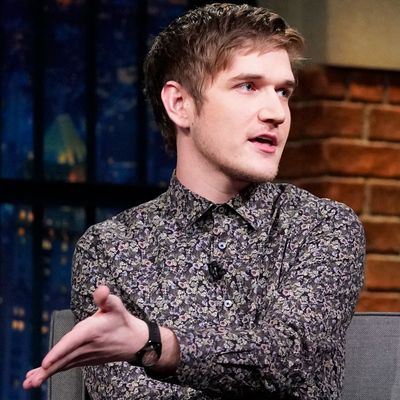 Bo Burnham on
Late Night With Seth Meyers.
Photo: NBC/Lloyd Bishop/NBC
The comedy podcast universe is ever expanding, not unlike the universe universe. We're here to make it a bit smaller, a bit more manageable. There are a lot of great shows and each has a lot of great episodes, so we want to highlight the exceptional, the noteworthy. Each week our crack team of podcast enthusiasts and specialists and especially enthusiastic people will pick their favorites. We hope to have your ears permanently plugged with the best in aural comedy.
WTF — Bo Burnham / David Sedaris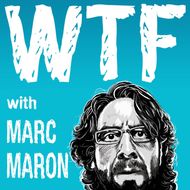 Kathryn: Breeze past the fun li'l top-of-show anecdote about Marc Maron's elderly father choking on a handful of pills and slow down for two pleasant chats with returning WTF guests. First up, David Sedaris stops by during his book tour for Calypso to talk getting invited to Buckingham Palace as a reward for picking up so much trash on the side of the road. Plus he throws in an insane — literally — story about Roseanne Barr calling him in the middle of the night to talk about curtains. Next, Bo Burnham returns to discuss the onstage panic attacks that sidelined his stand-up tours for two years. In search of a cure, he discovered tween girl vlogs about how they, too, feel nervous all the time, like they're always performing and everyone is watching them, which ultimately became the foundation of Eighth Grade. Burnham himself was a scion of online who skyrocketed to fame by going viral as a teen, so it's particularly keen that he believes the best part of the internet is what doesn't go viral: the blogs no one reads, the videos with three views, the black void where people are talking to no one, just to themselves in a kind of techno-prayer. In short, you should probably see Eighth Grade if you happen to be near one of the 33 theaters showing it.
Listen: Spotify | Apple | Website
Dr. Gameshow — #NAHSMYOZ (with Jason Mantzoukas & Manolo's 10-year-old niece Anna)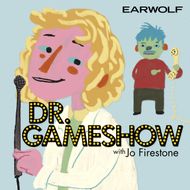 Tom: If you're looking to experience the fun of a traditional game night without the hassle of actually planning one, then Dr. Gameshow is the podcast for you. Join hosts Jo Firestone and Manolo Moreno as they play listener-submitted games with live callers and comedian friends. This week, the Gameshow crew welcomes two delightful guests: Jason Mantzoukas and Manolo's wonderfully charming 10-year-old niece Anna. The duo of Mantzoukas and Anna prove to have a comedic one-two punch worthy of the podcasting hall of fame. Let's just say Abbott and Costello better enjoy their "greatest comedy team of all-time" title while they still can. From games like "Oz or Nahs" — the goal of which is to determine real Wizard of Oz characters from fake ones — to Anna delivering a threatening "Come at me bro!" warming to Mantzoukas, this episode delivers on all fronts. In brainstorming ways to increase ratings, Mantzoukas, Anna, and Manolo start a campaign to get Jo engaged on-air — groom TBD. If anything, tune in to see how Dr. Gameshow got their new tag line, "The show where adults call children turds." Enjoy!
Listen: Spotify | Apple | Website
Secret Keepers Club — Episode Two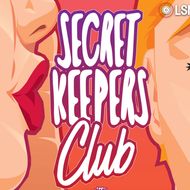 Elizabeth: Comedians aren't always the best people to give advice. (Or take it, for that matter.) But in their new podcast, Secret Keepers Club, comedians Carly Aquilino and Emma Willmann dish out thoughtful, expert counsel to anonymous listeners using language and stories that would make Dear Abby blush. In the second episode, they help with questions about how to deal with an alcoholic best friend, lack of romantic experience, a suddenly sexless relationship, and getting friend-zoned. Their advice is supportive and non-judgmental, and they're open about their own experiences. The episode wraps up with a round of "Fuck, Marry, Kill" that leads to an in-depth discussion of the romantic and sexual merits of the Jersey Shore cast.
Yeah, But Still — Gemini Season feat. Felix Biederman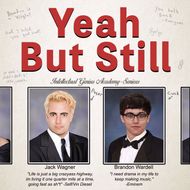 Pablo: It's Gemini Season! Okay, that ended like five weeks ago, but for the astrologically averse, Geminis have a reputation for not listening, getting easily bored, and starting drama. In fact, some of society's most respected and beloved figures, like Donald Trump, Jordan Peterson, and Macklemore share this sign, as fellow Gemini and Chapo Trap House co-host Felix Biederman explains on his second of back-to-back episodes of Yeah, But Still. It's a sign that many alpha men, like Kanye West, possess because the Gemini Twins signify the doubling down whenever one refuses to apologize after saying an extremely stupid statement. At least that's my interpretation. I don't have one for Biederman's favorite Gemini example, Dan Quinn, a former Notre Dame star and MMA fighter who's now best known for going to jail and uploading grainy YouTube videos extolling the benefits of stevia. At the episode's end, Biederman claims that the only negative astrological quality he shares with these men is unfairly placing the blame for his online gaming losses on his in-game arsenal. But that's such a Gemini thing to say. Probably. Does anyone know if Susan Miller has written anything about Fortnite?
Hollywood Handbook — Triumph at Comic-Con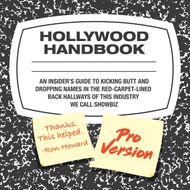 Noah: "Hayes and Sean are actually very insecure" is a premise at the core of much of Hollywood Handbook's most decisive humor, but the Boys sitting down to commentate joke-by-joke on the disastrous live appearance they did at Comic-Con the other day takes the experience to new heights. The recording is poorly mixed and their bits — anchored by opening X-Men trading cards onstage and using them to cast a new Avengers movie — fall face-first in front of a famously self-reflective audience of Comic-Con attendees who aren't afraid to pelt the performers with groans, boos, and the occasional shout of "No!" Sean and Hayes recall how they felt they needed to just restate their most well-received bits as much as possible to fill time and the relief that washed over them whenever they'd be interrupted for a few precious seconds by guest Moshe Kasher (whose name Hayes mispronounces twice in the intro) and the Earwolf crew of Adam Sachs and Chef Kevin, the latter two they dragged onstage to share in their shame. Non-fans may even find some joy in hearing their opinion vindicated, but more importantly, the Scoop Troop can lock this episode away as one of the show's most vicious celebrity takedowns.
Listen: Spotify | Apple | Website
Behind the Bastards — The Non-Nazi Bastards Who Helped Hitler Rise to Power (with Naomi Ekperigin)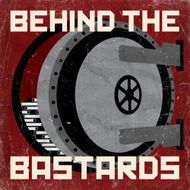 Mark: Dual-threat comedy nerd/history buffs are having a moment. After Drunk History comes sober history, a.k.a. Behind the Bastards, hosted by author and former Cracked editor Robert Evans. For the last few months, Evans has shared the juicy details of the lives of some of the worst bastards in history, from Qaddafi to Keith Raniere. Each episode has surpassed the previous one as the world's worst bedtime story. This week's episode pits the always funny Naomi Ekperigin (Couples Therapy) against the non-Nazi bastards who were complicit in Hitler's rise to power. Meet the unsung villains of the Nazi Party, like the opportunistic duo of Erich Ludendorff, later immortalized in Wonder Woman, and Paul von Hindenburg, later immortalized by the 9/11 of blimps. Hear the dismissive, bone-chilling quotes from newspapers like the Washington Post and New York Times that read like Mad Libs of today. Sigh at Helene Hanfstaengl, the woman who called young Hitler a neuter, then stopped him from committing suicide. As Ekperigin so eloquently sums it up early on, "Wow." How did the Weimar Republic, once the world leader in progressive social reform, devolve into such a fascist nightmare? We all might want to take notes during this one.
Listen: Spotify | Apple | Website
Guilty Pleasure — UFOs & Conspiracy Theories With Tom May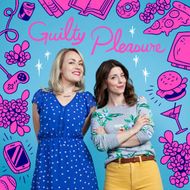 Marc: L.A.-based comedians Amanda Salvatore and Jackie Rae Aubel are into their second season of hosting Guilty Pleasure. This week they welcomed Tom May, singer and guitarist of the Menzingers, who reveals that his guilty pleasure happens to be the meat and potatoes of a lot of other podcasts out there: UFOs and conspiracy theories. This trio crams a lot into the one hour of conversation, and it's safe to say a little knowledge is probably going to be a dangerous thing for those checking out this episode. By "dangerous" I mean that the surface is just barely scratched on these topics, which is sure to send desktop researchers Googling until their fingers fall off. But if you want a Whitman's Sampler of crazy flying saucer stories, reptilian aliens, the Freemasons, the Illuminati, and ghost stories, as well a glimpse down the rabbit hole these topics go, then this is the dish for you. What May lacks in facts at his fingertips is more than made up for by the fact that Salvatore and Aubel seem to have heard next to nothing about any of this stuff, so their minds are collectively blown every few minutes. There are even weird sort-of coincidences, like when one of the hosts bring up the Voyager spacecraft only to have May reveal that he sports a tattoo on his arm that is a copy of a portion of the golden record sent into space on that very vehicle.
Listen: Spotify | Apple | Website
Maybe It's You — Mormon and the Methhead — Crisis, Reinvention, and Intimacy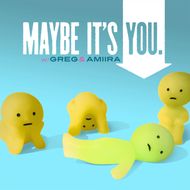 Anna: In 2018, the way to save your marriage could be starting a podcast. Maybe It's You features married couple Amiira Ruotola and Greg Behrendt, co-authors of a slew of irreverent best-selling relationship books following Behrendt's He's Just Not That Into You (Heard of it?), as they actually listen to each other about relationships and behavior. This mash-up episode welcomes fellow–new podcasters Jessa Reed and Aaron Woodall of Mormon and the Methhead. They're your typical pals who tour as stand-ups together, share a storied past of social isolation, and love each other in a "You're the best friend I've been looking for my whole life" way. What's more engaging and raw than Reed's meth addiction or Woodall's Mormon upbringing is their "It's complicated" relationship status. These fairly opposite people, bonded together by reinvention, present a unique and refreshingly honest pairing that's relatable for people in all relationship stages. At the end of the day, co-hosting a podcast in 2018 isn't just for saving marriages; it basically is marriage. Plus, Woodall regales us with some of his best jokes, which took place on his ex-wife's Facebook photos. It's a fascinating look into vulnerability, communication, and humor, with zero mentions of Justin Long.
Listen: Spotify | Apple | Website
Other Podcasts We're Listening To:
Cool Playlist — Jon Gabrus
Listen: Spotify | Apple | Website
Suicide Buddies — Second Attempts!
Listen: Spotify | Apple | Website
Death, Sex & Money — Tig Notaro Isn't a Blob Anymore
Listen: Spotify | Apple | Website
We Need to Talk About Britney — Baby One More Time with Mandy Moore
Listen: Apple | Website
The Best Show — Night of a Thousand Pardos! Betty's Husband Nick! Clare O'Kane! Whip Talk! White Mystery! More!
Listen: Spotify | Apple | Website
Stop Podcasting Yourself — Aunt Sheila
Listen: Spotify | Apple | Website
Got a comedy podcast recommendation? Drop us a line at comedypodcasts@vulture.com.
This week's reviewers: Pablo Goldstein, Kathryn Doyle, Marc Hershon, Elizabeth Stamp, Mark Kramer, Noah Jacobs, Tom Rainey, and Anna Marr.