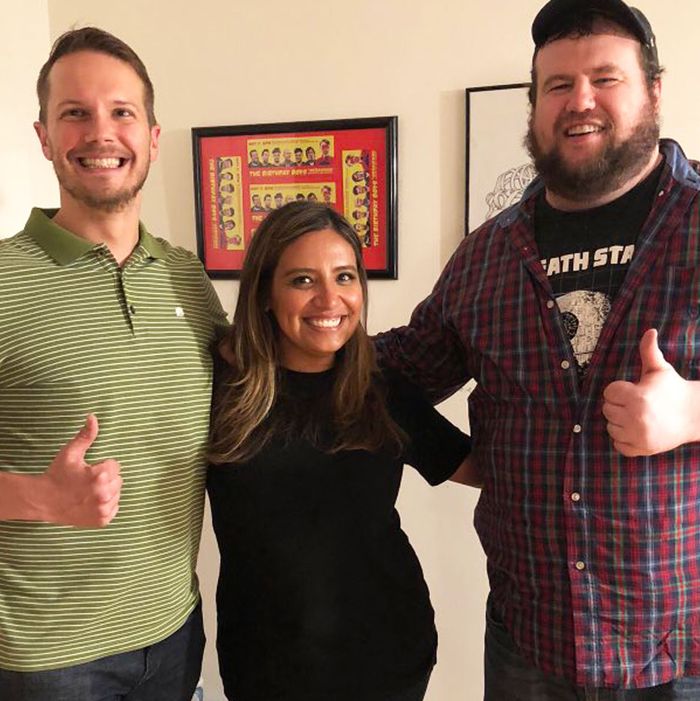 Cristela Alonzo on
Doughboys.
Photo: Twitter/doughboyspod
The comedy podcast universe is ever expanding, not unlike the universe universe. We're here to make it a bit smaller, a bit more manageable. There are a lot of great shows and each has a lot of great episodes, so we want to highlight the exceptional and the noteworthy. Each week our crack team of podcast enthusiasts and specialists and especially enthusiastic people will pick their favorites. We hope to have your ears permanently plugged with the best in aural comedy.
Doughboys — Panda Express 2 With Cristela Alonzo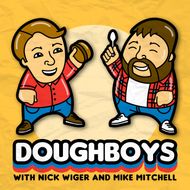 Mark: After last week's divisive Doughbzz [sic] appearance by self-proclaimed cult leader Bug Mane, Mitchy 2 Spoons Nation and the Pancake Brigade needed a palate cleanser. They delivered a delightful one with comedian Cristela Alonzo for a return to Panda Express. Alonzo quickly jumps into Mitch and Wiger's trademark friction to give the podcast a fresh, renewed energy that can rarely be associated with fast food. As a former waitress at Outback Steakhouse, she brilliantly puts Doughboys in its place as the Bloomin' Onion of podcasts — you know it's bad for you, but you'll do it anyway. This episode has everything a fan could want: a fastidious study of which bites should come first and which should be saved for last, insults, long hashtags, dated topical references, LaCroix, and Wiger nerding out over children's animated films. The trio fittingly caps the food portion off with fortune cookies, which may predict the unexpected revival of a certain Netflix comedy starring one Mike Mitchell. If and when the Doughboys finally cancel themselves, at least Wiger will find work starring in fellow Long Beach Polytechnic alum Snoop Dogg's music videos. Listening to Doughboys each week has easily become far more fun than actually visiting these fast food restaurants in person.
Listen: | Spotify | Apple | Website
The David Feldman Show — Stuttering John Melendez Returns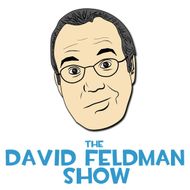 Marc: You may have heard about "Stuttering John" having pranked Donald Trump a couple of weeks ago, and perhaps even saw or heard John Melendez telling the story on one form of media or another. Probably none of those tellings were laid out as casually and honestly as on the most recent episode of David Feldman's podcast. Turns out Melendez hung out with Trump a number of times before he became president, either while part of the Howard Stern crew, or the announcer on The Tonight Show with Jay Leno. So, he figured he'd take a chance giving Donny a ring, but then the call back came from Jared Kushner, thinking he was Senator Bob Menendez. The story gets even more hilarious from there. But John is just one part of the three-hour show that comedian and writer Feldman put together with some other familiar voices: Jackie "The Jokeman" Martling (cut short by a technical glitch after just a few lame-tastic gags), Aaron Berg, and Joe DeVito. Feldman made his comedy bones as a political comedian, so he gets into it with Howie Klein from Down With Tyranny who shares some background rumors about Mitch McConnell. And final guest Emil Guillermo from The PETA Podcast talks about the organization's campaign to fight the unethical treatment of immigrants crossing the southern border. Funny, heavy at times, and often in bad taste.
Listen: Spotify | Apple | Website
Why Won't You Date Me? — Racism in Hollywood w/Oscar Montoya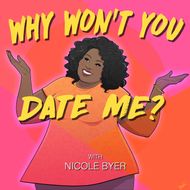 Pablo: On this week's episode of Nicole Byer's dating podcast, there's actually not much discussion about dating. But the podcast's titular question is also the reason why: Guest Oscar Montoya is gay. And while he briefly speaks about dating women while in the closet and L.A.'s notoriously racist gay dating apps, he and Nicole spend the majority of the episode trading war stories about being a minority actor in the entertainment industry. It's his experiences on Grindr and Scruff, where "no fats, no fems, no Asians" profiles are a common sight, that leads to this talk on racism in an industry that touts its recent casting advances. Among other insults and indignities, after years of nonwhite actors not getting opportunities because of their race, Nicole, Oscar, and other performers (and writers) of color now have to contend with whispers from their peers that they only booked a job because of their race. Ain't Hollywood glamorous?
Listen: Spotify | Apple | Website
Bad Science — Finding Nemo w/Jackie Tohn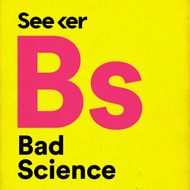 Anna: Hang on to your innocence. Bad Science is diving from what, at surface level, appears to be an adorable Pixar film into the deep, dark sea. Jackie Tohn (GLOW, A Stupid and Futile Gesture) and Dr. Misty Paig-Tran (Assistant Professor of Marine Biology at Cal State Fullerton) join host Ethan Edenburg to swim through the inaccuracies of Finding Nemo. According to Dr. Paig-Tran, almost all of them are purposeful; Tohn declares, "'Wouldn't animate well' is an understatement." From hearing Dr. Paig-Tran's thesis of "Nemo was probably better off in the tank" to new alternate titles (Clockwork Nemo, Finding Nemo's Corpse), ride the wave with Edenburg and Tohn as they learn the shocking and sometimes disturbing truths, interspersed with gushing over baby turtles. (Oh, geez, get ready for the seedy interpersonal lives of turtles.) On a lighter note, find out the scientific reason behind Marlin forcing Nemo to "go out and then back in" their anemone. Also, make sure to pick up your trash so it doesn't go down storm drains — they really do lead to the ocean! Let's just say that after listening, you'll never be able to watch this movie (or eat halibut) the same way ever again.
Listen: Spotify | Apple | Website
Guilty Pleasure — '90s Crime Thrillers With Jon Gabrus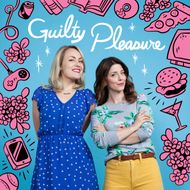 Tom: Guilty Pleasure, a podcast dedicated to the celebration of things you're ashamed to love, welcomes actor and comedian Jon Gabrus. Fans of America's number one fucboi will be happy to hear his topic of choice is '90s crime thrillers, as opposed to his more regularly discussed guilty pleasures: gambling and sandwich shops on Long Island. At the top of the episode, Gabrus apologizes to hosts Amanda Salvatore and Jackie Rae Aubel for being ten minutes late to the recording. His reason? Having digestive issues after consuming an entire bag of Totino's Pizza Rolls. For someone so well-versed in plot twists from '90s crime thrillers, Gabrus should have predicted the ending to that meal selection. Much to the delight of Amanda and Jackie, Gabrus's impression of Al Pacino, which sounds more like Richard Nixon, is worth the download alone. If you're curious how Gabrus would like to be portrayed on an episode of Law & — hint: it involves being a naked corpse — or want to hear which L.A.-based farmers market Luis Guzmán frequents, this week's episode is for you.
Listen: Spotify | Apple | Website
Guys We F****d — Amanda Knox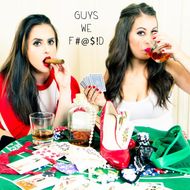 Kathryn: It's an extra special week on Guys We F****d as Corinne Fisher and Krystyna Hutchinson interview guest Amanda Knox, who at age 20 was convicted of the murder of her exchange-student roommate in Italy. She spent four years in prison in Perugia before she was released in 2011 then finally exonerated by Italy's highest court in 2015. She's a fascinating interview guest in general, and particularly when the subject is female sexuality. If you know her story at all, you're going to want to hear this conversation about hooking up in Italy, getting famous while cut off from the world, learning to masturbate in prison, and ultimately, making new friends. For related content, Knox hosts The Scarlet Letter Reports for Vice/Facebook and wrote the memoir Waiting to Be Heard. For totally unrelated content, don't skip the Guys We F****d pre-interview this week: Corinne and Krystyna have a tearful heart-to-heart about a totally different, not at all murder-related situation.
Listen: Spotify | Apple | Website
The Soft Spot — (F)unsolved Mysteries (w/Erin Gloria Ryan)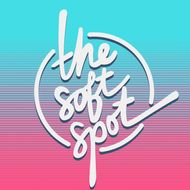 Leigh: Everything feels like a lot right now. The news, the world, it's all stressful. Which makes it the perfect time to cozy up with The Soft Spot — the world's first easy-listening podcast. And this week, with a classic PBS kids' show as the topic, things are extra cozy. Erin Gloria Ryan joins hosts Julian McCullough and Meg Molloy to get nostalgic and talk about Ghostwriter, which admittedly is probably not the first thing you think of when you hear "classic PBS kids' show." For those who weren't preteens in the early '90s, Ghostwriter was a TV show about a group of kids in Brooklyn who solved mysteries with the help of what were essentially text messages sent by a ghost. If that sounds boring, remember that this was from a time before we had text messages, so it was thrilling. PBS thrilling, but thrilling nonetheless. If you were a kid who was watching Ghostwriter, chances are you'll also get excited when the conversation eventually turns to book series of the time like Sweet Valley High, The Baby-Sitters Club, Goosebumps, and Fear Street. So if only for an hour, jump out of the dumpster fire Twitter has turned into and plug your earholes into the soothing sounds of The Soft Spot.
Listen: Spotify | Apple | Website
The Podcast for Laundry — Joe Rumrill, Steve Whalen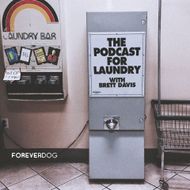 Noah: It's the moment we've all been waiting for! Brett Davis finally lures Joe Rumrill to the Robert N. Davoren Complex visitor's center at Riker's Island to air their dirty laundry. But, thanks to poor timing, Brett's attempt to address his allegations that Joe had him falsely imprisoned for the "minor sex crime" of masturbating in Pat Byrne's house, on the Patreon feed for The Podcast for Laundry's premium sister show Cereal, in order to steal the heart of Brett's Tide bottle fiancée, is crashed by "Mr. Jokes" Steve Whalen, the dry-witted king of one-liners and warm-up comic for The Special Without Brett Davis. So, they wind up doing the show anyway. It's a lot to take in. But it's also a perfectly vindicating end to phase two of the show — you know, the phase that saw Brett strike a deal for a longer sentence in order to fulfill his psychosexual obsession with laundry. Always fearful of the loss of his status as New York City's alt-comedy "It" boy, Brett's confidence is renewed when Steve becomes the first person to willingly visit him in jail. And as he emerges from the Prison War as a victorious free man, there's just one thing left for our tragic hero. It's time to find Tidey.
Listen: Spotify | Apple | Website
Other Podcasts We're Listening To:
Who's Your God? — Moshe Kasher
Listen: Apple | Website
Off Book — The Final Off Book (w/Very Special Guests!)
Listen: Website | Spotify | iTunes
On Comedy Writing — Caitlin Kunkel
Listen: Website | iTunes
You Up with Nikki Glaser — Divorce Cupcakes (w/Rachel Feinstein, Amber Tamblyn, Dan Ryckert, Greg Fitzsimmons, Jeff Ross, & Dave Attell)
Listen: Apple
Inside The Closet — Lesbian Hunger Games
Listen: Apple | Website
Jokes So Funny — Kris Mason
Listen: Apple | Website
Dr. Gameshow – Revenge on the Listeners (w/Jena Friedman, Adria Amram and her 4-year-old son Oliver)
Listen: Apple | Website
Podcast: The Ride — Waterworld: A Live Sea War Spectacular with Jordan Morris
Listen: Spotify | Apple | Website
Behind the Bastards — Part Two: Qaddafi: His Bizarre Sci-Fi Stories, Childhood Hate Crimes and Amazonian Bodyguard Fetish
Listen: Spotify | Apple | Website
This week's reviewers: Pablo Goldstein, Kathryn Doyle, Marc Hershon, Leigh Cesiro, Mark Kramer, Noah Jacobs, Tom Rainey, and Anna Marr.