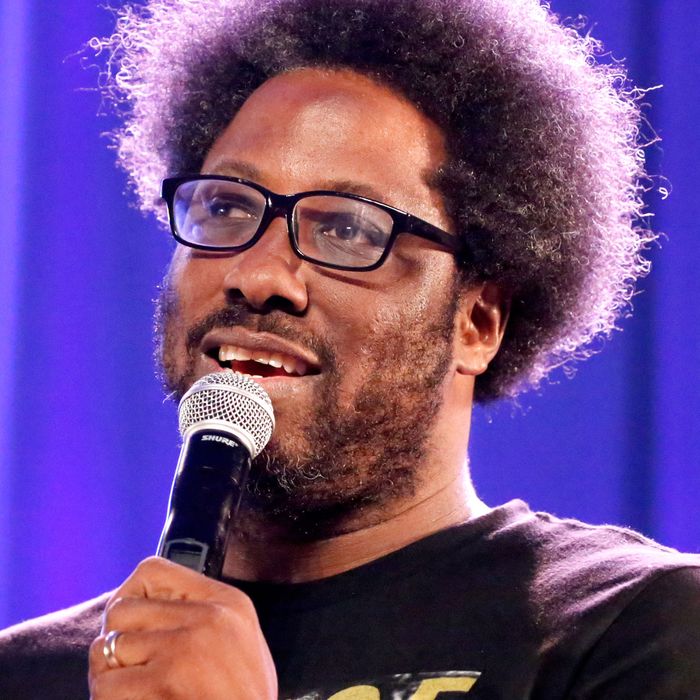 W. Kamau Bell.
Photo: FilmMagic/FilmMagic
The comedy podcast universe is ever expanding, not unlike the universe universe. We're here to make it a bit smaller, a bit more manageable. There are a lot of great shows and each has a lot of great episodes, so we want to highlight the exceptional, the noteworthy. Each week our crack team of podcast enthusiasts and specialists and especially enthusiastic people will pick their favorites. We hope to have your ears permanently plugged with the best in aural comedy.
1A — W. Kamau Bell on Comedy and Politics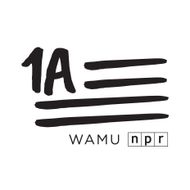 Tom: With a name inspired by the First Amendment, NPR's 1A looks to connect Americans across the divides in our society by discussing policy, politics, and the important issues of our time. This week, guest host Celeste Headlee welcomes comedian and political provocateur W. Kamau Bell. Bell's Emmy-winning work on CNN's United Shades of America, a docuseries that specializes in the American divide, makes him as natural of a fit for 1A as it gets. From discussing comedy's place in politics to the surprising consistency of a Donald Trump haircut, Bell is able to balance the heaviness of 2018 with the, well, slightly less heavy parts of 2018. Although Bell is vocal about his frustrations with the current political climate, he is able to discuss the issues of today with calmness, patience, and poise, thus giving listeners, dare I say it, some sense of hope and optimism. Whether you're looking to chip away at the dread a Trump presidency brings or you want to hear W. Kamau Bell talk about Disney's Doc McStuffins, this week's 1A has something for everyone.
Listen: Spotify | Apple | Website
Hysteria — Courts, Civility, and Other C-Words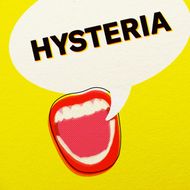 Anna: Raise your hand if you're sick of dude-heavy podcasts. Host Erin Ryan (It's Always Sunny, the Daily Beast) and her rotating team of six bicoastal co-hosts bring you Hysteria, representing "women: 51% of the population and 100% of this podcast." These impressive badasses examine headlines and stories that affect women's lives. This first episode introduces Ryan's freakin' stacked squad: Alyssa Mastromonaco, Blair Imani, Grace Parra, Kiran Deol, Megan Gailey, and Ziwe Fumudoh (look them up, you'll feel better!). They cover Justice Anthony Kennedy's retirement, men's unhelpful opinions, and steps to take if you're concerned about the future of women's health — which, as later stated, should be anyone who's ever grown inside of a woman's body. Absorb rich conversations on female achievement versus feminist achievement in the White House, how policing the C-word distracts from family separation at the border, and our capability of being mad at many things at once. "I'll Have What She's Having" cools you off as the co-hosts share exciting, cool things that women did. Hysteria approaches the day's grim news with dark humor and helpful tools. Surprised it shot to the top of the iTunes chart? Dive in with this one and then instantly download their next episode.
Listen: Spotify | Apple | Website
Entry Level — Conner O'Malley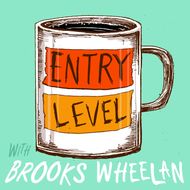 Mark: So, you read Vulture's "Beginner's Guide to Conner O'Malley" and were left wanting more? Feel free to fire off a "oh hell yeah, pimp" because this week's Entry Level delivers the perfect companion piece. Across from host Brooks Wheelan, O'Malley gives a rare out-of-character appearance to talk bad jobs. And from ice-cream scooper to dog walker to cruise-ship sketch comedian (with his now-wife Aidy Bryant) to 1-800-Got-Junk collector, he has some truly awful résumé bullets to share. Wheelan and O'Malley are two peas in a pod, swapping stories of teenage substance abuse and casual lunacy that make their respective career successes all the more impressive. The entire episode serves as an origin story for the insane characters O'Malley likes to possess. The weirdos, freaks, luxury sports cars, and '90s Tonight Show hosts he encountered growing up in Chicago directly inspired the angry, anti-capitalist Vines and $400,000 YouTube videos the comedy world has come to know and fear. It is mildly disarming to hear O'Malley speak at a normal human decibel level for so long, but it's well worth the peek behind the curtain at one of today's most unique voices.
Listen: Spotify | Apple | Website
RuPaul: What's the Tee — Kay Cannon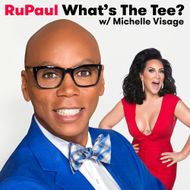 Elizabeth: On the latest What's the Tee, RuPaul and co-host Michelle Visage welcome director, writer, and actress Kay Cannon for a conversation about pretty much having it all and what it took to get to this point in her life. It may be the fact that Cannon and RuPaul worked together on Netflix's Girlboss or it might be that, as any Drag Race fan knows, RuPaul has a knack for getting people to open way up, but the interview gets personal fast and they go straight from talking about Blockers to discussing Cannon's divorce from Jason Sudeikis (whose name she didn't take partially because Kay Sudeikis sounded too much like "quesadillas"). They also dive into her relationship with her second husband, Eben Russell, and talk about what makes it work and how she balances motherhood with her career. Ru and Cannon debrief on Girlboss and share their perspectives on the show and what worked and what some people didn't like, namely the flawed female protagonist. Visage and RuPaul also wax poetic on the allure of Ike Barinholtz and the attractiveness of a front-tooth gap.
Listen: Spotify | Apple | Website
Bodega Boys — Indiginants Rocks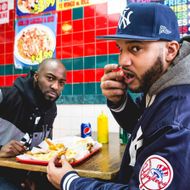 Pablo: When the news broke that Desus Nice and the Kid Mero were leaving Viceland for the greener (cha-ching) pastures of premium cable, the headlines were followed by quotes about their upcoming weekly Showtime program being a mix between The Daily Show and Chappelle's Show. Hopefully that doesn't mean a show full of correspondents and sketches because they work best — something that Viceland eventually figured out — when they're following the podcast blueprint that built their careers. While the "Pardon the Interruption meets The Soup, if its hosts actually had a comedic voice beyond snark" format fit them well on their first shot at TV, Showtime would be smart to let the Bronx comedians run free like they do on Bodega Boys. On this episode alone, they seamlessly jump between Dame Dash publicly pressing Lee Daniels for an unpaid $2 million loan, Will Smith's Wild Wild West Rodeo Burger, Johan Santana's career-ruining no-hitter, and an obscure Jewish wire service naming Desus and Mero late-night comedy's most Jewish hosts. On their Viceland show, they would only have a few minutes on each topic, and just as they hit their groove, they'd move on. I know it can be tempting for execs to push change in order to justify their jobs, but if you're paying top dollar for talent who made their name by talking, let them talk. After all, nobody puts on The College Dropout to listen to the sketches.
Listen: Apple | SoundCloud
An Irishman Abroad — Graham Linehan on His Cancer Journey and Father Ted: The Musical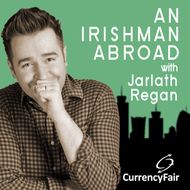 Kathryn: Writer and director Graham Linehan makes his fourth appearance on An Irishman Abroad this week, shortly after announcing his cancer diagnosis, which makes for an intense time to reflect on his career. As the creator of the Greatest Generation of Channel 4 sitcoms (Father Ted, Black Books, The IT Crowd) and a writer on many other pivotal TV comedies (The Day Today, Brass Eye), Linehan probably personally shaped that box in our living rooms more than any other figure today. He chats to host Jarlath Regan about the year leading up to his diagnosis with "a small bit of ball cancer," working on a project that he didn't enjoy, feeling frustrated and angry, not sleeping well, and losing sexual pleasure — orgasms became "insulting." He's doing better now and has plenty of energy to get into a messy conversation about trans activism, a topic that's recently gotten him in hot water online. Linehan doesn't back down from his controversial comments and Regan, to his credit, repeatedly challenges him. For a comedy podcast, this is a pretty tense conversation, but blessedly it leads to a few new tidbits about Father Ted: The Musical.
Listen: Spotify | Apple | Website
The Last Podcast on the Left —The Men in Black Part 1 — You Fed the Tulpa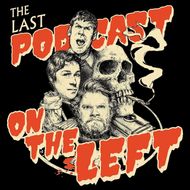 Marc: The hosting trio of Ben Kissel, Marcus Parks, and Henry Zebrowski have concocted a formula of curiosity, comedy, and what Art Bell, the late host of Coast to Coast AM, referred to as "high strangeness." The result is The Last Podcast on the Left, and while they've covered paranormal topics ranging from UFOs to haunting to cryptids and more, for the first time in over 300 episodes, they dip into the mother-lode topic of Men in Black. Not the movies with Tommy Lee Jones and Will Smith, but the "real" MIBs as discussed and debated since their first reported appearance in the late 1940s. Part of the appeal of this show is that while they play (and sometimes milk) their topics for laughs, the guys keep speculative and open minds about the various aspects they uncover and share about their subject matter. And even though they are prone to discard some of the crazier accounts, their enthusiasm for all things paranormal keeps at least a spark alive through every show, including this latest installment, that what's being purported might actually be going on in the murky world just outside our normal senses.
Listen: Spotify | Apple | Website
Other Podcasts We're Listening To:
Black Men Can't Jump in Hollywood — Uncle Drew
Listen: Spotify | Apple | Website
Playable Characters Podcast — PaRappa the Rapper's Cousin (with Patrick Reidy)
Listen: Apple | Website
Put Your Hands Together With Cam and Rhea — Jackie Kashian, Dan Ahdoot, Steph Tolev, Neel Nanda, Molly Ruben-Long, and Hosts Cameron Esposito and Rhea Butcher
Listen: Spotify | Apple | Website
WTF — Paul Rudd
Listen: Spotify | Apple | Website
Podcast: The Ride — Great Moments With Mr. Lincoln
Listen: Spotify | Apple | Website
Doughboys — IHOb With Bug Mane
Listen: Spotify | Apple | Website
Daddy-less Issues — Carlos Delgado — You Don't Have to Be Lonely
Listen: Spotify | Apple | Website
Dumb People Town — Updates to Some of Our Favorite DPT Stories
Listen: Spotify | Apple | Website
This week's reviewers: Pablo Goldstein, Kathryn Doyle, Marc Hershon, Elizabeth Stamp, Mark Kramer, Tom Rainey, and Anna Marr.