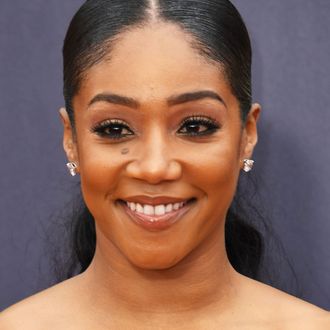 Just give us the Netflix true-crime series already.
Photo: Valerie Macon/AFP/Getty Images
At this point, the mystery of which audacious drugged-up actress bit Beyoncé's face is deserving of its own true-crime series. All signs have long pointed to Sanaa Lathan as the culprit, which she has also long denied. And now Tiffany Haddish, the reason we even know about this attack, has words for anyone who thinks she snitched on Lathan. In a June interview, The Hollywood Reporter suggested Lathan's name as the biter, to which Haddish smiled — but, crucially, did not confirm — then mentioned how the public assumption it was Lathan actually caused tension between Haddish and Lathan's family, whom she's close with. Still, several news sites ran her quotes as confirmation. Haddish has now set the record straight to Glamour, saying she said no such thing:
"I didn't confirm shit. The reporter was like, 'Sanaa Lathan?' I'm, like, three drinks in, so of course I was about to laugh," she says. "They thought I put her name out there, but I didn't. I never said nothing. And Beyoncé didn't say nothing. Let the person who [bit Beyoncé] bury themselves … I ain't trying to destroy this girl. I didn't say shit about the girl."
And there you have it. If Lathan chomped at Beyoncé's face, you didn't hear it from Haddish. Shhhhh.