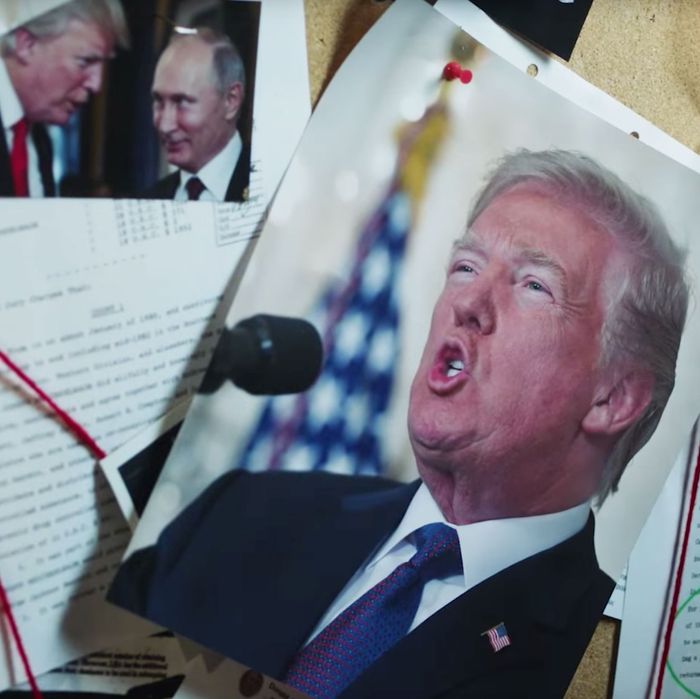 Tom Arnold appeared at Television Critics Association on Thursday to share details on what exactly will be covered in his Viceland series, The Hunt for the Trump Tapes, but he also talked about so much more.
"I don't give a shit about the 40 percent," Arnold told journalists, referring to the percentage of Americans who are devout supporters of President Trump despite his near-daily deluge of scandals. "I'm going to do this until he resigns. He's putting our country on the precipice of a war literally right now."
That's why Arnold says he wanted to do this new series, which the network describes as "All the President's Men meets Curb Your Enthusiasm" and features the comedian as a citizen journalist working his connections to find incriminating recordings featuring the 45th president of the United States.
And while these episodes promise to be held to a certain journalistic standard — series executive producer Nomi Ernst Leidner said, "Everything we're doing is backed up; we're not letting anything on that's not backed up and sourced" — Arnold wasn't afraid to share his thoughts on the show and other people in Trump's orbit during his TCA talk. Here are some of the biggest takeaways:
Were Trump and Arnold ever friends in real life? "We went to the Playboy Mansion together once [and] I wasn't the creepy one," Arnold said. He added he used to think Trump was charming when he appeared on Arnold's Fox Sports Net show The Best Damn Sports Show Period and he appeared with him at other event. But things changed in 2011 when Arnold saw how hard Trump was being on then-president Obama.
How deep is Arnold going into this investigation? "You gotta go at this with all angles with Trump," he said, mentioning the president's relationship with convicted sex offender (and billionaire) Jeffrey Epstein, and added that Trump couldn't be as germ-wary as he claims because, "How many germophobes raw dog that many porn stars?"
That notorious suspicious tape of Trump with the Russian prostitutes? Yeah, that'll be mentioned. "You'll also see documentation of the pee-pee tape," Arnold said. "By the time you see this [show], you will know that there is a pee-pee tape."
Arnold's thoughts on Mark Burnett, who created The Apprentice and who also happens to be very religious: "He's got $500 million … and he sits next to Donald Trump [at the White House's annual prayer breakfast] and gives him cover and he never says one word," Arnold said. "Mark Burnett says he's a Christian and he lets that man do all this bullshit and he's in this town making money and people are working? He let a sexual harasser work on his show? Four times, producers on The Apprentice had to pull Donald Trump out and say, 'Whoa, you can't do that.' That's something you're going to see on my fucking show."
Arnold said that Mark Burnett not only has unedited footage of all the Apprentice episodes, but he also worked with Russian president Vladimir Putin. "Maybe Mark Burnett has a pee-pee tape?" Arnold speculated.
Arnold also mused, "Jesus … he was a solid dude. He was not a fan of the rich guys."
One journalist asked if Arnold had worked with Mark Cuban, who is both anti-Trump and on Burnett's ABC show, Shark Tank: "Here's Donald Trump going on again against the NFL because of the kneeling thing," Arnold said. "And Mark Cuban goes, 'I have an NBA franchise [in the Dallas Mavericks], that ain't cool.' What the F? What does this say about Mark Burnett's hiring processes?"
The journalist followed up by asking if Cuban helped Arnold with his show. "I just told you how without telling you how," Arnold responded.
Why does Arnold think anyone in power actually supports Trump? "A lot of people hitched their wagon to this guy," Arnold said — especially "powerful rich people" who hope Trump will give them what they want, such as the Orthodox Jews who delighted in Trump's decision to have the U.S. recognize Jerusalem as the capital of Israel instead of Tel Aviv. But Arnold said "people started peeling off" after Trump's meeting with Putin in Helsinki.
Why does he think that white people are so willing to ignore Trump's racism? "Because white people are pussies," he replied, adding that people will say, "He's never been racist to me. He's never called me a big fat pig.'"
Arnold also doesn't like that Trump continues to harass Hillary Clinton. "When did it become okay to freakin' bully a 72-year-old woman all the time?" he wondered. "She goddamn lost the election and got left by everybody. And you're still hammering her. When did this become okay? What is wrong with these men? These big fucking men … something is f-ed up around here."
If Arnold does find the Trump tapes, would he release them now as a public service or save them for his show's season finale? "[Trump's lawyer] Michael Cohen put one out two days ago," he reminded the audience, but "if it's going to help our country, I would not withhold it."
Producer Ernst Leidner clarified that "if we had a tape that would completely change this regime, of course we'd make sure American public got it right away."
The Hunt for the Trump Tapes premieres September 18. But don't expect it to only last one season — unless, of course, Trump resigns. "I am going to do this until that guy resigns," said Arnold. "Every day, if you pay attention to the news now … big things are breaking about that knucklehead. And it's putting more pressure on him and he's acting even crazier and we're getting even closer and closer to [him saying] 'I'm quitting on my terms.'"
Oddly, Arnold was at his most calm when a reporter asked him how his ex-wife Roseanne Barr — a famously outspoken Trump supporter — would respond to this series. "I have no idea," he said. "We haven't been married for 24 years."