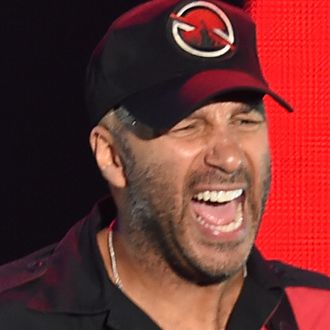 Tom Morello.
Photo: Kevin Winter/Getty Images for KROQ
Tom Morello, formerly of Rage Against the Machine and Audioslave, has announced he's releasing a new solo album this October. It's called The Atlas Underground and it's shaping up to be a great soundtrack for anyone looking for something to vote to. The Consequence of Sound reports that Morello has said this is an album with a mission, telling Lars Ulrich's Beats 1 radio show, "Amid this heightened sense of impending doom, it's now time to rally the troops in a last-ditch effort to save the planet, and our artistic souls. By challenging the boundaries of what music is and has sounded like before, you can open people's eyes to changing the status quo in society."
And Morello isn't playing around — the upcoming album features collaborations with respected artists from multiple genres, including Vic Mensa, Killer Mike, Big Boi, RZA, Steve Aoki, Gary Clark Jr., Knife Party, and Marcus Mumford, just to name a few. Morello has already released two of the tracks, which you can hear below.