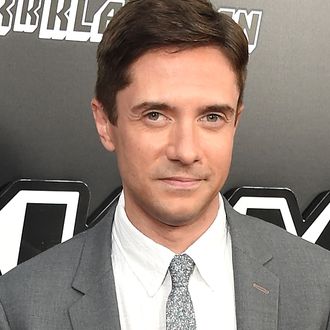 Topher Grace.
Photo: Michael Loccisano/Getty Images
Topher Grace has discovered the cure for humanity's ills: remaking your faves into better faves. The former star of That '70s Show is playing the infamous Klu Klux Klan Grand Wizard David Duke in Spike Lee's upcoming film BlacKkKlansman, and, unsurprisingly, it wasn't a super fun time. "I was so depressed," the actor told Indiewire. "It was so disturbing to go home and turn on the news to see how his ideology was affecting us at the moment."
So when Grace wrapped filming, he decided to decompress with what he describes as his own personal version of "woodworking in the garage": He recut The Hobbit trilogy into one, single two-hour movie. "I think that maybe The Hobbit should've been one movie, and many people would agree," Grace told Indiewire. "Money drives a lot of those franchises. It's better when the art leads." The actor first learned to use editing software in 2012 when he re-edited all three of the Star Wars prequels into an 85-minute film. If any casting directors are reading this, please give Topher Grace more challenging parts, because we'd really like to see what he can do with Transformers.