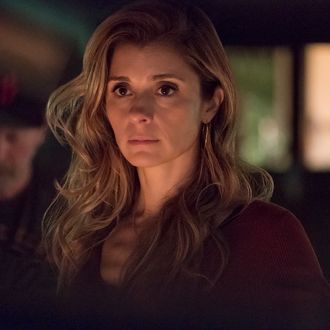 Photo: Bettina Strauss/Hulu
Surprise! The entire fourth season of UnREAL is available right now on Hulu. Savor it while you can, though: Hulu has confirmed to Vulture that it will be the show's final season.
Hulu, which already has streaming rights for UnREAL's previous three seasons, bought the series from Lifetime in May. The fourth season, which is modeled after Bachelor in Paradise, completed production in January. It features an "All Stars" version of Everlasting, in which contestants from all three seasons will compete for money and romance. Oh, and Rachel (Shiri Appleby) is blonde now.
"I'm thrilled UnREAL has found a new home with Hulu for our final season," actor Jeffrey Bowyer-Chapman, who plays Jay, told Vulture in an email. "Fans can enjoy the brilliant insanity of our show complete with the nail-biting binge-worthy experience they deserve. Everyone involved is so pleased with the way we've wrapped up these characters' stories, and I'm sure the audience will be just as satisfied." Audiences won't get a chance to miss Bowyer-Chapman for too long. He's currently filming his scenes on the next season of FX's American Horror Story, in which he has a guest role.
New cast members for UnREAL's final season include François Arnaud, Natalie Hall, Meagan Holder, and Alejandro Muñoz. Appleby directed the series finale.