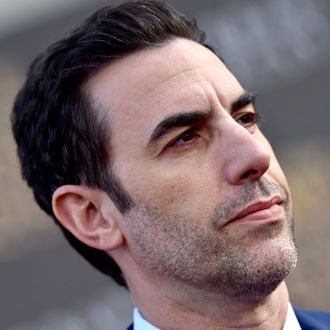 Sacha Baron Cohen.
Photo: Axelle/Bauer-Griffin/Getty Images
She may not be as prominent of a name as your Sarah Palins or Dick Cheneys, but allow us to reel you in with two words and two words only: puppy pistols. Janalee Tobias, a gun rights activist from Utah, has admitted in an interview with Deseret News that she fell victim to filming a segment with Sacha Baron Cohen for his new Showtime series Who Is America? Per Tobias's account, she was contacted over email by a "First Freedom Television" crew, who wanted to film her and an "Israeli security expert" highlighting shared security interests between America and Israel. Tobias, the founder and president of Women Against Gun Control, was soon flown out to Pennsylvania for the segment, which is where she met "Eran," who she believes was Cohen in disguise.
Almost immediately, she says she became suspicious of the segment's intended topic: creating a gun safety program for toddlers. "I knew something went weird when they were putting guns inside of stuffed animals," she told the newspaper. "Are there really some gun nuts who think this is a gun safety program or is this a comedy?" She still cooperated, though, after being told by Eran that his son had been killed by terrorists, hence his interest in the safety program. The following is what she then claimed Eran "made" her do:
He then told her to talk in a childlike voice and explain to children how to load the "puppy," with bullets that looked like coloring crayons. "Yanalee, will you teach the boys and girls how you safely handle puppy pistol?" he told her. "Look at the pretty bullets," she said, imitating him. "No Yanalee, I want you take the bullets and show them. Yanalee tell them to look at the pretty colors."
"What you do is you are just feeding the puppy the puppy food and (then) show them how you are tickling the tummy and the puppy spits it out and the bad guys go away," she said he told her. "I objected the whole time."
Then came the singing. "Up, down, left, right. Stayin' alive, stayin' alive," she said. "He's funny OK. He's good. It's funny. But this is not funny with guns." … "I think the bunny gun (song) was, 'Head, shoulders, knees and toes,'" she said. "But it was 'Head, shoulders, not the toes, not the toes.' … I objected the entire time, but I am sure he will not show (that)." It got progressively worse, she said. An Uzi and a unicorn that transformed into a "uzicorn."
Tobias reached out to Showtime multiple times with the intention of getting the segment pulled, but hasn't been successful. At least she's in good company with all the other people Cohen has duped.