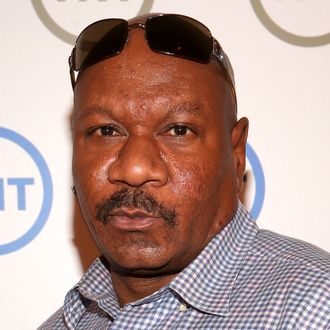 Photo: Christopher Polk / Staff
While discussing racism with the host of SiriusXM's The Clay Cane Show on Friday, Mission: Impossible — Fallout star Ving Rhames revealed an incident in which police responding to an alleged burglary held Rhames at gunpoint in his Santa Monica home. "This happened this year," the actor recalled. "I open the door and there is a red dot pointed at my face from a 9mm, and they say, 'Put up your hands.' Literally." After he was taken outside, the situation was only defused after one of the responding officers recognized Rhames. Not from his work in movies like Pulp Fiction, but as a parent whose son also played basketball. Their son's respective high schools had previously squared off in a game.
The incident scared Rhames, not just for his own safety, but for that of his child. "What if it was my son and he had a video game remote or something, and you thought it was a gun," he mused. "Just like, I don't know, Trayvon had a bag of Skittles." According to police, Rhames says, a neighbor had called 911 to report a "large black man" breaking into the actor's home. When police escorted Rhames to the neighbor's house to clear things up, she denied placing the call. You can listen to his full account in the clip below.