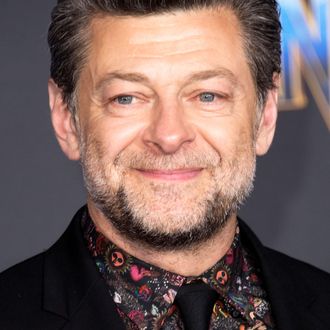 Andy Serkis.
Photo: Valerie Macon/AFP/Getty Images
Warner Bros. was originally slated to premiere its live-action adaptation of The Jungle Book, the Andy Serkis–directed Mowgli, in theaters this October. But today Deadline reports that Netflix has acquired distribution rights to the film, and will start streaming it next year. Mowgli has an all-star voice cast that includes Christian Bale, Cate Blanchett, Benedict Cumberbatch, and Naomie Harris, with Rohan Chand in the title role.
Despite its starry cast and creative team, Mowgli was inevitably compared to Disney's 2016 Jungle Book movie, and any theatrical run might struggle to live up to that film's outsized box-office success. Still, according to Deadline, Netflix plans to include a theatrical run for the movie, since Serkis (who also plays Baloo) intended for it to be seen in 3D. The director also told the trade that, being a darker telling of the story, Mowgli doesn't exactly fit in the "four-quadrant slot" a studio would want, and says that going to Netflix "allows us to go deeper, with darker themes, to be scary and frightening in moments." The Jungle Book of horrors: Coming to your living room in 2019.