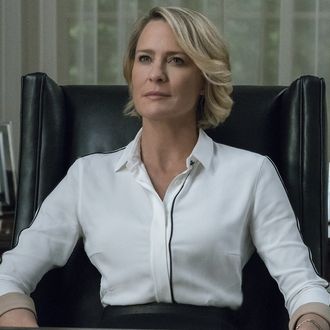 When House of Cards returns for its sixth and final season on Netflix later this year, Robin Wright's Claire Underwood will be taking over protagonist (and presidential) duties after the departure of Kevin Spacey's Frank Underwood. Spacey, as you well know by now, was fired from House of Cards last year upon decades-spanning sexual misconduct and assault allegations against him, and the show was put on a prolonged hiatus as Netflix decided its course of action. While Netflix content chief Ted Sarandos later said how important it was to give the show a "good creative conclusion," Patricia Clarkson, who's been playing a key House of Cards role since last season, points to another person who rallied to save the show in its time of need — the reigning Madam President herself.
"Robin led all of this charge so that people would save their livelihoods, because when the show goes away, some people don't get paid," Clarkson explained on The Talk this week. "I think it's going to be a stunning, stunning new season and I'm thankful for it."
As a result of Wright and Netflix's efforts, House of Cards will be returning for a shortened 8-episode season. "We have beautiful showrunners, Frank [Pugliese] and Melissa [Gibson], and they killed themselves to rethink the whole show," Clarkson added. Not much is known about the narrative, but there is a first-look photo.