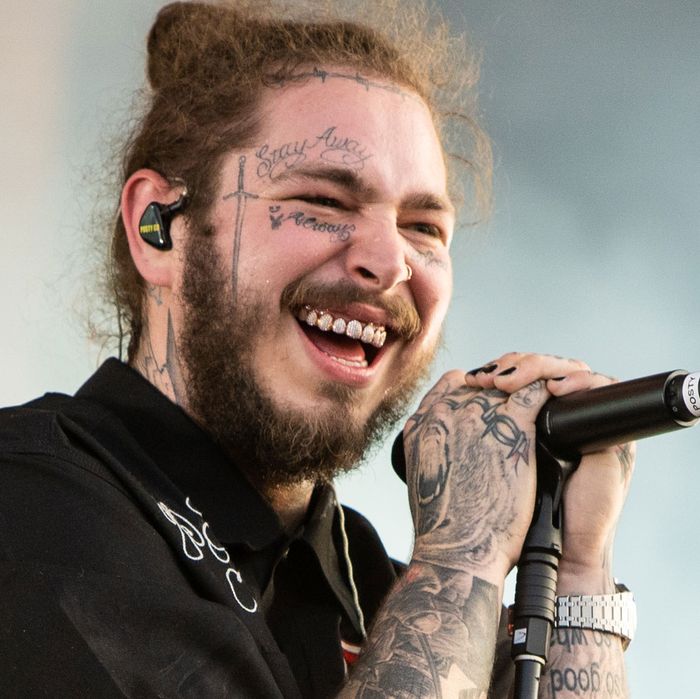 Photo: Lorne Thomson/Redferns
Some people think that Post Malone really stinks — literally. "Lol why does everyone want @PostMalone to be on the show," Queer Eye co-host Karamo Brown tweeted last week in reply to a (seemingly since-deleted) tweet from user @tsusnami, shortly after it was announced that the Netflix makeover-reality show reboot was renewed for a third season. And it didn't take long for the chart-smashing genre-bender to theorize why he was suggested as the theoretical recipient for a man-bun makeover from JVN: "No they just think I'm ugly and smell lol."
The reply is what you'd expect from someone who's been forced to adopt a thick skin while living in public: Since the 23-year-old musician born Austin Richard Post emerged, in 2015, with the beguiling post-cloud-rap anti-anthem "White Iverson," he's been a frequent target of his own making from various circles of hip-hop, the genre his music is most commonly associated with.
He was cut from XXL's annual Freshman cover in 2016 after the magazine's editor-in-chief Vanessa Satten claimed his management stated his wish to depart from the genre entirely (which Post himself later denied); when "The Breakfast Club" host Charlamagne tha God (who's currently facing resurfaced rape allegations) asked Post in 2017 what he was doing for the Black Lives Matter movement, he laughed in surprise before telling a rambling, irrelevant anecdote about a song from his 2016 debut LP Stoney.
"If you're looking to think about life, don't listen to hip-hop," he stated in an interview with Polish outlet NewOnce last year, later claiming his comments were the result of a beer-tasting session that took place during the interview (which NewOnce promptly denied). "Things that should've killed his career have only made him bigger," Republic Records executive Rob Stevenson backhandedly bragged to the Los Angeles Times in 2016, referring to Post as "the Donald Trump of hip-hop" — a sly allusion, perhaps, to an apology-necessitating 2015 video of a pre-fame Post saying the N-word while watching cats on TV. Stevenson had a point: Defying most odds, Post Malone has become a regular chart fixture and a certified pop heavyweight in his own right.
Stoney has gone triple platinum in the two years since its release, and this year's Beerbongs & Bentleys has gone double platinum in just three months, counting two No. 1 singles — the 21 Savage–featuring "Rockstar" and "Psycho," with a guest hook by the omnipresent Ty Dolla $ign — and nearly a half-million-album-equivalent sales in its first week of release. Despite the controversy surrounding Republic's YouTube-gaming trick that possibly helped along the chart ascent of "Rockstar," the song also counts over 1.1 billion Spotify streams as of this writing, with at least four more Beerbongs & Bentleys cuts totaling another billion-plus streams. His most recent single, "Better Now," currently climbed to No. 7 on the Billboard Hot 100; it's been on the chart for 12 weeks now and is only two notches ahead of the previously chart-topping "Psycho."
Not to get all "We live in a society" about it, but it is stupidly easy to point to Post Malone's ascent as one of a million byproducts of the impossibly high (albeit, as recent events have suggested, maddeningly inconsistent) tolerance for transgression that the culture-consuming and vote-registering public currently possesses. But it's just as simple to understand the basic appeal of his music — or, at least, some of it. Stoney and Beerbongs & Bentleys are almost unequivocally terrible albums mired in mid-tempo misery and production as beige as the man himself, but their standouts — "White Iverson," the Justin Bieber-assisted "Deja Vu," "Psycho" — are strange and lovely in their dust-cloud weightlessness, like a gold-plated portrait of Pig-Pen from Peanuts. It's hard to get truly agitated while listening to music that often turns corniness into its own weirdly endearing virtue; bear witness to Stoney's sumptuously empty "No Option," in which Post lets loose a delicious, Skittles-mouthed vocal take demanding "ass, gas, or grass" like a sentient Gov't Mule fan's bumper sticker of choice.
Post Malone's music typically uses the sounds and stars of modern-day hip-hop as a set of veneers — a fitting analogy for someone famously averse to toothbrushes — but the countryish flourishes of "Psycho" aside (not to mention the questionable red-state military imagery featured in the song's video), his embodiment of another musical subgenre commonly associated with whiteness is arguably as responsible for his success as his DJ Mustard and Nicki Minaj collabs. That's right — I'm talking about nü-metal, the part-Clinton-era, part-Bush-era grunge-comedown rock style that embraced plodding riffage and chauvinistic self-pity with equal aplomb.
Nü-metal has come to mean a few different things over the decade and a half since its arguable heyday, so before we go any further, let's clarify the type of nü-metal we're talking about here: think Family Values Tour, Limp Bizkit, Incubus, and the torrid, woe-is-me tedium exuded by artists ranging from Staind to Godsmack. These artists often appealed to heartland types (and as evidenced by former Staind front man Aaron Lewis's current career as a country artist, some still do today), but some also showed a level of investment in hip-hop sounds and tropes (remember "N 2 Gether Now"?), bridging the gap for suburban white teenage males that bought Wu-Tang Clan albums at their local Sam Goody but, for obvious reasons, felt excluded by hip-hop culture at large.
It's not a stretch to theorize that Post Malone possesses that same appeal, and there's immediate precedent for this embodiment that he currently possesses: former tour mate Bieber, who obliterated his godly-teen-idol years by similarly co-opting stylistic elements of hip-hop culture and, lest we forget, had a resurfaced-N-word-video controversy that he similarly escaped from unscathed. Even at its most appealing, Bieber's music has often taken on the inward lyrical concerns of nü-metal, mixing self-appointed martyrdom with misery; but whereas his recent work has trend-hopped from Ed Sheeran–style acoustic pop to pan-global EDM-lite production, Post Malone works squarely within the contemporary sounds of post-Drake hip-hop and R&B, making Aubrey Graham sound like Icona Pop when it comes to his willingness to wallow.
The currently-chart-climbing "Better Now" is perfect evidence of this, as Post sings over palm-muted guitar and rippling production from Drake collaborator Frank Dukes, "You probably think that you are better now / You only say that 'cause I'm not around"; on Beerbongs & Bentleys' "Rich and Sad," he waxes reminiscent on "Plenty sluts grabbin' on my nuts" before admitting on the chorus, "I just keep on wishin' that the money made you stay." This stuff — from the melodic structures to the lyrical sentiments — translates so easily to the template of nü-metal that click-gaming acts are already taking it on themselves: watch YouTube nü-metal hucksters Our Last Night (who do this sort of thing with frequency) as they thrash their way through a nü-ified version of "Better Now," the cover of which Post approvingly retweeted onto his timeline — twice.
The question going forward, then, isn't so much if Post Malone is bringing back nü-metal as much as it is where he's even planning on going next in general. Last year, Slate's Chris Molanphy drew the dead-on parallel between Post and Kid Rock, an artist who was considered nü-metal-adjacent early in his career before pivoting to the brand of hard rock and country that earned him the "real America" bona fides he currently enjoys. Setting aside Post's packing-and-proud NRA membership, it's totally possible he could be heading down a similar path — just watch this video of him performing Beerbongs & Bentleys cut "Stay" at a branded Bud Light event.
The album version of "Stay" surrounds its acoustic trappings with celestial airiness, not unlike something off of Incubus's underrated 2001 LP Morning View, but this live version is unmistakably countrified rock, from the distinct burr in Post's voice to a solo from guitarist/producer Andrew Wyatt. It "works" about as well as the original, which is more of a compliment than it sounds — but it also feels like a moment where Post is unknowingly showing his hand, less as a stylist and more as someone cannily exploiting the marketplace when it comes to what's bankable right now. Reinventing yourself is far from a novel concept in pop music, but despite the controversies and comments on his personal appearance that have dogged him from the beginning, Post Malone's appeal ultimately teeters on his culture-vulture potential for anonymity — the ability to be anything to anyone, at the price of completely losing grip on who you actually are.